"It is hard to forget someone who gave you so much to remember." –  Unknown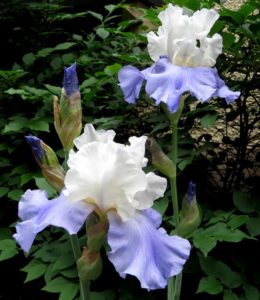 This past week we had a few warm days, so I ventured to the garden to see what was happening.  A few of the early blooming daffodils are beginning to peak through the soil and the snowdrops are up about and inch, both such wonderful promises of spring. 
But, standing in our dear garden with  most of the residents still fast asleep, thoughts of everyone who lived there came ever so sweetly to me.  I feel quite blessed for this precious spot of earth and for the everlasting reminders of all the many special people who reside in our garden.  Yes, you read that correctly, I did say people.  The beautiful iris (Stairway to Heaven) was given to me by my dear friend and former neighbor, Cathy.  Oh, the garden memories I have of my friend.  We shared many plants and had such fun.
Another beauty from Cathy is her beloved tree peony she raised from just a sprig. When Cathy had to move she was unable to take her treasure, so she gave her to me.  As Cathy laid her gently in the spot we had prepared for her in my garden, she said, "Honey, I am so sorry to leave you, but I promise you won't hurt long." Every time I see her in all her magnificent glory, I think of and remember my talented friend.  I named the peony, Princess Cathy.  Perfect, don't you think? And, by the way, her blooms are a mere 10 inches across.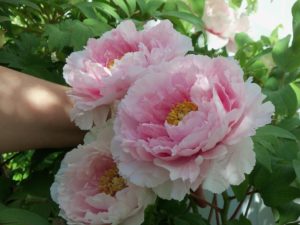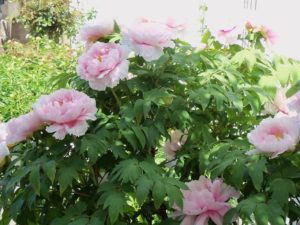 I could never write about my many gardening friends without telling you about Linda.  Many of the plants Linda shared with me were left in our garden in Virginia.  However, the one I chose to bring to West Virginia is a fabulous beauty and is rare.  Her name is Ruby Morning, she is a chocolate iris.  She is stunning and lives next door to a gorgeous butter yellow peony, named Sunny Girl.  The two bloom at the same time, are breathtakingly beautiful together, and seem to be quite happy as close neighbors.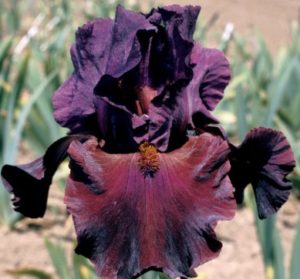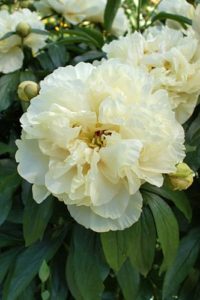 Oh, I must tell you about Pandora.  Pandora was the PTA president at the school where I worked.  She was a delightful woman, who loved not only her children, but all children.  Pandora and I had an instant connection, the state of Mississippi.  Pandora was from a small town in Mississippi, close to the town where my mom was raised, and where I spent many of my childhood summers with my grandmother.  One gorgeous spring day, Pandora came to our school with a huge bundle of the most vivid crayola yellow irises I ever saw.  And, of course being a true gardener, she shared a clump of these beauties with me.  Just imagine, these irises traveled from Pandora's grandmothers garden in Mississippi, to gardens in Virginia, then on to a garden in West Virginia.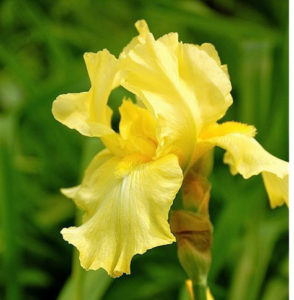 But at the very top of those residing in our garden, are treasures from my dear mom and grandmother.  Mom loved pink, I do too.  And her favorite iris was a lovely pink creation named Beverly Sills.  When we sold mom's home, of course Beverly came to live with me.  She truly is a star in our garden, and means the world to me.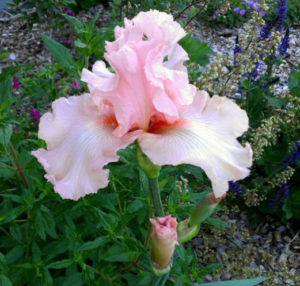 And my grandmothers peony, which moved from West Virginia to Virginia and then back again to West Virginia, is an heirloom peony and extremely fragrant.  In researching information regarding this peony, I believe her name is Chestine Gowdy.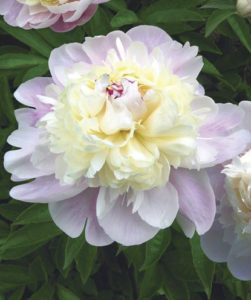 These are just a few of the many great and wonderful gardeners I have been blessed to know, learn from, and enjoy in my gardening life.  Once spring arrives, you will meet many more of them.  It is amazing how the garden world does seem to unite those who love her.   I do hope you have treasured friends and family living in your garden.  But if not, perhaps this post will be just the needed inspiration to reach out to friends and family members by sharing the beauties from your garden.  Give others a "gift for no reason."  To me, sharing is the absolute best part of gardening.  I can tell you, "The rewards are priceless."  
Friends blooming in Le Jardin – Spring, 2017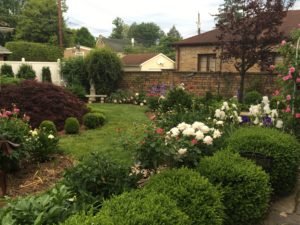 "My garden is my most beautiful masterpiece." – Claude Monet
Wishing you a most beautiful day !
Au Revoir,
Sandra
Note:  Photos are from spring, 2017
Photos:  Michael S. Lambiotte,Pinterest