"Cooking is all about people. Food is maybe the only universal thing that really has the power to bring everyone together. No matter what culture, everywhere around the world, people eat together." ~
Guy Fieri
Good morning, dear friends.  Welcome to the July post of 'At Table.'  I do hope this finds you well and ready to try a few new recipes.  It is certainly too hot in my part of the world to be outside.  Therefore, it is a  good time to be in the kitchen.  And, today we are, virtually, in the 'Paris Kitchen' with David Lebovitz.  So,  pour yourself a coffee or tea and join me as I share a bit of information about him, some of my favorite recipes from his wonderful book, "My Paris Kitchen," and a wee bit of history.

"If more of us valued food and cheer and song above hoarded gold, it would be a merrier world." ~ J.R.R. Tolkien
 David Lebovitz
David Lebovitz is an American, born and raised in Connecticut.  When he was sixteen, he began working in restaurants, including a job washing dishes.  He attended Ithaca College where he began his cooking career at a vegetarian café.  From this café, he went on to Berkeley, California to Chez Panisse.  Working with Alice Waters (who has touched the lives of many great chefs) and co-owner, Executive Pastry Chef Lindsey Shere. Lebovitz describes these thirteen years at Chez Panisse as most important to him and formative in his cooking career.  
In 1999, Lebovitz launched his website davidlebovitz.com to coincide with the release of his first book, "Room for Dessert"(currently out of print).  
 

It was his intention for his website to be a place to share recipes and stories. Shortly after his move to Paris, Lebovitz began to blog more frequently and developed quite a name for himself in the pastry world. At the time, the word "blog" hadn't been invented nor had the concept, but the blog hasn't stopped, and recently celebrated its twentieth anniversary. In 2019, Lebovitz was honored by Saveur magazine with its first-ever Blog of the Decade Award. 
Additionally, he was named one of the Top Five Pastry Chefs in the Bay Area by the San Francisco Chronicle and has been featured in, Bon Appétit, Chocolatier, Cooking Light, Food+Wine, Cook's Illustrated, Oprah, Real Simple, The Los Angeles Times, Newsweek, Travel and Leisure, The New York Times, People, Saveur, Sunset, and USA Today. 
Lebovitz, who has gone on to be the author of eight books was trained as a pastry chef,
with
certificates from Callebaut College in Belgium, as well as Ecole Lenôtre and Valrhona's Ecole du Grand Chocolat in France. 

"A recipe has no soul.  You, as the cook, must bring soul to the recipe." ~ Thomas Keller
While conversation and stories make being 'at the table' most enjoyable.  I thought I would share a little family history. 
Perhaps, the recipes I am sharing, which have roots in Belgium,  caught my attention because my husband's family is from the village of Jumet, Belgium.  Jumet is a section of the Belgian town of Charleroi, within the Walloon region in the province of Hainaut.  It is a French-speaking community of the Walloon dialect.  Jumet is famous for its skilled glassworkers, many of which arrived at Ellis Island during the late 1800s. 
One of these men was Jules Lambiotte, my husband's great grandfather who arrived in 1893.
The Lambiotte family is one of great cooks.  My husband's grandfather (also Jules) was an outstanding cook.  He passed his love of cooking and recipes on to his son, Jean Jacques Lambiotte, and then on to my husband, Michael.  I had the pleasure of eating meals that both Jules and Jean prepared and they were outstanding.  In a later post, I will share a few of their recipes, one of which I treasure the most is Boudin, which the Lambiotte family makes during the Christmas season. I know both of these gentlemen would have enjoyed the recipes I am sharing today.

"When I'm in the kitchen, I know I'm going to have to do a little thinking for myself and rely on my senses, no matter how closely I'm following a recipe." ~ David Lebovitz
3/4 cup honey
1/2 cup packed light brown sugar
3/4 cup water
1/2 tsp. sea salt or kosher salt
1 1/3 cups all-purpose flour
2/3 cup whole wheat flour
1 tsp. baking powder ( preferably aluminum-free)
1 tsp. baking soda
1 tsp. whole or ground anise seed
1 tsp. ground cinnamon
1 tsp. ground all-spice
1 tsp. ground ginger
1/2 tsp. freshly ground nutmeg
1/2 tsp. ground cloves
1 large egg
1 large egg yolk
1. Preheat the oven to 350.  Butter a 9-inch loaf pan and line the bottom with parchment paper.
2. Heat the honey, brown sugar, water, and salt in a saucepan until it begins to boil.  Decrease the heat to a simmer and cook for 5 minutes.  Remove from heat and stir in 1 cup of the all-purpose flour.  Let this cool to room temperature.
3. In a large bowl whisk together the remaining 1/3 cup all-purpose flour, whole wheat flour, baking powder, baking soda, anise, cinnamon, allspice, ginger, nutmeg, and cloves.
4. In a small bowl, whisk together the egg and egg yolk.
5. Stir half the honey mixture into the dry ingredients; add the eggs, then the rest of the honey mixture, stirring just until smooth. If any bits of the flour remain, whisk the batter briefly to break them up and incorporate them.  Note:  This takes a little stirring, but it will eventually become smooth.
6. Scrape the mixture into the prepared pan.  Bake for 35 to 45 minutes, until a toothpick inserted into the center, comes out clean.  Let cool for 20 minutes.  If necessary loosen the sides of the cake from the pan with a knife,  then tip out onto a wire cooling rack.  Note:  My oven at 350 is not really hot.  I baked this for about 50 minutes.  However, do check it at 35 minutes to see what your oven may be doing.
Also, this bread is marvelous toasted and buttered with a cup of coffee.
Variation:  Replace 1/4 cup of the honey with a mild-flavored molasses for a more robust flavor. * I have never tried this.

Carbonade Flamande ~ Belgian Beef Stew With Beer and Spice Bread
I don't know about you, but stew is something I usually make during the fall and winter months.  However, when I read this recipe I was so intrigued about bread actually in the stew, I couldn't wait for fall to arrive.  When I was telling my friend Janet about this recipe she said, "Interesting."  That translates to – "I'm not sure about that, Sandie."  Lebovitz suggests serving this with mashed potatoes or fresh pasta.  I served it with egg noodles and it was scrumptious.  Now, for all you southerners out there, Janet suggests grits.  And, I think she may just be onto a grand idea.  But then I have Mississippi roots.
3-pound beef chuck roast, cut into 2-inch pieces
1/2 cup all-purpose flour, seasoned with salt and pepper
2 Tbls. olive oil, plus more if needed
2 onions, peeled and diced
2 cups smoked or unsmoked thick-cut bacon cut into lardons
1 cup of warm water
3 cups beer, preferably amber ~ Note:  I used a Belgian Amber Beer
2 tsp. minces fresh thyme, or 1 tsp. dried
2 bay leaves
5 whole cloves
1 tsp. sea salt or kosher salt
4 slices Pain d'epices, spread with Dijon mustard
1. Pat the beef dry and toss it in the seasoned flour,  shake off any excess.
2. Heat the olive oil in a large Dutch oven over medium heat.  Add the chunks of meat in a single layer, in batches (don't crowd the pan), and fry until they are dark brown on each side.  It's important to turn them infrequently because you want a deep, dark browning, which gives the dish additional flavor.  As you finish each batch, transfer the pieces to a large bowl.  Add more olive to the pan as needed to keep the beef from sticking.
3. When the beef is browned, add the onions and bacon to the Dutch oven and cook for 8-10 minutes, stirring occasionally, until the onions are soft and translucent.  Transfer the onions and bacon to the bowl with the beef.  Add the water to the hot pan, scraping up the dark bits on the bottom, and then add the beer.
4. Return the beef, bacon, and onions to the pot and add the thyme, bay leaves, cloves, and salt.  Cover and let simmer over very low heat for 1 hour.
5. Spread the slices of Pain d'epices with a thin layer of Dijon mustard.  Lay the slices on top of the stew in the pot, mustard-side up.  Cover and cook for 1 1/2 to 2 hours more, leaving the lid ajar and stirring the contents (including the bread) every once in a while during cooking until the beef is tender.  Remove the bay leaves and serve.  
Now, you know why I was so intrigued.  This recipe is outstanding and received a 5-star award from my husband.  Do give a try on a chilly fall or winter day.  Your home will smell amazing, and the dish is marvelous.  Be sure to bake the Pain d'epices a few days ahead of when you are planning to make the stew, as it needs to ripen a bit and becomes better with age.
Note:  This recipe originated in Belgium, but is extremely popular in France.  Once you taste it you will understand the reason for its popularity.  Should you be wondering about the bread in the stew, it makes a beautiful thickening and completely dissolves.  The taste is amazing from all the spices in the bread.

"…I got an unexpected lesson in the art of arranging the poireaux (leeks):   I learned that it's imperative that you lay them with the queue (tail) alternating with the tête (head).  So I recommend you follow those instructions, if you want, don't want to raise any Parisian eyebrows." ~ David Lebovitz
Poireaux Vinaigrette A La Moutarde Et Aux Lardons ~ Leeks With Mustard-Bacon Vinaigrette
Bacon Vinaigrette
2 cups thick-cut smoked bacon cut into lardons 
1 Tbls. sherry vinegar or red wine vinegar
1 Tbls. Dijon mustard
1/2 tsp. sea salt or kosher salt
3 Tbls. neutral-tasting vegetable oil
2 Tbls. olive oil
2 Tbls. chopped fresh flat-leaf parsley
5 large or 10 small leeks, cleaned
2 hard-cooked eggs
1. To make the vinaigrette, cook the bacon over medium heat in a skillet until nearly crisp.  Transfer the bacon to paper towels to drain.  When cool, chop the bacon into pieces about the size of small peas.
2. Whisk together the vinegar, mustard, and salt.  Whisk in the oils, 1 Tbls. at a time (the sauce may emulsify, which is fine), then stir in 1 Tbls of the parsley and 2/3 of the bacon.  Set aside.
3. To prepare the leeks, fill a large pot fitted with a steamer with a couple of inches of water.  Bring it to a boil over high heat and add the leeks.  Cook the leeks until tender, when you poke them with a sharp knife, it should meet no resistance at the root ends.  Smaller leeks take about 15 minutes and larger leeks about 30 minutes.
4. Remove the leeks and let drain and cool on a plate lined with paper towels.  Cut the leeks in half crosswise, and arrange on a serving platter, alternating them head to tail.
5. Peel and dice the hard-cooked eggs and scatter them over the leeks.  Pour the vinaigrette over the leeks and toss them and the pieces of egg in the dressing so they're thoroughly coated, then scatter over the remaining bacon pieces and parsley.
6. Serve at room temperature.
Note:  I served this with pan-seared salmon with mustard butter for the salmon.  It was yummy.  This dish is a lovely accompaniment to most meats, poultry, or fish.  French and Belgium cooks add leeks to many things.  They are wonderful in soups and stews or in many dishes to substitute for onions.  To me, they have a sweet mild flavor.
Also, I prefer this made with smaller leeks as they are more tender.

Dear friends, I hope you have enjoyed your time 'At Table' and that you will give the recipes a try.  I don't believe you will be disappointed.  
Wishing you a beautiful day, happy times in the kitchen, and many wonderful memories 'At Your Table.'
Stay Well!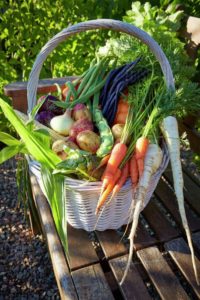 "A garden brings life and beauty to the table." ~ AliceWaters 
Bon Appétit,
Sandra

Images: via Tumblr and Facebook
Information on David Lebovitz, from his book "My Paris Kitchen and his blog, Davidlebovitz.com