"As they entered November, the weather turned very cold. The mountains around the school became icy grey and the lake like chilled steel. Every morning the ground was covered in frost." ~
J.K. Rowling
Good morning, sweet friends and welcome to 'At Table.'  I don't know about you, but the opening quote truly makes me hope the "Soup is On."
I love soup and Mike does also, but not quite as much as I do.  So for that reason, I have learned to prepare soups that will serve us for dinner and maybe lunch, but not a recipe which will feed us for a week.  As we all know, soup does have a tendency to grow when it is being prepared.
"Soup is the song of the hearth… and the home."  ~ Louis P. De Gouy
Today, I am sharing three of our favorite soups.  As the days grow colder and busier with the holidays drawing near, I hope you will enjoy them.  They make a hearty and satisfying supper and are quick and easy.  Don't forget the crusty bread or rolls. 
First up is ~ Chicken, Lemon, and Orzo soup.
Chicken, Lemon, and Orzo Soup
Ingredients
1 large onion, diced

2 medium carrots cut into rounds or diced

2 stalks of celery cut into half-moons

3 garlic cloves minced

juice and zest of 1.5 lemons ( I use 2)

1 large chicken breast shredded or diced into bite-size pieces

8 cups of chicken broth

1 handful chopped Italian parsley (optional)

1/4 cup orzo pasta or any other small pasta like ditalini or stars ( I use 1/2 cup)

1 cup baby spinach leaves ( I use 2 handfuls – we like spinach)

salt and pepper to taste
Instructions
Start with a large pot and melt 4 tbsp of butter over medium heat.  And diced onion, carrots, celery, and minced garlic.

Over medium heat and covered, sweat the vegetables for about fifteen minutes.  The vegetables should not caramelize.

Add chicken broth, lemon juice, and zest.  Let the soup come to a simmer.

Once the soup has reached a simmer, add the orzo and shredded chicken.

Once the orzo is tender, about 15 minutes, turn the heat off. Add baby spinach and parsley(if using).

Mix well to combine.

Taste for seasoning and lemon.
"Only the pure of heart can make good soup"  ~ Beethoven
This recipe is especially a favorite.  But, who doesn't love potatoes?  I am sharing it as I received it, but please note my changes.
Baked Potato Soup Recipe
4 nice size Russet potatoes

4 slices of bacon, chopped

4 tablespoon butter

1/2 cup chopped onion (I use 1 large onion – but prefer 2 large leeks, green tops removed)

1 celery stalk, chopped

1/2 cup flour

4 cups 2 % Milk (I use 2 cups whole milk and 2 cups heavy cream)

4 cups chicken broth

salt/pepper

8 ounces cheddar cheese, shredded
Garnish
chopped chives (I use chopped green onions and their tops)

sour cream

crumbled bacon

shredded cheddar cheese
Preheat oven to 425 degrees.  Scrub potatoes, poke with a fork to prevent bursting.  Place in oven and bake until tender (about 45 minutes).  Remove from the oven and set aside.  Meanwhile, chop bacon and cook over medium-low heat on the stove in a heavy large pot until crispy, being careful not to burn.  Remove bacon to a  paper towel-lined plate.  Drain all but 1 tablespoon bacon grease from pot.  Add butter, onions, and celery to pot and cook until tender.  Add flour, stirring until blended into the butter, and cook stirring for one minute.  Slowly whisk in the milk, one cup at a time until well-blended.  Stir in chicken broth.  Bring to a boil then lower heat to a simmer.  Cut potatoes in half and scoop potato flesh into the soup, breaking it up with a spoon.  Heat through about 2 minutes.  Turn heat off, stir in all but 4 tablespoons of the shredded cheese, until melted.  Salt and pepper to taste.  Note: add the cream just before serving.  Taste, and if it is too cool,  heat a minute or two.    Place in bowls and top with the crumbled bacon, sour cream, chives or green onions, and cheddar cheese.
"To feel safe and warm on a cold wet night, all you really need is soup." ~ Laurie Colwin
Last, is a favorite of Mike's. It is Pasta e Fagiolo Soup.  This recipe came to me from a woman I worked with many years ago.  It is supposed to be a copy of the Olive Garden Restaurant's recipe.  Although she didn't know for sure if it was, it is so delicious.
Pasta e Fagioli Soup 
Ingredients
2 Tbsp olive oil, divided

1 lb lean ground beef

1 1/2 cups chopped onion

1 cup diced carrots (about 2 medium)

1 cup diced celery (about 3 stalks)

3 cloves garlic, minced (1 Tbsp)

3 (8 oz) cans tomato sauce

2 14.5 oz cans chicken broth (I use a box, 48 oz. of chicken broth and skip the water)

1/2 cup water, then more as desired

1 (15 oz) can diced tomatoes

2 tsp granulated sugar

1 1/2 tsp dried basil

1 tsp dried oregano

3/4 tsp dried thyme

1/2 tsp dried marjoram

Salt and freshly ground black pepper

1 cup dry ditalini pasta

1 (15 oz) can dark red kidney beans, drained and rinsed

1 (15 oz) can great northern beans, drained and rinsed

Finely shredded Romano or Parmesan cheese, for serving

3 Tbsp minced fresh parsley (optional)
Instructions
 – Heat 1 Tbsp olive oil in a large pot over medium-high heat, crumble in ground beef cook, stirring occasionally until cooked through.
 – Drain fat from beef then transfer beef to a plate, set aside. Heat remaining 1 Tbsp olive oil in the same pot.
 – Add onions, carrots, and celery and saute over medium-high heat until tender about 6 minutes, add garlic and saute 1 minute longer.
 – Add chicken broth, tomato sauce, water, canned tomatoes, sugar, basil, oregano, thyme, marjoram, and cooked beef then season with salt and pepper to          taste.
 – Bring to a boil then reduce heat to medium-low, cover with the lid and allow to simmer, stirring occasionally, until veggies are soft, about 15 – 20 minutes.
 – Meanwhile, prepare ditalini pasta according to directions on the package, cooking to al dente.
 – Add cooked and drained pasta to soup along with kidney beans and great northern beans. Thin with a little more broth or water if desired.
 – Allow to cook 1 minute longer. Stir in parsley, serve warm with grated Romano or Parmesan cheese.
Note:  If you don't plan on eating all of the soup right away you may want to add the pasta to individual servings. Otherwise, pasta may get soggy and absorb too much broth.
Dear friends, I hope you will try these recipes.  And enjoy them as much as we do.  To me, soup is the all-time comfort food.  It holds great power, in my opinion. 
I will leave you with an interesting note, a quote I have had for many years.  It is from Leonardo da Vinci's notebook, the year 1518.  It was the last sentence written on a mathematical theorem.  It appears he enjoyed soup too.
"Whatever ~ the soup is getting cold." ~
Leonardo da Vinci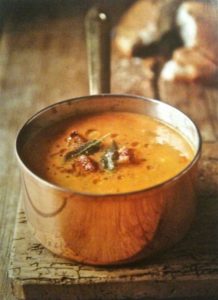 Wishing you happy times in your kitchen and 'At Your Table.'  
Don't let the 'soup get cold' and Stay Well!
Bon Appétit,
Sandra
Note: Be sure to send me a message, should you have any questions about any of the recipes.
Images:  Pinterest,tumblr