"I don't like gourmet cooking or this cooking or that cooking. I like good cooking." ~ James Beard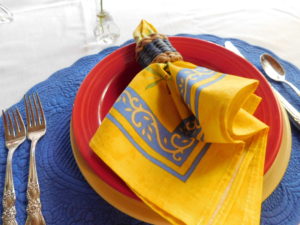 Good morning, sweet friends.  Welcome to my August 'At Table."  Can you believe we have passed the halfway mark of August?  Time certainly marches on!
Today, I thought I would share a few dishes that have been on our table this past month.  Our sweet kitchen has been a place of enjoyment for me during the virus.  I am grateful that I enjoy cooking, as it would be a serious chore if I didn't.  I hope you will enjoy the recipes as much as we have.  They have all been approved by the 'official taste tester' who resides at Maison De Jardin.  His name is Michael and he does enjoy good food.

"Going to Europe as a budding cook opened my eyes to food in a different way. When I got to Italy, the first thing I did was put my little basil plants in the ground and watch them turn into big, healthy bushes." ~ Frances Mayes
This past March, not knowing if we would be able to visit garden centers, I ordered basil seed.  If I could possibly help it, I wasn't about to go through a summer without home-grown basil and tomatoes. 
Around the first of May, the seeds were planted and soon we had basil everywhere and in every pot.  They were truly "healthy bushes" and way more than we could use.  Therefore, we decided to make basil pesto.  Notice I said, "We."   Yes, this was a joint and fun venture.
While we love nuts, we don't care for them in pesto, they seem to make it a little too earthy for our taste. Our recipe has lemon and it is so fresh tasting.  Give it a try if you also have an abundance of basil. This recipe freezes well and is wonderful on pasta, chicken, and shrimp.  It also adds flavor to almost any vegetable dish.
Basil Pesto
2 cups packed basil leaves, washed and dried
1/2 cup freshly grated Pecorino Romano cheese
2 cloves garlic chopped
1/4 cup olive oil
1/2 tsp. pepper
salt to taste, about 1 tsp.
1-2 Tbls freshly squeezed lemon juice
In a food processor, combine fresh basil, Pecorino Romano cheese, and garlic.  Pulse until coarsely chopped.  With the food processor running on low, slowly add olive oil until mixture is well blended.  Check the mixture after adding the olive oil.  Depending on how well you packed the basil, you may need to add a little more olive oil.  But no more than 1/3 cup total.  Season with salt and pepper.  Pack in jars and freeze.  The pesto will keep in the fridge for about 3-4 days.

"Chicken in cream sauce is a specialty of the town where I was born, Bourg-en-Bresse. My mother's simple recipe included a whole cut-up chicken with water, a dash of flour, and a bit of cream to finish. I have added white wine and mushrooms to make the dish a bit more sophisticated, and used chicken thighs, which are the best part of the chicken (1½ thighs per person should be a generous serving for a main course). A sprinking of chopped tarragon at the end makes it more special but it is optional. Most of the time, my mother served hers with rice pilaf." ~ Jacques Pepin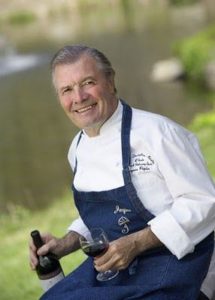 "Great cooking favors the prepared hands." ~ Jacques Pepin
This is a lovely and delicious recipe.  Don't skip the tarragon at the end.  It is wonderful with the sauce served over the rice or mashed potatoes.
Poulet a la Crème ~ Makes 4 servings
2 tablespoons unsalted butter
6 chicken thighs (about 3 pounds), skin removed (about 2 ½ pounds skinned)
8 mushrooms (about 6 ounces), washed and sliced
1½ tablespoons all-purpose flour
½ cup dry white wine ( I used Sauvignon Blanc)
¼ cup water
¾ teaspoon salt
¾ teaspoon freshly ground black pepper
½ cup heavy cream
1 tablespoon coarsely chopped fresh tarragon (optional)
Procedures:
Melt the butter in a large saucepan. Add the chicken thighs to the pan in one layer and brown over high heat for about 2½ minutes on each side.
Add the mushrooms to the pan and sprinkle on the flour. Turn the chicken pieces with tongs so the flour is dispersed evenly. Stir in the wine and water and mix well. Bring to a boil and add the salt and pepper. Cover, reduce the heat and cook gently for 25 minutes.
Add the cream, bring to a boil, and boil, uncovered, for about 1 minute.
Serve sprinkled with the chopped tarragon, if desired.

"Our father and grandfather were both charcutiers in France so we were destined to cook, it is in our genes. But I credit my mother, Germaine, who was an inventive, instinctive cook. She raised us during the War so learnt to nourish and inspire us with her simple, but delicious cooking based on sparse, humble ingredients." ~ Michel Roux
Michel Roux ~ 1941-2020
I almost didn't include this recipe today, as I plan to do a feature later on Michel Roux.  But, it was just too good to keep for another month or so.  I  made it a couple of weeks ago and Mike is still singing its praises.  If you love scallops, I can't imagine you won't adore it, just as we do.
The recipe is from his book, "The Essence of French Cooking."
Noix de Coquilles Saint Jacques au Vermouth ~ Scallops in Vermouth
8 fresh scallops – about 1 pound
10 Tbls. Noilly Prat (Vermouth)
1 oz. shallot, peeled and very finely chopped (I used 2 large shallots)
2 Tbls. heavy cream
4 Tbls. butter
2 tsp. dill leaves, plus a little more for garnish
salt and pepper to taste
Bring the Vermouth to a boil in a saute pan and reduce by 1/3.  Turn the heat to low and add the shallots with the scallops.  Poach for 1 minute, turning the scallops after 30 seconds.  Transfer the scallops to a bowl, cover with a wet paper towel, set aside.  Reduce the cooking liquid over medium heat by 1/3,  then stir in the cream.  Remove from the heat and gradually add the butter, making sure to add the next piece before the previous piece melts.  Gently shake the pan so that the butter mixes perfectly to create a sauce.  Place the scallops on the serving plate and pour the sauce generously over the scallops.  I served this with a garden salad and new potatoes.

"After one taste of French food… I was hooked. I'd never eaten like that before, I didn't know such food existed. The wonderful attention paid to each detail of the meal was incredible to me. … It was simply a whole new life experience." ~ Julia Child
Photo from, The Julia Child Foundation. 
I always try to include a dessert recipe.  Because, as we all know, often that is the best part of the meal.  This recipe is certainly a treat, especially during this time of year when wonderful fresh peaches are available.  So, I highly recommend that you try this, the peaches won't be in season too much longer.
Julia Child's Peach Clafoutis
This recipe is from her book, Mastering the Art of French Cooking, Vol. I; by Julia Child, Louisette Bertholle, and Simone Beck.
serves 6-8
Ingredients:
1 1/4 cups milk
2/3 cup granulated sugar, divided
3 eggs
1 Tablespoon vanilla
1/8 teaspoon salt
1/2 cup flour
3 ripe peaches, sliced
1/3 cup sugar
1 tsp. ground cardamom (I used cinnamon)
powdered sugar, for garnish
Directions:
Pre-heat oven to 350 degrees.
In a blender blend the milk, 1/3 cup sugar, eggs, vanilla, cardamom(cinnamon), salt and flour. Pour a 1/4 inch layer of the batter in a buttered 7 or 8 cup lightly buttered fireproof baking dish. Place in the oven until a film of batter sets in the pan (about 2-3 minutes).
Remove from the heat and spread the peaches over the batter. Sprinkle on the remaining 1/3 cup of granulated sugar. Pour on the rest of the batter.
Bake at 350 degrees for about 45 minutes to an hour. The clafouti is done when puffed and brown and a knife plunged in the center comes out clean. Sprinkle with powdered sugar, serve warm.
This is wonderful served with ice cream, whipped cream, or crème fraîche.

Dear friends, I hope you have enjoyed being 'At Table' today.  The recipes are not difficult and are worthy of a try.   I do believe your family or special someone will thank you.
Enjoy these remaining summer days, the fresh fruits, and vegetables while they are in abundance.  Because it won't be long before 'Jack Frost' will slip in one night and take them all away.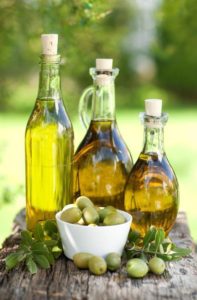 May all the times 'at your table' be happy ones!
"The heart of hospitality is about creating space for someone to feel seen and heard and loved. It's about declaring your table a safe zone, a place of warmth and nourishment." ~ Shauna Niequist
Bon Appétit 
Sandra
Images: Michael S. Lambiotte, tumblr and Pinterest