"Bold stripes, bright stars, brave hearts."  – Unknown
Our big summer holiday is almost here.  The Fourth of July is a day of wonderful celebration all across our great land.  Fireworks, family, fun and food.  Ah, the smell of the charcoal grill, loaded with sizzling hamburgers and hot dogs.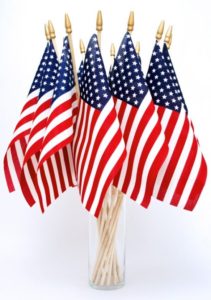 Here in West Virginia hot dogs are a serious matter.  While they are most always served, with chili, yellow mustard and onions, the chili will make them as different as night and day.  Chili is what creates the magic and there are many great recipes for this goodness.  Most, highly guarded. So today, I am sharing one of those guarded recipes. The recipe belonged to my mother-in-law, no doubt she was sworn to never divulge the ingredients.  However, during her time as president of the Football Mothers Club, she was in charge of making the chili for the hot dogs. During those 4 years she made a gazillion gallons of this marvelous concoction for the famous hot dogs which were sold every week at Friday night football.  Also, coming your way today are recipes from, my treasured Mississippi cookbook. Mustard Dill Potato Salad, and the absolute best Three-Bean Salad you will ever taste.  All are perfect for a Fourth of July gathering. Bon Appetit!

Betty's Hot Dog Chili
1 lb. ground chuck
1/2 cup finely chopped onions
2 tsp. salt
2 tsp. chili powder
2 tsp. garlic powder
1 – 6 oz. can tomato paste
2 tsp. sugar
1 tsp. pepper
Mix all ingredients, place in large saucepan and cover well with water.  Keep adding water 2 or 3 times and cook all day.  Do this until it is reduced to a reasonably thick chili.  Cook uncovered on an extremely low setting. Cool to lukewarm. Place a grilled hot dog on a warm bun, top with yellow mustard, a generous amount of magical chili, and finely chopped onions.  You have created, Perfection!
Mustard Dill Potato Salad
3 lbs. red potatoes, quartered (don't peel)
1/2 cup finely chopped celery
1 tsp. grated onion
1 1/2 cups Hellmann's mayonnaise
1/4 cup yellow mustard
6 hard-boiled eggs, grated
4 tsp. dill pickle relish
4 tsp. sweet pickle relish
1 – 4 oz. jar chopped pimientos, drained
1/4 cup apple cider vinegar
2 Tbls. chopped fresh dill
2 Tbls. sugar
1/2 tsp. sweet paprika
1/2 tsp. ground black pepper
1 tsp. salt
Boil the potatoes in lightly salted water for 20 minutes, or until fork tender.  Drain well and transfer to large mixing bowl.  Let cool for about 15-20 minutes.  While the potatoes are still warm, add the celery, onion, mayonnaise, mustard, egg, dill, relishes, pimientos, vinegar, dill, sugar, paprika, salt/pepper.  Toss with your hands, breaking up some of the potatoes as you go, mix well.  Cover and chill in the refrigerator overnight.  
Three-Bean Salad
2  – 14.5 oz. cans cut green beans, drained
1 –  14.5 oz can yellow wax beans, drained
1 – 12 oz. can red kidney beans, drained and rinsed
1 small onion, finely chopped
1 small red bell pepper, chopped
1 cup sugar
1 cup white vinegar
1/2 cup vegetable oil
1/2 tsp. ground cloves
In a large bowl, combine all ingredients, mix well.  Refrigerate overnight.

As you celebrate please remember the men, women, and families of those who have served, along with those currently serving, in our armed forces.  Dedication toward making our country and world a better, safer place.  And, let us never forget those who have paid the ultimate price for our freedoms, as well as their families whose lives are forever changed.
Enjoy the recipes, have a wonderful and safe Fourth of July – Thanks for visiting !
Au Revoir,
Sandra
Photo:  onecharmingparty/Pinterest