"The energy of the Earth flows through the veins of Springtime." ~ Terri Guillemets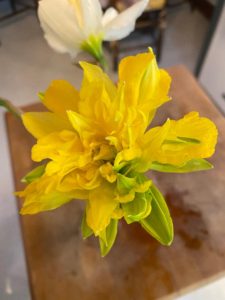 Good morning, dear friends.  I hope you had a wonderful Easter and are enjoying Spring in your corner of the world.  Today's post is about a variety of things that I hope you will enjoy.   Let me begin with 'Rip Van Winkle.'  Rip Van Winkle is pictured in the photo above and yes, he is a daffodil.  Rip is one of our favorites and he is an heirloom daffodil dating to 1884.  But what makes him special to us are the memories he holds of my husband's great aunt and spending time with her at her farm in Western Pennsylvania.  She happily shared Rip with us and we moved him to our home.  We think of her every spring when he blooms.  I love his chartreuse swirls plus, he has a long vase life.  Should you be interested, Rip is still available through Old House and Gardens. 
Currently, the daffodils are on center stage in our garden.  They will be in bloom for several more weeks, as we have many late-blooming varieties.    Mike fed them last year and it has made a huge difference in their blooms this year.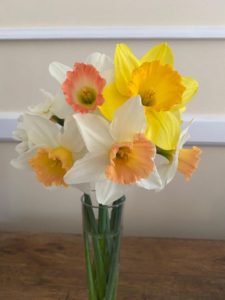 I have seen the Lady April bringing the daffodils, bringing the springing grass and the soft warm April rain.  ~ John Masefield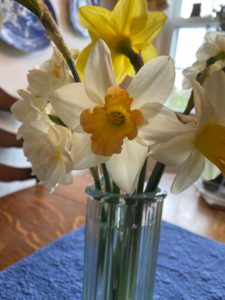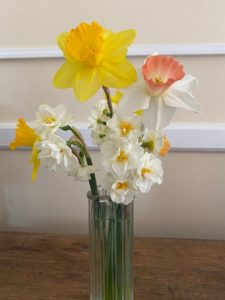 All the daffodils in the photo above hold special memories.  The small white one is named Cheerfulness (it is also available in yellow).  It usually has at least three blooms per stem, is extremely fragrant, and was one of mom's favorites.  The yellow with a deep yellow trumpet was from mom's great gardening friend, Nellie.  And, the lovely white with a coral center was a 'no reason' gift from Mike.  I love 'no reason' gifts.  Anyway, it did not have a name other than 'assorted' daffodil.  So, I chose 'Just Beautiful' as her name.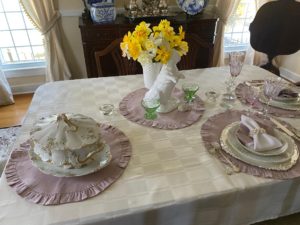 On our Easter table, Bugs is holding, in his basket,  an assortment of the daffodils currently in bloom from our garden.    Mike took the photo before the table was finished so please excuse the wrinkle in the table cloth.  Also, Bugs was to have a bowtie around his neck and the green berry glasses were to be filled with jelly beans, which happened later.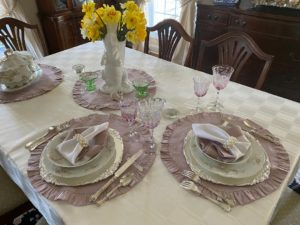 The Haviland china was found on an antiquing adventure with mom and the matching tureen with underplate was a birthday gift from Mike.  The green berry glasses were Mike's great grandmothers and the sweet little lamb with a flower crown was a gift from a dear friend.  The Fostoria stemware belonged to mom.  Memories and treasures.  
"They made their way to the dining room, where the air was blossom-scented and gilded with candlelight." ~ Lisa Kleypas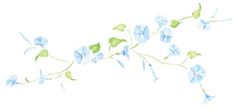 "Whoever says, "It's only a rabbit" has obviously never loved a rabbit." ~ Unknown
I would like you to meet the real, one and only, Bugs.  He/she was born in our garden last spring and stayed with us until late fall.  And yes, he is the guilty one who enjoys our delphiniums.  Although, he doesn't seem to enjoy them seasoned with cayenne pepper.  The unusual thing about Bugs is he has returned this year.  Enjoying his favorite spots(the same as last year) and in general, just lounging around, eating clover, and being, well, just Bugs.  I have always had a fondness for bunnies and Bugs has only made my soft spot softer.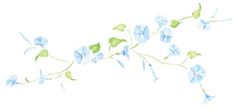 "Laughter is brightest where food is best." ~ Irish Proverb
Just before Easter, the following two recipes were posted in our local newspaper, "The Exponent Telegram."  I prepared both of them for our Easter dinner and they were wonderful.  Therefore, I thought I would share and I hope you will give them a try.  With summer approaching the Pea Salad would be an excellent choice for a Covered Dish luncheon or supper.  For such things, I always look for a dish that will travel well and this one certainly would.
Southern Pea Salad 
12 oz. frozen sweet peas
3 slices bacon, cooked and crumbled
2 hardboiled eggs, diced
1/4 cup grated white cheddar cheese
Dressing
3 Tbls. Mayonnaise
2 Tbls. red onion, finely chopped
1 Tbls. sour cream
1 Tbls. fresh chives
1 tsp. sugar
1 tsp. apple cider vinegar
1/4 tsp. salt
1/4 tsp. pepper
1/8 tsp. onion powder
1/8 tsp. garlic powder
Bring a medium saucepan with water to a boil.  Add frozen peas, cook for 3 minutes.  Drain and rinse in a colander under cold water until cool.  Let the peas stand in the colander until thoroughly drained.  Fry the bacon until crisp, remove from pan, and drain well on paper towels then chop.  In a medium bowl, combine peas, chopped eggs, chopped bacon, and cheddar cheese.   In another small bowl, combine all dressing ingredients and mix well.   Pour dressing over pea mixture and mix well.  Refrigerate until ready to serve.  
Cauliflower and Leek Gratin 
1 large head of cauliflower, cut into florets
2 med. size leeks, white and green parts, trimmed and sliced into 1/4 inch pieces
2 small shallots, peeled and sliced
1/2 tsp. ground pepper
1/2 tsp. fine sea salt
1 tsp. fresh thyme leaves chopped
1/4 cup all-purpose flour
1 1/2 cups half & half
1 1/2 cups grated aged Asiago cheese
unsalted butter
Preheat oven to 350 degrees.  Spray a 2 or 3-quart baking dish with cooking spray.  Bring to boil salted water in a large pot.  Add cauliflower florets and cook for about 4 minutes.  Drain and rinse under cold water.  Place cauliflower in a large mixing bowl and set aside.  In a small to medium saucepan, melt 3 Tbls. butter over medium heat, then add leeks, shallots, ground pepper, and thyme.  Cook, while stirring, for about 5 minutes.  Stir in flour until well combined.  Slowly pour in milk, stirring constantly until well combined.  Bring to a boil, and allow to cook until thickened about 3 minutes stirring constantly.  Remove from heat and stir in 3/4 cup of the cheese and salt.  Pour the leek mixture into the mixing bowl with the cauliflower.  Mix well and transfer the mixture into the prepared baking dish.  Sprinkle with the remaining 3/4 cup of cheese over the top.  Place in the oven and bake for about 30 minutes.  Note:  I baked this for about 45 minutes.  Let cool for about 10 minutes before serving.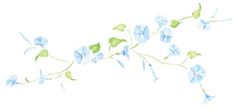 Dear friends, I hope you have enjoyed a few snippets of joy from our beloved old home and garden.  Spring does provide all of us so many chances to enjoy the beauty around us, each other, and our many blessings. 
Know I hope this finds you under blue skies, listening to bird song and taking time to simply 'be' during this glorious season. 
And. . .
May your days be filled with joy, and kind souls.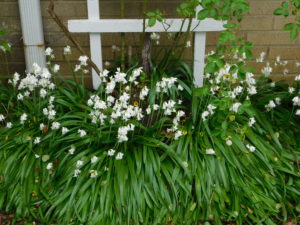 Scilla in bloom in our garden.
"The flowers appear on the earth; The time of the singing of birds is come." ~ Song of Solomon 2:12
Amour,
Sandra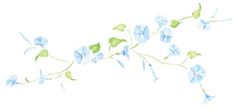 Images:  Michael S. Lambiotte