"Cooking is Love made visible."  – Unknown
Summertime is here and that means, it is time to dine alfresco.  Today I am sending along an easy menu, perfect for a warm summer evening outdoors.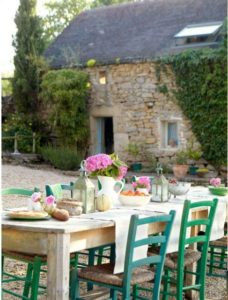 Le Menu
Gazpacho
Basil/Tomato Crostini's
Garden Salad with Champagne Vinaigrette
Vanilla Ice Cream drizzled with Limoncello, served with Biscotti

Gazpacho
1/2 cup diced celery
1/2 cup diced green pepper
1/2 cup diced onion
1/2 cup thinly sliced cucumber
1 cup diced tomatoes
1 can tomato soup – undiluted
1 soup can of water
1 1/2 cups V8 juice (no substitutes)
1 Tbls. red wine vinegar
1 Tbls. bottled Italian dressing
garlic salt to taste
1/4 tsp. salt, 1/8 tsp. pepper
4 dashes of hot sauce
dash of Worcestershire sauce
Combine all ingredients in a large bowl, mix well.  Cover and refrigerate at least 4 hours or overnight.  Stir gently and serve in chilled bowls or mugs.
Note:  A friend gave me this recipe in 1979.  While I have tasted many other Gazpacho recipes, I award the blue ribbon to this one.  Also, the flavor is enhanced when chilled overnight.  
Basil/Tomato Crostini's
1 nice size baguette
2-3 tomatoes good for slicing
shredded mozzarella cheese
olive oil
nice size bouquet of fresh basil, chopped
2-3 scallions chopped – optional
Preheat oven to 400. Slice baguette and toast on baking sheet.  Remove from oven and lightly dip or brush the side, not toasted, in olive oil. Sprinkle with mozzarella, chopped scallions (green tops included), and chopped basil. Add sliced tomatoes, and more chopped basil.Sprinkle lightly with more mozzarella, return to oven,  and toast just until golden.  Watch carefully, to be sure the cheese doesn't burn.
Champagne Vinaigrette
2 tsp. Dijon mustard
1/4 cup champagne Vinegar (no substitutes)
3/4 cup olive oil
salt/pepper to taste
1 generous Tbls. honey
Whisk all ingredients.  Prepare an hour or two before serving for the best flavor. Serve over a mixed garden salad.
Vanilla Ice Cream with drizzled Limoncello, served with Biscotti
2 scoops of good vanilla ice cream
Your favorite store bought or bakery Biscotti
Limoncello
Store Limoncello in the freezer until you are ready to use.  Scoop ice cream into serving dish, drizzle with Limoncello and add a piece of Biscotti.  The easiest and most delicious summer dessert!
Thanks for visiting.  Wishing you and yours a Beautiful Weekend !  
Bon Appetit !
Au Revoir,
Sandra
Photo: pinkwallpaper blogspot/pinterest