"Never lose an opportunity of seeing anything that is beautiful. " ~ Ralph Waldo Emerson
Good Morning Dear Friends!  I do hope this finds you enjoying these summer days.  My post today was created while gathering information for another post. And, I thought you may enjoy seeing some of the things I came across.  Many of the thoughts and photos, I hope, may inspire, bring back fond memories or simply make you smile. 

"He who loves an old house never loves in vain.  How can an old house used to sun and rain, to lilac and to larkspur and an elm above, ever fail to answer the heart that gives it love?"  ~ Isabel Fiske Conant (see note at the end of this post)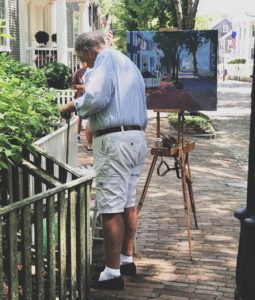 This photo of the man working on a painting of the pretty homes reminded me of something quite special.  We had lived in our current home around three years and on one spring day, while I was outside, I noticed a lovely young woman sitting on the front steps of the home directly across the street.  She was sketching our home. When she saw me, she immediately came over and introduced herself.  She told me she was sketching a few of the old homes in town for a collection and promised to let me see ours when it was finished.  Several months later, she rang our doorbell only to gift us a gorgeous, detailed black and white etching of our home.  Needless to say, it is a treasure.  Truly, unexpected joy!

And, this beautiful spot ~ such a lovely way to begin the day or perhaps take a moment's rest.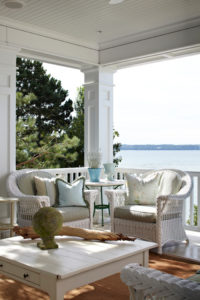 "Summer Breeze Makes Me Feel Fine."  It does, doesn't it?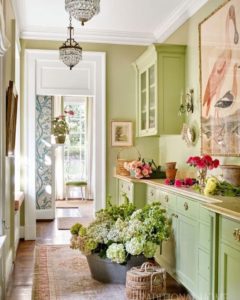 "Flowers can change your day, try some." ~ Matthew Mead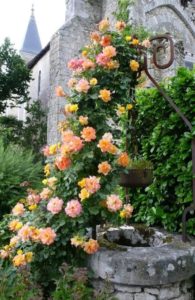 "I love flowers, I'd love to have the whole place swimming in roses." ~ James Joyce,

Oh, I can't fail to mention a huge discovery at our home this week, ripe tomatoes!  Which translates to ~ Mike's Tomato Salad.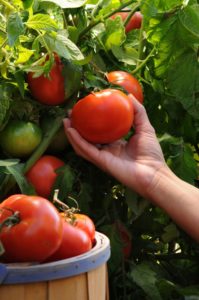 "It's difficult to think anything but pleasant thoughts while eating a homegrown tomato." ~ Lewis Grizzard
Mike's Tomato Salad
5 large tomatoes, cored and roughly chopped
half of 1 red onion, roughly chopped
1/2 cup olive oil
1/2 cup red wine vinegar
1/4 cup chopped fresh parsley
1 large clove garlic, minced
Feta cheese to taste
Directions:
Whisk oil, vinegar, parsley and garlic in small bowl.  Season with salt/pepper to taste.  Pour over chopped tomatoes and onion, mix well.  Let stand at room temperature or cover and refrigerate up to 3 hours, allowing for flavors to blend.  Sprinkle with the desired amount of Feta.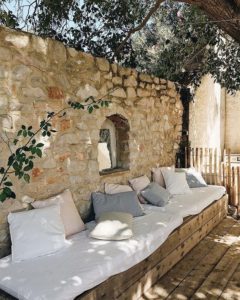 I hope you have enjoyed my 'discoveries' this week.  I want to thank you, my dear friends, for following along.  Know how very much I always appreciate your comments and the time you take to post them.  They are sweet music to me.  And, as summer seems to be moving right along, I will leave you with the thoughts of Debasish Mridha ~ "Go slow, my life, go slow.  Let me enjoy the beauty of silence, serenity, and solitude."
 

Au Revoir,
Sandra
Note:  The poem by Isabel Fiske Conant, was stitched for me by my lifelong friend, Janet.  Much love went into the stitches and I am ever so blessed to have such a dear friend.  The piece proudly hangs in our foyer.
Images~ Pinterest, Tumblr, Traditional Home
Unless otherwise stated, I do not claim ownership of these photos. These photos are the work of tremendously talented people and I simply compiled them for your enjoyment.