"A mother's love can not be measured.  It's a brilliant gem to be treasured." ~ Unknown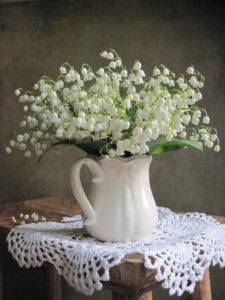 Much has changed since the first Mother's Day Celebration which was held in 1908, at a little Methodist Church in Grafton, West Virginia. However, our devotion to our mothers has remained the same.  Mothers profoundly impact our lives and therefore the world.  With that being said, we want to celebrate, honor and shower them with all the goodness and love we can possibly put forth.  So, should you be in need of a little inspiration to create that extra special day, I hope you will find it here.  After all, you have arrived at Where Inspiration Blooms.  

"All that I am or ever hope to be, I owe to my angel mother." ~ Abraham Lincoln
Mothers are the very heart of our homes.  Our homes are where families are comfortable and happy ~ which makes them the absolute perfect place for our celebrations. But, let's make this special day all about memories, not work.   
Today, I am honored to share with you the lovely creations of a most talented lady and my blogging friend,  Pam at ~ Everyday Living.  For those of you who may not be familiar with her work or her inspiring blog, she is a gifted interior decorator, photographer, and writer.  Pam is also a wife, mother and grandmother ~ one busy lady.  And when you see her work, my goodness you will be inspired, because no one does more beautiful tablescapes than Pam.  You will jump out of your seat and busy yourself with new ideas to create a perfectly stunning setting for your own celebration. 
Brace yourself ~ Beauty is about to unfold!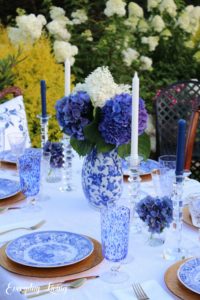 http://everydayliving.me/2017/07/11/blue-white-on-a-summer-night/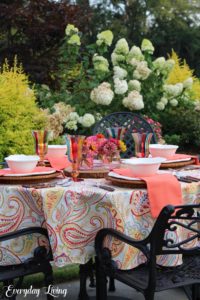 http://everydayliving.me/2017/07/25/nestled-in-the-grasses-a-giveaway/

"The influence of a mother in the lives of her children is beyond calculation." – James E. Faust
It is true, we do not all have lovely gardens which serve as a wonderful setting for special occasions.  Even for those who do, weather can often determine a change to indoors.  So my answer to this:  Fill your room with bloom!
Blooms atop a stack of plates on a buffet, instantly signify ~ a special occasion.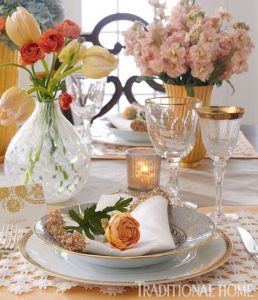 And of course, a table filled with gorgeous flowers always conveys love and thoughtfulness.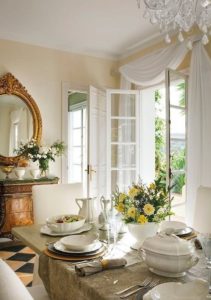 "The most indispensable ingredient of all good home cooking:  love for those you are cooking for." ~ Sophia Loren
Now, that you have a few ideas for a beautiful table whirling around in your mind, let's talk about food.  Truly, you can have wonderful food without intense preparation.  I am sharing several recipes which can mostly be made ahead of time.  Leaving you time to play with blooms, enjoy Your day and Your wonderful family! 
Salads
Sarah Frost Stamps' Chicken Salad
Shrimp Salad
Chicken Salad
6 bone-in, skin-on chicken breast halves
1 onion quartered
11 stalks celery, divided
3 stems flat-leaf parsley
1 Tbls. plus 1/2 tsp. kosher salt, divided
1/2 tsp. ground red pepper
2 Tbls. sugar
1 Tbls. all-purpose flour
1 tsp. dry mustard
1/4 tsp. ground white pepper
1/4 tsp. ground red pepper
2 egg yolks, lightly beaten
1/4 cup tarragon vinegar
1 Tbls. unsalted butter
1/3 cup heavy whipping cream
In a large pot, combine chicken, onion, 3 celery stalks, parsley, 1 Tbls. salt and 1/2 tsp. red pepper.  Cover with water, and bring to a boil over medium-high heat.  Reduce heat to a simmer, and cook until chicken is falling off the bone, approximately 30 minutes.  Remove the chicken from broth.  Strain and reserve the broth for another use, discard vegetables.  Let chicken cool completely.  Shred meat, and place in a large bowl.  Refrigerate until ready to use.  In the top of a double boiler over simmering water, combine sugar, flour, mustard, remaining 1/2 tsp. salt, white pepper, and red pepper.  Whisk in egg yolks and vinegar.  Whisk constantly until mixture is thickened.  Remove from heat, and whisk in butter, then cream.  Refrigerate until ready to use.  Finely chop remaining 8 celery stalks.  Add to bowl with chicken.  Pour dressing over chicken and celery, tossing to combine.  At this point you can add any or all of the following:  red seedless grapes – halved, a golden delicious apple – peeled and chopped, chopped pecans, and raisins.  Serve cold, with or on soft rolls.  Note: Make this a day ahead and refrigerate overnight.
Shrimp Salad
Note:  I have made this recipe for so many years, I could put it together in my sleep.  If you have shrimp lovers in your family, you will never go wrong with this recipe.
1 cup sour cream
1 cup mayonnaise ( I use Hellman's)
1.2 cup finely chopped onion
1/4 cup finely chopped celery
3 Tbls. ketchup
4 tsp. fresh lemon juice (fresh only)
3 tsp. horseradish
1 tsp. salt
3/4 tsp. ground black pepper
1 1/2 pounds medium shrimp, cooked, peeled, and deveined
1 (16-ounce) box macaroni noodles, cooked and drained (I use Barilla elbow macaroni)
In a large bowl, combine sour cream, mayonnaise, onion, celery, ketchup, lemon juice, horseradish, salt, and pepper.  Stir mp and macaroni.  Cover, and chill for at least 4 hours before serving.  Note:  Make this a day ahead and refrigerate overnight.  Serve cold and with soft rolls.
Warm From The Oven 
Hampton Roads Crab Imperial 
Hampton Roads Crab Imperial
Note:  I have been making this recipe for close to forty years.  It is a recipe from the Virginia coast.  I make it a day ahead, pull it from the refrigerator and pop it in the oven.  You have a marvelous warm dish.  It is wonderful for a luncheon or dinner.
2 eggs, beaten
1/4 tsp. dry mustard
dash of white pepper
2 lbs. backfin crabmeat ( you read that correctly – it is 2 lbs.)
4 Tbls. chopped pimento
2 1/4 cups mayonnaise ( I use Hellman's)
1/2 cup grated Parmesan cheese
Preheat oven to 350.  Beat the eggs with mustard and pepper.  Add crabmeat, pimento and 2 cups of the mayonnaise.  Spoon the mixture into a 2-quart casserole baking dish and spread with 1/4 cup mayonnaise and sprinkle with the parmesan cheese.  Bake for about 20 minutes until brown and bubbly.  Note – I check this at 20 minutes, but I usually bake it for 30.
Dessert
Pound Cake, With Choice of Fresh Berries
Or
Vanilla Ice Cream, With Choice of Fresh Berries
Pound Cake
1 stick butter, room temperature
1 1/2 cups sugar
1/2 cup sour cream
1/4 teaspoon baking soda
1 1/2 cups all-purpose flour
3 large eggs
1/2 teaspoon vanilla extract
Preheat oven to 350 degrees F.
In a large mixing bowl, cream the butter and sugar together. Add the sour cream and mix until incorporated. Sift the baking soda and flour together. Add to the creamed mixture alternating with eggs, beating in each egg 1 at a time. Add vanilla.
Pour the mixture into a greased and floured loaf pan. Bake for 40 minutes to 1 hour or until a toothpick inserted into the center of the cake comes out clean.

I hope you have enjoyed your visit today and have received some great ideas and inspiration.  As you can see the recipes are easy and are meant to provide a day free of work.  They assure you will spend little time in the kitchen, after all,  it is your day.
In closing, I want to thank Pam at Everyday Living for her kindness and generosity.  I believe it was Maya Angelou who said, "A person will always remember how you made them feel."  So true with regard to my friend, Pam.  She has been a great source of inspiration since I began this blog and I will never forget her kindness and how she has made me feel.
So, to all the mother's who may be reading this today, I wish you a glorious day, filled with everyone and everything you love.  A day of beauty and celebration! Never doubt your love radiates in our world and is a true force for good! 
"The loveliest masterpiece of the heart of God is the heart of a mother." ~ St. Therese of Lixieux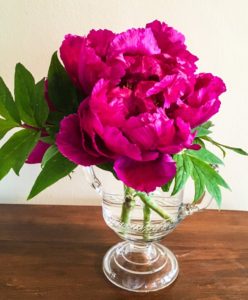 Au Revoir,
Sandra 
Photos:  Everyday Living, Michael Lambiotte, Traditional Home, Pinterest