"Twas Easter-Sunday.  The full-blossomed trees filled all the air with fragrance and with joy." ~ Henry Wadsworth Longfellow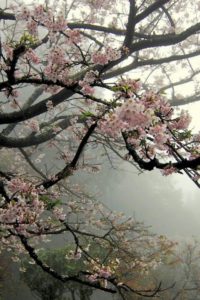 Good morning, everyone! I hope wherever you may be, this finds you enjoying this most beautiful of seasons, and that you have plans for a lovely, peaceful Easter Sunday.
I don't know about you, but Easter has rather crept up on me this year.  I am going to blame it on the weather.  Until just the past few days it has been quite cold, and there isn't much blooming, with the exception of a few daffodils.  However, if  you also feel like you may have a few loose ends,  are scurrying about with regard to plans for your Easter table, or wondering what to give as a token of love and appreciation for someone special ~ take heart.  I am sending along a few ideas. All of which can be quickly arranged, easily transported, and materials are readily available at garden centers this time of year.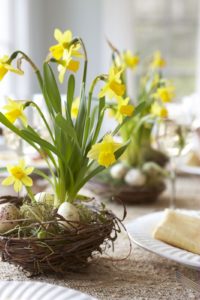 First, and a favorite are: Sweet Tete~a~Tete daffodils. They are a miniature daffodil, an early season bloomer, are perfect for an Easter table, or to take as a small gift.  They are most always available in small pots at garden centers and grocery stores.  They can easily be placed in a grapevine nest or basket. Afterwards, they can be planted in the garden ~ spring blooms for years to come.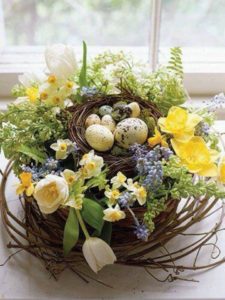 Don't you love this grapevine centerpiece?  It is simply a woven basket, filled with any  gorgeousness of your choice, and placed in the middle of a grapevine wreath.  It doesn't get much easier than that.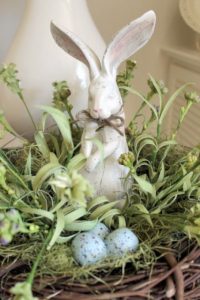 Here is another example of the same type centerpiece.  It is filled with a cute bunny, greens, and a nest of eggs.  The possibilities of this type of arrangement are never-ending.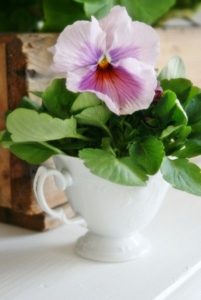 Another of my favorites for an Easter table are pansies.  I enjoy seeing a fairly large container of them for the center of the table and a small cup or mug at each place setting.  Because they come in such a wide variety of colors, they are easily paired with almost any color scheme.

Now that you have a few easy ideas for dressing your table, I am sending a tried and true dessert recipe.  I really can't tell you why, but I associate coconut with spring. Although, in the deep south, a coconut cake is often served at Christmas.  But, really this recipe is great anytime of the year.  It is an elegant~looking cake (4 layers), but so easy to prepare.  It is a perfect choice for any special occasion, especially if you are making last minute plans.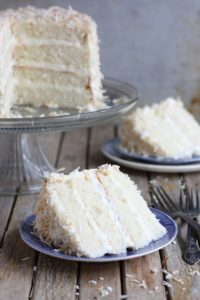 Fresh Coconut Cake
1 Box Duncan Hines Butter Recipe Golden Cake Mix
2 packages fresh frozen coconut
1 cup sugar
1 and 1/2 cups sour cream
1~9oz. container cool whip
Directions:
Prepare the cake according to package directions.  Bake in 2 layers.  Let the layers completely cool.  Slice each one, making 4 layers.
Filling and Frosting:
Thaw coconut completely.  Reserve 1/2 of 1 package to use on top of the cake.  Add sugar to sour cream and mix well, then add coconut and mix again.  Place 1st layer on serving plate.  Add a layer of filling and a layer of cool whip.  Repeat with 2 more layers.  On the top layer – use cool whip only.  Spread remaining coconut(not mixed with sour cream and sugar) on top of cool whip. Cover cake well and refrigerate over-night before cutting and serving.  Enjoy! 

CLOSING THOUGHTS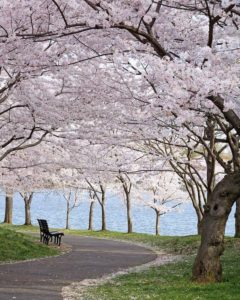 "I think of the garden after the rain;  And hope to my heart comes singing, at morn the cherry-blooms will be white, and the Easter bells be ringing !" ~ Edna Dean Proctor,Easter Bells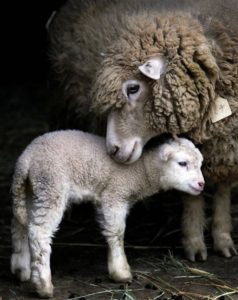 "For I remember it is Easter Morn, and Life and Love and Peace are all New Born." ~ Alice Freeman Palmer
Wishing you and all those you love, a glorious Easter weekend !
Many Blessings,
Sandra
Photos:  Martha Stewart.com, Pinterest and Facebook