"Dining with one's friends and beloved family is certainly one of  life's primal and most innocent delights. One that is both soul-satisfying and eternal." – Julia Child
In time for your holiday menu planning, I thought I would share a few of our favorite holiday recipes.  They are tried and true, and guaranteed to bring you great reviews. I hope you will enjoy them. Should you have any questions regarding any of the recipes, send me a message via the Contact section of this blog.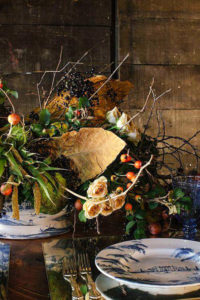 The first recipe is:  Herbed Potato Gratin.  This recipe is from Williams and Sonoma.  Many years ago, I was shopping in one of their stores and a charming young clerk was handing out recipes to all the shoppers.  This gratin is outstanding served with turkey, pork or beef.  
Herbed Potato Gratin – Makes a 9×12 baking dish.
1 & 1/2 cups heavy cream
1 minced garlic clove
1 tsp. dried rosemary
1 tsp. dried thyme
1/2 tsp. dried sage
A pinch of nutmeg
2 lbs. russet potatoes, peeled and sliced 1/8-inch thick (4 medium size is perfect)
1 large onion – thinly sliced
3 cups grated Gruyere cheese
1/4 cup grated Parmesan cheese
salt/pepper to taste
Preheat oven to 375.  Butter a 9×12 baking dish and set aside.  Combine the following in a large saucepan over medium heat and bring just to a boil.  Then remove from heat.  1 & 1/2 cups heavy cream, 1 minced garlic clove, 1 tsp. of rosemary and thyme, 1/2 tsp. sage, a pinch of nutmeg and a good dash of salt and pepper.
Peel and slice potatoes.  Arrange a third of potato slices, slightly overlapping, in a baking dish.  Add enough of the cream mixture to cover the potatoes, sprinkle with salt/pepper.  Add 1/2 of the onion and 1 cup of the Gruyere cheese.  Repeat:  using another third of potatoes slices, salt/pepper, 1/2 of the onion and 1 more cup of the Gruyere cheese.  Top with remaining potatoes, salt/pepper.  Gently press on the potatoes with a spatula to compact them.  Pour remaining cream mixture over potatoes and sprinkle with the final cup of Gruyere cheese and 1/4 cup grated Parmesan.  Cover with foil and bake until potatoes are tender, about 45 minutes.  Remove foil and bake until golden brown, about 20 minutes more.  Let rest about 10 minutes before serving.

This next recipe is from my dear friend, Janet.  I promise, if you make her recipe for Cranberry Sauce you will be so happy you did.  It is not only the best I have ever tasted, it is the easiest I have ever made. So, don't skip this one!   
Janet's Cranberry Sauce – Excellent served with turkey, pork or beef. 
1 – 12 oz. bag of whole fresh cranberries
1 cup orange juice – fresh squeezed or the type purchased in the refrigerator section of the grocery store
1 cup sugar
1 Tbls. orange zest
1 Tbls. Grand Marnier – (orange flavored liqueur and is optional)
1/4 cup finely chopped pecans (optional)
Rinse and drain cranberries well.  Bring orange juice and sugar to a boil.  Add cranberries and bring back to a boil.  Reduce heat and simmer over medium to low heat, about 10 minutes, until cranberries begin to pop.  Add orange zest, pecans, liqueur and stir well.  Remove from heat and cool completely.  Note:  This can be prepared a day ahead.  You may also want to double the recipe if you are serving a crowd.

The last recipe today, is my grandmother's Sweet Potato Pie. She was from Collins, Mississippi and this recipe was clipped from a local newspaper and tucked in the back of her cookbook.  It is a fabulous recipe and a treasure to me.  I hope it will become a treasure for you as well.
Sweet Potato Pie
 – Preheat oven to 400
2 cups cooked, mashed sweet potatoes (about 4 large sweet potatoes)
1 cup firmly packed brown sugar
1/2 cup butter, softened (take out the night before)
2 eggs, separated
1/2 tsp. ground ginger
1/2 tsp. ground cinnamon
1/2 tsp. ground nutmeg
1/4 tsp. salt
1/2 cup evaporated milk
1/4 cup white sugar
1 unbaked 10-inch pie shell
Whipped cream for topping – optional
Combine sweet potatoes, brown sugar, butter, egg yolks, spices, and salt in a large mixing bowl; beat until light and fluffy.  Add evaporated milk; mix just until combined.
In another large bowl, beat egg whites until foamy; gradually add white sugar, beating until stiff.  Fold into potato mixture.  Pour filling into pie shell.  Bake at 400 for 10 minutes; reduce heat to 350 and bake for an additional 45-50 minutes or until set.  Cool and serve with whipped cream.

I will be posting additional recipes during the holidays.  For your convenience, all recipes posted are on the recipe archive section of this site.
Thanks for visiting. Wishing you and yours a wonderful week !
Au Revoir,
Sandra
Photos: Pinterest