"You don't have to cook fancy or complicated masterpieces ~ just good food from fresh ingredients."  ~ Julia Child
I don't know about you, but when the weather turns rainy and cold, it is soup time in our home. So, since I made this delicious soup this week, I thought you may enjoy it also.  It is  super easy, and is wonderful served with a salad and crusty bread.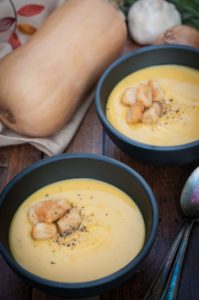 Butternut Squash Soup
Ingredients
One – 2 to 3 pound butternut squash, peeled and seeded
4 Tbls. butter
1 medium to large onion, chopped
6 cups chicken stock
1/4 cup half and half, or heavy cream
1 large granny smith apple, peeled, cored and roughly chopped
nutmeg
salt and pepper
sour cream and croutons for serving, optional
Cut squash into 1-inch chunks.  In a large pot melt butter, add onion and cook until translucent, about 8-10 minutes.  Add squash, chicken stock and apple.  Bring to a simmer and cook until squash is tender, about 20-25 minutes.  Next, you can do 1 of 2 things:  1) with a hand potato masher, mash squash and apple until the chunks are smaller.  Then with a stick blender, blend until completely smooth. Start blender on low, slowly moving up and down, to avoid a mess.  Or:  2)  With a slotted spoon, remove squash and apple chunks, process until smooth in a blender and then return to the chicken stock.    Add, cream or half and half, about 1 tsp. of nutmeg, 1 tsp. salt, 1/2 tsp. pepper. Stir well and taste.  Return to a simmer, just until steamy hot.
Ladle into bowls, top with a dollop of sour cream and a few croutons (optional).  If you enjoy nutmeg, you can sprinkle a little extra on the top. Bon Appetit !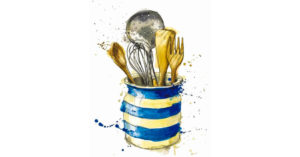 Best Wishes For A Wonderful Weekend !
Au Revoir,
Sandra
Note:  If you have not registered for the most special Giveaway, you may do so by visiting here ~ the deadline to register is:  Tuesday, November 7, 2017.  The winner will be announced  on Wednesday, November 8, 2017.    
All photos:  Pinterest