"And, just like that, summer fell into fall." – Unknown
Happy first day of Autumn everyone.  I do love autumn and especially autumn weather.  So today, in celebration of this glorious season, I am sending along a few of my favorite autumn recipes. Special treats, I hope you will enjoy.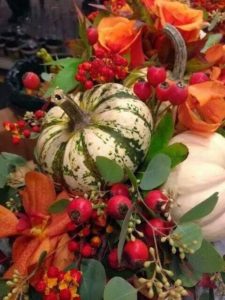 The first is a Gingerbread recipe.  I have had made this a gazillion times, at least. It is a little different from other gingerbread recipes and it makes 2 loaves.  One to keep and one to give away.  Everyone loves a sweet surprise.
Gingerbread Loaves
1 cup firmly packed brown sugar
1 cup butter, softened
2 eggs
1 cup molasses
1 cup boiling water
1 tsp. baking soda
2  and  3/4 cups all purpose flour
2 tsp. baking powder
4 tsp. ginger
2 tsp. cinnamon
1 tsp. allspice
1 tsp. cloves
1/4 tsp. salt
Heat oven to 350. Grease two 8 x 4-inch loaf pans. In large bowl, combine brown sugar and butter; beat until light and fluffy. Add eggs; beat well. In small bowl, combine molasses, water and baking soda; mix well. Beat into brown sugar mixture. Gradually add flour and remaining bread ingredients; mix well. Spoon batter into greased pans (I use baking spray with flour). Bake at 350 for 50-60 minutes or until toothpick inserted in center comes out clean. Cool in pans on wire rack for 15 minutes. Remove from pans. When completely cool, glaze with the following recipe.
Glaze
1/2 cup powdered sugar
1-2 Tbls. lemon juice
Mix together and blend well.  Brush over cooled gingerbread.

Next, is a recipe from my childhood.  A special treat my mom made for me every autumn. It is easy and one most everyone will enjoy.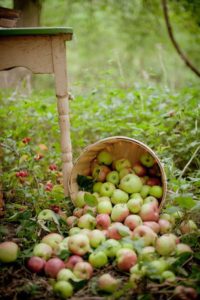 Classic Baked Apple
1 large cooking apple, washed and cored
3 Tbls. dark brown sugar
2 Tbls. raisins
1 Tbls. butter
Water
Preheat oven to 375. Cut a 1 1/2-inch circle of skin off the top of the apple, and also slit the skin around the fruit, to allow for expansion while baking.     Mix the brown sugar and raisins.  Place apple in a small ovenproof dish.  Fill cored opening with the sugar and raisin mixture, then top with butter.  Pour enough water into the pan to come halfway up the side of the apple.  Bake for around 45 minutes, or until soft.  This is a wonderful treat by itself.  However, it is also wonderful with a little cream or vanilla ice cream.

The last recipe today is a recipe from Ina Garten.  It is her Pear Clafouti.  If you are not familiar with a clafouti, I urge you to try this lovely recipe.  You will be happy you did.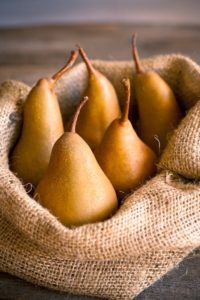 Pear Clafouti
1 Tbls. unsalted butter, at room temperature
1/3 cup plus 1 Tbls. sugar
3 extra-large eggs, at room temperature
6 Tbls. all-purpose flour
1 1/2 cups heavy cream
2 tsp. pure vanilla extract
1 tsp. grated lemon zest (2 lemons)
1/4 tsp. salt
2 Tbls. pear brandy
2-3 firm but ripe Bartlett pears
Confectioners' sugar
Creme Fraiche or whipped cream
Preheat the oven to 375.  Butter a 10 x 3 x 1 1/2-inch round baking dish and sprinkle the bottom and sides with 1 Tbls. of sugar.  Beat eggs and 1/3 cup of sugar with electric mixer, on medium-high speed until light and fluffy, about 3 minutes.  On low speed, mix in the flour, cream, vanilla, lemon zest, salt, and pear brandy.  Set aside for 10 minutes. Meanwhile, peel, quarter, core, and slice pears. Arrange the slices in a single layer, slightly fanned out, in the baking dish. Pour the batter over the pears and bake until the top is golden brown and the custard is firm, 35-40 minutes. Serve warm at room temperature, sprinkled with confectioners' sugar, creme fraiche  or whipped cream.   Note:  This is a lovely dessert and is not extremely sweet.  The custard and pears are wonderful together. Also, Creme Fraiche is available locally at Kroger.
Thanks for visiting.  Wishing you and yours a beautiful autumn !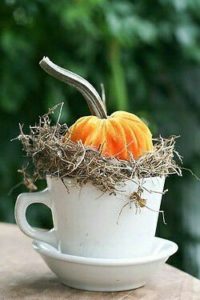 Au Revoir,
Sandra
Special Note:  There has been a recipe archive section added to the home page of my blog.  It is at the bottom right.  This will make it easier to find previously posted recipes.
All photos:  Pinterest