"Eating is not merely a material pleasure.  Eating well gives a spectacular joy to life and contributes immensely to goodwill and happy companionship." ~ Elsa Schiaparelli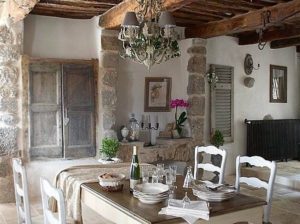 Good morning, dear friends.  Welcome to the first in the series of 'At Table.'  I sincerely thank you for visiting and look forward to your comments.  For those who may be new to this blog or have not commented before, simply scroll down to the end of the post and you will see "Comments."  Click on it and it will say, "Join the Conversation."  Please do.  Remember, this series is about learning from each other.  I want to learn from you, hear your thoughts and stories, and I feel certain other readers do also.   
That said, I would like to begin with a little information about a great chef who had a profound and lasting influence on other chefs.  Additionally, he was a leader in the culinary movement which brought to life inspiring new gastronomy.  He introduced Americans to something different.  French food, made with excellent ingredients, which could be prepared at home.   Not convenience food, frozen or processed.  This great chef was, Richard Olney (1927~1999).  An American who pursued the French way.
Richard Olney ~  Photo from his book, "The French Menu Cookbook." Published by, Penguin Random House, Canada, 1970.
"I like the atmosphere in which, whenever one sits down to a meal, however simple, it is conceived as an aesthetic experience…" ~ Richard Olney
Richard Olney was born and raised in  Marathon, Iowa.  He was educated at the University of Iowa and the Brooklyn Museum Art School, before leaving for France in his mid-20s to become a painter.  In France, Olney resided in Paris and Provence.  He is considered one of the most distinguished and influential food writers in recent history.   
In 1970, Olney published his first cookbook, "The French Menu Cookbook."  And, in 1974,  he published "Simple French Food," which included several of his own drawings.  These books brought him extremely high praise from professionals as well as amateurs.  This praise was not just about recipes, but about his philosophy of "At Table" ~ sharing good food, wine and a little beauty with family and friends.  Something he taught to many and which is part of his remarkable legacy.
"If you really want to make a friend, go to someone's house and eat with him… the people who give you their food give you their heart." ~ Cesar Chavez
While I will not go into the details of listing all the many publications for which Olney worked or list the eight books he authored, I will tell you a little about the deep influence he had on one man ~ Frank Stitt.  In 1978, for the entire month of May,  Stitt worked for Olney as his assistant.  Typing, editing manuscripts, and assisting Olney in any way he could with his demanding schedule of delivering manuscripts on time.  Stitt worked and resided at Olney's home in Solliès-Toucas, France.  A small town in Provence near Toulon. This month, however, was not totally about work.  Much fine cooking was going on as well as forming a great friendship.   
It was during this month,  that Stitt learned the magic of 'At Table.'  In an article written in "Food and Wine," magazine (October 2018), Stitt said, "That month was one of the greatest highlights of my life."  Stitt is the owner of four restaurants in Birmingham, Alabama.  One of which is the acclaimed Highlands Bar and Grill. Many guests who visit Stitt's restaurants often remark about a certain magic and the beauty they so enjoy.  Always, Stitt explains to his guests what they are enjoying can be traced directly to what he learned during his special month in Provence while working for and learning from his friend and mentor, the late Richard Olney.
"You don't need a silver fork to eat good food." ~ Paul Prudhomme
I would like to share a favorite recipe of mine from Richard Onley's cookbook ~ "Simple French Food."  You will see this is not a complicated recipe.  It makes a lovely meal along with a salad and bread, followed by fruit and cheese for dessert.  And, of course, Olney would want you to serve it with wine. (See my notes at the end of this post.) 
Also, I thought you might enjoy the recipe for Frank Stitt's Vinaigrette, to dress your salad.  This recipe is from "Food and Wine" magazine, October 2018. 
Zucchini  and Chard Gratin  ~ Serves 6
2 pounds zucchini, coarsely grated, salted in layers, and 15 minutes later, squeezed free of water.
2 medium onions, finely chopped and stewed gently in 2 Tbls. olive oil, until soft and yellowed – about 20 minutes.
1/2 cup long-grain rice, cooked for 15 minutes, rinsed beneath running water and well-drained.
2 pounds Swiss Chard, the green leafy parts.  Washed, drained, and shredded.
3 oz. of bacon slices (about 4 or 5 slices), chopped or sliced crosswise into 1/8 inch ribbons, not cooked.  Note:  I prefer this chopped.
3 large cloves garlic, peeled, finely chopped. Note:  I mince the garlic.
1 large handful chopped fresh parsley or 2 tsp. dried.
3 eggs
Salt and pepper to taste
1 cup freshly grated Parmesan cheese plus a handful more for sprinkling over the surface
1/3 cup olive oil
Directions:  Because of the bulkiness of the uncooked, shredded chard, you will need a really large mixing bowl in which to mix the ingredients.  Combine everything, with the exception of the final handful of Parmesan and the olive oil.  Mix well with your hands, pack into a large oiled gratin dish, pressing the surface smooth with the palm of your hand, sprinkle the remaining cheese evenly over the surface, dribble over olive oil in a crisscross pattern, bake in a medium oven at 350 for about 1 hour, turning the heat up to 450 for the last 10 minutes or so to give the surface a rich gratin.
Frank's Vinaigrette
2 Tbsp.  fruity red wine vinegar
2 Tbsp. Spanish sherry vinegar
1 Tbsp. honey or apple cider vinegar
1 Tbsp. minced shallot
1 Tbsp. fresh thyme leaves
Kosher salt and freshly ground black pepper to taste
1/2 cup extra-virgin olive oil
Whisk together red wine vinegar, sherry vinegar, honey or apple cider vinegar, shallot, and thyme in a medium bowl.  Season with salt and pepper, let stand 15 minutes.  Whisk in oil and check the seasoning for salt and pepper.  
This post could have easily been considerably longer, as there are volumes more I would like to share about Olney and Stitt.  Such as what led Olney to the kitchen, how he and Stitt met, their amazing friendship, as well as Stitt's long list of outstanding accomplishments.  However, the important take away is the significant contribution they both have made, not only in the culinary world but in helping us see the beauty and magic of being ~ 'At Table.'  
"Goodness, how much there is to learn about food!" ~ James Beard
So, dear friends, I hope you have enjoyed your visit and that you will try the recipes.  
   Do stay tuned there is so much more to come.  The next 'At Table' post will be October 16.
Wishing you happy times in the kitchen.  Enjoy, savor and relish the beauty.
Bon Appétit,
Sandra
Authors Notes:  Please understand I do not claim to be a Wine Connoisseur or a pairing expert, however, I will provide a suggestion to accompany this meal.  My first choice would be a rosé, Whispering Angel, or 'Gerard Bertrand Languedoc 'Cote des Roses' Rose'.  Second choice ~ a white wine, Sauvignon Blanc.  We enjoy, 'Josh' Sauvignon Blanc.
Images: ~ Via Tumblr and Pinterest.  Unless otherwise stated, I do not claim ownership of these photos.