"But these are the days we dream about when the sunlight paints us gold."  – Unknown
October is a most favorite month for me. It is the last month before the holiday season swings into full gear.  And, speaking of the holiday season, it seems to be approaching rather quickly this year.  Perhaps, I am simply getting older.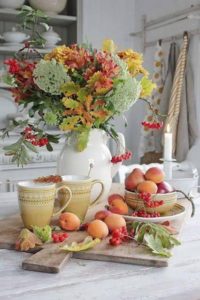 Whatever the case may be, I wondered if October was moving along rather quickly for you, too.  So, before we loose this gorgeous month, I thought I would send you a few things you may like to place on your 'to do list.' Fun things.

Do you have pumpkins for your porch? If not, plan a visit to a local pumpkin patch or farmers' market and select a few that make you smile.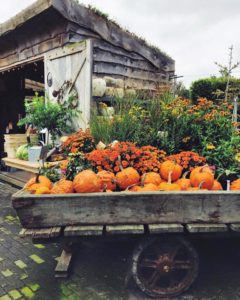 And, be sure to pick up a few small pumpkins.  They make wonderful luminaries for driveways and porches. 

Plan a fall gathering for a few friends or family members.  Keep it simple.  A wonderful soup, salad, crusty bread, and nice wine is perfection.  With a cranberry, pear galette for dessert, of course (recipe included). No need to fuss over flowers for the table. Simply gather a pretty array of leaves, a couple of trailing vines, place in a pitcher or stone crock and you have created magic.  On the table, scatter some apples, pears, tiny pumpkins and add few candles – beautiful.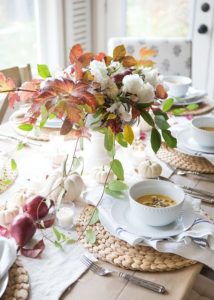 This is also the time to begin to think about spring. Yes, spring. Now is the time to plant crocus, daffodils and tulips.  When spring arrives and you see these lovely, cheerful things in bloom, you will be happy you made the effort to plant them.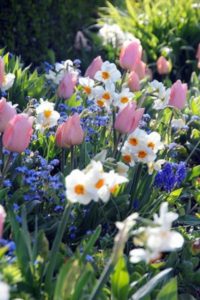 And, most important, take some time to bathe in the beauty of the season.  Pack a picnic, a thermos of coffee or cider, drive to a glorious spot and simply enjoy. Because, the words of Mary Oliver are so true – "We need beauty because it makes us ache to be worthy of it."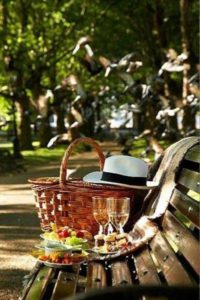 Thanks for visiting.  Enjoy these October days ! 
Au Revoir,
Sandra
Rustic Cranberry-Pear Galette
1/4 cup sugar
1 tsp. sugar
1 Tbls. cornstarch
1 tsp. cornstarch
2 tsp. ground connamon
4 cups bartlett or bosc pears
1/3 cup dried cranberries
1 tsp. vanilla
1 refrigerated pie crust at room temperature
1 egg white
1 Tbls. water
Preheat oven to 450. Coat 10 inch pie plate with nonstick cooking spray – set aside.  In a medium bowl, combine 1/4 cup sugar, cornstarch and cinnamon, blend well.  Add pears, cranberries and vanilla and toss to coat.  Remove crust from pouch, unfold it and place on the prepared pie plate.  Spoon pear mixture in center of crust to within 2 inches of the edge.  Fold edge of crust 2 inches over pear mixture and crimp slightly.  In a small bowl, combine egg white, water and whisk until well blended.  Brush egg wash onto outer edges of pie crust and sprinkle with 1 tsp. sugar.  Bake 25 minutes or until pears are tender and crust is golden brown.
Note:  Serve with whipped cream or vanilla ice cream
Photos: Pinterest, Facebook