"I want to put in an order for two bottles of champagne and some morel mushrooms – that's what I fancy for some reason…"  – Claude Monet, to his wife, in a letter from Italy.
While the morel mushrooms and champagne do sound lovely, today I am sending along an appetizer and a quiche recipe.  Both are easy to prepare and nice for the weekend.  The appetizer recipe is from,  "Monet's Palate Cookbook."  The appetizer and a salad make for a lovely dinner, by themselves.  And, served in the garden – quite special.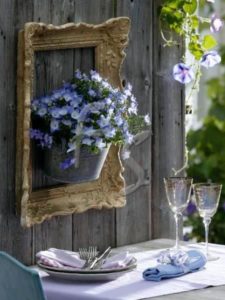 Smoked Salmon, Goat Cheese, Thyme and Chive Spread ("Monet's Palate Cookbook.")
Note:  If serving this as an appetizer, I would suggest a light sparkling wine such as Prosecco.  Should you be serving this to go along with a salad for dinner – see the suggested quiche wine parings wines below.
1 1/2 cups fresh goat cheese, at room temperature
3 Tbls. half-and-half
2 Tbls. snipped fresh chives
1 Tbls. chopped fresh thyme
1 tsp. finely chopped lemon peel (I used zest of 1 lemon)
1/4 tsp. salt
1 tsp. freshly ground pepper
1/4 pound Norwegian smoked salmon slices, roughly chopped
1 baguette, thinly sliced and toasted
Place goat cheese, half-and-half, chives, thyme, lemon peel, salt and pepper in a medium-size bowl.  Using a wooden spoon, mix well.  Add salmon and fold in.   Spread onto toasted baguette slices. Note: Can be prepared 1 day ahead.  Cover and refrigerate.  Bring to room temperature before serving.
Crustless Bacon and Gruyere Quiche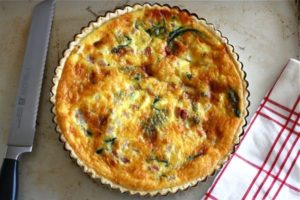 6 slices bacon
1/2 cup chopped green onions (green parts included)
4 cloves garlic, minced
6 large eggs
3/4 cup whole milk
2 cups shredded Gruyere cheese
1/4 tsp. kosher salt
1/4 crushed pepper flakes
fresh basil leaves for garnish
Preheat oven to 375.  Cook bacon in a large skillet over medium-high heat until crispy.  Remove from skillet and drain, reserving about 2 Tbls. of bacon grease in skillet. Crumble bacon and set aside.  Add onion and garlic to skillet.  Cook over medium heat 1 minute.  Remove from heat.
Combine eggs and milk in a large bowl; whisk until well blended.  Add bacon, onion mixture, cheese, salt, and pepper flakes.  Spray 9-inch pie plate with cooking spray. Pour mixture into pie plate.  Bake for 30 minutes or until egg mixture is set.  Let stand 10 minutes before serving.  Garnish with basil leaves. Note:  I bake this on the next to bottom rack in the oven.
Bon Appetit !
Quiche,wine suggestions:  Josh Sauvignon Blanc or Whispering Angel Rose

Special Note:  Be sure to read next week's blog post.  You don't want to miss, some exciting news!
Thanks for visiting, have a beautiful weekend !
Au Revoir
Sandra
Photo:  starsmasquerading.tumblr.com/pinterest, photo of quiche/pinterest