"The trees began to whisper and the wind began to roll and in the wild March morning I heard them call my soul." ~ Alfred Lord Tennyson
I hope March blew in like a lamb in your area, and that she will leave in the same manner.  But, in North Central West Virginia, she blew in like a lion.  Bringing rain, snow, black clouds, and then, a little sun.
"First a howling blizzard woke us, then the rain came down to soak us, and now, before the eye can focus…Crocus. ~ Lilja Rogers
So, to create my own sunshine, I made a lovely pot of tea and a wonderful cake.  Cake gives sunshine to the dreariest March day.  And, when it is enjoyed with tea and a great book ~ ordinary becomes extraordinary.  Just in case you would also like to enjoy my cake, here is the recipe.  It is truly the easiest cake ever, plus delicious.  You mix this cake by hand, in one bowl and do not even have to grease the pan.  Easy, as can be.

Pineapple Cake
2 eggs
1 cup brown sugar
1 cup white sugar
1 (20 oz.) can of undrained crushed pineapple
2 cups all purpose flour
2 tsp. baking soda.
Be sure to mix this cake by hand.  Beat eggs, stir in sugars and undrained pineapple.  Stir in flour and baking soda.  Pour in an ungreased 13x9x2 inch pan.  Bake in a preheated 350 oven for 35-45 minutes.  Cool and frost.
Frosting
1 (3oz.) package of cream cheese, at room temperature
1/4 cup butter or margarine, at room temperature
1 tsp. vanilla
2 cups confectioners sugar.
Cream cheese and butter, with mixer.  Add vanilla.  Gradually add sugar and mix well.  Spread on cooled cake.
Note:  This makes a thin layer of frosting.  If you like lots of frosting, double the frosting recipe.

So, should you be seeing cloudy skies this morning, and hearing March winds blowing ~ take heart.  Spring is coming soon to your neighborhood.  But until it does, find a great book, make a pot of tea and bake my cake.  You will be happy you did.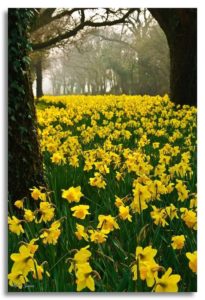 ~ William Wordsworth
"I wandered lonely as a cloud
That floats on high o'er vales and hills,
When all at once I saw a crowd,
A host, of golden daffodils;
Beside the lake, beneath the trees,
Fluttering and dancing in the breeze."
Thanks for visiting.  Wishing you a glorious weekend, and a beautiful month of March !
Au Revoir,
Sandra
Photos: Facebook and Pinterest