"Voluptuous stillness everywhere. Winter strikes my heart." ~ Virginia Woolf
Good morning, my friends.  I hope you will enjoy your visit today.  Find your coffee or tea and make yourself comfy while I share a few thoughts on 'The Beauty of Winter.'


I have always thoroughly enjoyed the winter season.  Actually, it never seems quite long enough for me.  Too many books to read, garden catalogs to study, new recipes to try, and not to mention things which require attention in our home.  Please don't throw stones at me, but I even love winter weather. To me, there is such beauty and peace in the snow and frost covered bare trees and landscape.  
Frozen beads of ice look like diamonds scattered about.   This is especially gorgeous on a sunny morning before the sun melts the diamonds.
"There is nothing in the world more beautiful than the forest clothed to its very hollows in snow.  It is the still ecstasy of nature, wherein every spray every blade of grass, every spire of reed, every intricacy of  twig, is clad with radiance." ~ William Sharp


"Nature's beauty is a gift that cultivates appreciation and gratitude." ~ Louie Schwartzberg
In the winter, to me, the birds appear brighter in color.  Perhaps that is because they don't compete with the leaves on the trees or the multitude of bloom colors.  In reality, it is probably because I notice them more.  Time is a wonderful gift of winter.
 "Oh, what will I do, what will I say, when those white wings touch the shore?" ~ Mary Oliver, "The Swan"


"Winter, a lingering season, is a time to gather golden moments, embark upon a sentimental journey, and enjoy every idle hour." ~ John Boswell
Lingering over a meal is a luxury, especially with the soft glow of candlelight providing such grand ambiance.  A simple bowl of delicious soup (recipe at the end of this post), is ever so lovely when enjoyed by candlelight.  I often think, perhaps in our attempt to obtain quicker and better, we may be missing the beauty of a calmer, gentler and sweeter life.  


"In winter we lead a more inward life.  Our hearts are warm and cheery, like cottages under drifts whose windows and doors are half concealed, but from whose chimneys the smoke cheerfully ascends." ~  H. D. Thoreau
It is a lovely thing to pull a chair to the fire, sip a glass of wine and have a delightful conversation with a loved one or friend.
Or curl up in a comfy chair with a good lamp and a wonderful book.  And speaking of books, the following are beside my chair, waiting for me.  I will let you know my thoughts about them.  In the meantime, are you reading something wonderful you would like to share?
"The reward upon finishing a great book is wisdom." ~ Unknown


In closing, all living beings and things need rest in order to bloom.  I hope you will enjoy these winter days, they will pass all too quickly.  Let's not rush them.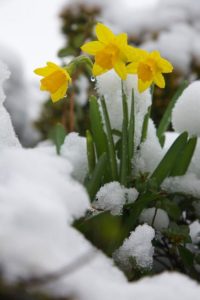 And…
"I pray this winter be gentle and kind ~ a season of rest from the wheel of the mind… ~ John Geddes
Wishing you beautiful and serene winter days.
Au Revoir,
Sandra
Images: ~ (Via Tumblr) Unless otherwise stated, I do not claim ownership of these photos. These photos are the work of tremendously talented people and I simply compiled them for your enjoyment.


Cream of Mushroom soup
1/4 cup butter
2 Tbls. olive oil
2 cups chopped onion
1 cup chopped celery
2 tsp. minced garlic
1 1/2 tsp. chopped fresh thyme
3  (8 oz.) packages sliced baby portobello mushrooms
1/3 cup all-purpose flour
1/2 tsp. salt
1/2 tsp. ground black pepper
6 cups chicken broth
1 cup heavy whipping cream
2 Tbls. dry sherry ~ this is optional, but I think it is wonderful in the soup.
In a Dutch Oven, heat butter and olive oil over medium heat until butter is melted.  Add onion and celery, cook for 5 minutes.  Add garlic and thyme, cook for 2 minutes.  Add mushrooms, cook for 15 minutes, stirring frequently.  Add flour, salt, and pepper.  Cook for 2 minutes, stirring constantly.  Gradually add chicken broth, whisking until smooth.  Bring to a simmer, cook for 20 minutes, stirring occasionally.  Add cream; return to a simmer and cook for 10 minutes.  Stir in sherry.  Serve with a salad and bread.