"It was one of those sumptuous days when the world is full of autumn muskiness and tangy, crisp perfection: vivid blue sky, deep green fields, leaves in a thousand luminous hues. It is a truly astounding sight when every tree in a landscape becomes individual, when each winding back highway and plump hillside is suddenly and infinitely splashed with every sharp shade that nature can bestow – flaming scarlet, lustrous gold, throbbing vermilion, fiery orange." ~
Bill Bryson
Good morning, dear friends.  Now that October has arrived, it is time to prepare our sweet home for the cooler days of autumn.  Here in North Central West Virginia, we are beginning to see cooler night-time temperatures and the hills are taking on a lovely golden hue.  That is my signal to get busy, prepare the garden for her long winter nap, and 'feather our dear nest.'

"Somewhere between the buzz of Indian Summer locusts and the deafening silence of new fallen snow is a fleeting, exhilarating bliss known as Autumn. It arrives in radiant splendour, summoning our primal urges to feather our nests. The aroma of tea and soup is more enticing and we find a hundred ways to savour an apple. Cords of seasoned hickory are stacked outside in anticipation of a roaring hearth as we greet the longer nights with cozy bedclothes. The moon demands more attention, and masquerades appease our hunger for intrigue. We stock up on candles, sensing the dramatic excitement that rivals the energy of those scurrying bushy tails." ~ Melissa Rolston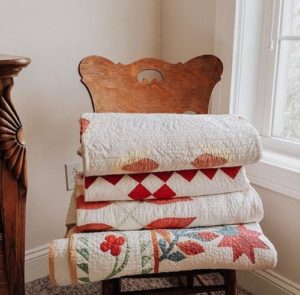 In preparation for chilly mornings and evenings, I enjoy placing a few stacks of quilts around.  They stand ready to conquer a chill and comfort our souls on a rainy afternoon. Quilts are a perfect companion for a cup of tea and a good book. And, I must not forget a little treat, such as a slice of fresh gingerbread (see recipe at the end of this post). 
"Come, let us have some tea and continue to talk about happy things." ~ Chaim Potok
A cup of hot tea is a quick and assured remedy for a chill.  Everyone who enjoys tea most likely has a favorite, or favorites.   Mine happens to be Mariage Frères, Earl Grey French Blue.   For those of you who live in larger towns or cities, this tea may be easy for you to locate.  However, if you are unable to find it, I purchase it from Amazon.com.  It is a little pricey, but every cup is a marvelous treat.

"In October any wonderful unexpected thing might be possible." ~ Elizabeth George Speare
I adore a few glorious autumn branches placed in a simple urn, vase or pitcher.  Often, I think simplicity makes the most impact.
Of course, nothing quite speaks 'cozy' like a warm fire.  Whether the fire is wood or gas burning logs, both are wonderful, taking the chill from a room as well as ourselves.  This photo reminds me of the fireplace in our home in Virginia.  It was 4 ft. tall and 5 ft. wide, complete with a trammel and hook.  Our current home, built in 1939, has three fireplaces.  There are traces where all three burned wood in earlier years, today all have gas logs.  We are certainly grateful for the warmth and beauty they add to our home.

"I was aware that the sun was sinking behind me, golden in the October afternoon." ~ D.H. Lawrence
Late afternoon calls me to the kitchen to begin preparations for dinner.  To me, the kitchen is a grand place to enjoy puttering on cool autumn days. 
"Soup is the song of the hearth… and the home." ~ Louis Pullig De Gouy
October usually begins my soup extravaganza.  I can almost hear my stockpot calling me …"Fill me with delights, to the brim, so the aroma fills every room." Is there anything more wonderful than coming home to the smell of something heavenly simmering on the stove?  Soup makes me happy and I could be quite happy with it several times a week.  Hubby, not so much.  However, he doesn't fuss and seems to enjoy it as long as there is plenty.  And with soup there always is.
A requirement for soup, nice crusty bread.  Sliced and toasted is true perfection.

"The days are shorter and colder, but our hearts are alive with the season's glow.  The warmth, the comfort, and that sense of home that autumn brings." ~ Unknown
Dear friends, thank you so much for your visit.  I do hope autumn finds you invigorated by the cooler temperatures, delighting in the things you love, and soaking up all the beauty surrounding you.   Stay close to everyone and everything you hold dear.  Enjoy your home. 
And…
Remember to ~ bake some gingerbread!
Amour,
Sandra

Gingerbread Loaves
1 cup firmly packed brown sugar
1 cup butter, softened
2 eggs
1 cup dark molasses
1 cup boiling water
1 tsp. baking soda
2 3/4 cups all-purpose flour
2 tsp. baking powder
4 tsp. ginger
2 tsp. cinnamon
1 tsp. allspice
1 tsp. cloves
1/4 tsp. salt
Glaze
1/2 cup powdered sugar
1-2 Tbls. lemon juice
Mix together until smooth.
Heat oven to 350.  Grease two 8×4 inch loaf pans.  In a large bowl, combine brown sugar and butter; beat until light and fluffy.  Add eggs; beat well.  In a small bowl, combine molasses, water, and baking soda; mix well.  Beat into brown sugar mixture.  Gradually add flour and remaining ingredients;  mix well.  Spoon batter into greased pans.  Bake at 350 for 50-60 minutes or until a toothpick inserted in center comes out clean.  Cool in pans on a wire rack for 15 minutes.  Remove from pans; cool completely.  Drizzle glaze over cooled loaves.
Note:  Often, I have not prepared the glaze and simply dusted the loaves with powdered sugar.  Either way is perfect.

Images: Pinterest and tumblr