"I can't think of a specific meal, but my favourite country for food has got to be France." ~ Giles Foden
Good morning, my friends.  Welcome to 'At Table.'  Today, I would like to talk about a remarkable young woman, Mimi Thorisson. There are many reasons I feel Thorisson is remarkable.  One, in particular, she is the mother of eight.  And in my opinion, that qualifies her as 'truly remarkable.'  However, there is more ~ much more.  And just in case you are not familiar with her, I will share a little background information.
Mimi Thorisson in her kitchen in Medoc.
I first became acquainted with Mimi Thorisson through her blog, Manger (translation, to eat).  Thorisson was born and raised in China.  Her father was Chinese and her mother was French.  She would spend summers and holidays in France with her grandmother and aunts.  It was there she learned her way around a kitchen, the love of good food, and the art of skillful preparation. Her grandmother and her aunts were all wonderful cooks and she thoroughly enjoyed learning from them.
Going forward a few years, when Thorisson and her husband, Oddur (a professional photographer from Iceland), were in their mid-30s they made a life-changing move.  A move that would lead them down many new and different roads.   They moved from their small Paris apartment to a large stone farmhouse in Médoc, France.  Médoc (French pronunciation: meˈdok) is a region of France, well known as a wine-growing region, located north of Bordeaux.    This peninsula on the Atlantic was considered one of France's last frontiers until Thorisson arrived and her blog, Manger, captured the hearts of its readers.  In April 2013, Manger was named Saveur's Best Regional Food Blog.  Quite an honor.
Following this award of her successful blog, her first cookbook, A Kitchen In France, was published in 2014.  Followed in 2016, by the publishing of French Country Cooking: Meals and Moments from a Village in the Vineyards.
The Thorisson's home had previously been owned by a woman named Plantia, who, in the 1950s had run a small restaurant out of the house, a favorite of the local wine merchants.   Much of the information for her second cookbook came from recipes and photographs she found in the home which had belonged to Plantia.   
Thorisson's culinary adventures do not end here.  Having a great fondness for Italian food, she and her family vacationed and traveled extensively in Italy. Thus, leading to their recent purchase of a home in Piemonte, Italy.  As a result of the purchase of this home, the couple plans to divide their time between

Médoc and Piemonte.  Thorisson leads cooking workshops in both locations.  Should you be interested in attending, she gives dates for the workshops in both locations on her blog and already has the 2020 schedule posted.  A link to her blog is provided above.
"If you are not capable of a bit of witchcraft, don't trouble yourself with cooking." ~
Colette
By now, you are most likely wondering, "Is she going to post recipes?"  Yes, I am, and they are wonderful.  Please pay attention to the recipes and not my photography.  I made the cabbage recipe for dinner a couple of weeks ago and my husband was beyond happy.  The recipe is not difficult but is a little time-consuming. So make it when you are not in a hurry.  Thorisson actually serves this as a first course.  But, we enjoyed it as our main course, along with fresh sliced tomatoes from our garden, a nice crusty bread, and a bottle of  Côte des Roses Rosé.  It was a lovely meal.

Chou Farçi (Stuffed Cabbage) ~ Recipe from, Mimi Thorisson.
Ingredients 
unsalted butter for the pan
1 medium onion, thinly sliced
2/3 pound good quality pork sausage
2 garlic cloves, thinly sliced
2 to 3 sprigs fresh thyme
1/2 tsp. Rabelais spice or ground allspice (I used allspice)
good dash of salt and pepper
3/4 cup whole tomatoes, crushed with juice
Be sure to read my notes at the end of this recipe.  Bring a large pot of salted water to boil.  Meanwhile, core the cabbage

and separate the leaves,

discarding any coarse outer ones.  Cook the leaves in boiling water for 8 minutes.  Drain and set aside to cool.  Generously grease the bottom and sides of a 7-inch

soufflé dish or charlotte mold with butter, this gives flavor to the cabbage.   Put a large pretty cabbage leaf, domed side down, in the dish.  Top with another leaf and continue arranging the leaves, along the sides, one on top of another until the entire base and sides are covered.  You won't use all the leaves at this point (reserve enough for 4 or 5 layers).
Heat the olive oil in a large sauté pan over medium heat.  Cook the onions and carrots until softened, about 4 minutes.  Add the ground beef, sausage, garlic, thyme, bay leaf, spice and salt, and pepper.  Cook, stirring occasionally until the meat is browned.  Pour in the crushed tomatoes and their juices.  Simmer until nearly all the liquid has been absorbed, about 5 minutes.  Transfer the mixture to a bowl and let cool.  Note:  At this point, after the mixture was cool, I discarded the thyme and bay leaf and placed the mixture, a few large spoonfuls at a time, into a large fine-meshed strainer and squeezed out the excess grease from the beef and sausage.  Next, put a layer of meat in the cabbage-lined dish and top with a cabbage leaf.  Continue until you have used all the meat.  This will make about 4 layers ~ See Note at end of post
.  
Bake for 40 minutes.  To unmold, invert a plate over the top of your dish or pan and flip the plate and dish to remove the mold.  Serve immediately, cut into slices.  This recipe serves 6.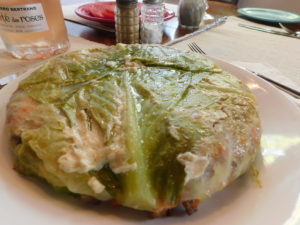 "No one who cooks, cooks alone. Even at her most solitary, a cook in the kitchen is surrounded by generations of cooks past, the advice and menus of cooks present, the wisdom of cookbook writers." ~ Laurie Colwin
Pear Flognarde
A Pear Flognarde is a rustic cake with origins in the Limousin region of France.  It is rather like a big pancake filled with marvelous pears.  In the Occitan language, flognarde means "soft."  This is a lovely and easy dessert – be sure to give it a try.
Ingredients
4 Tbls. unsalted butter, plus more for the cake pan
6 medium pears, such as Bartlett
2/3 cup granulated sugar
1 1/2 Tbls. dark run
4 large eggs
1 Tbls. honey
1 vanilla bean, split lengthwise, seeds scraped out and reserved
1/4 tsp. salt
1 cup all-purpose flour
1 2/3 cup whole milk
1 Tbls. brown sugar
Preheat oven to 350.  Peel pears, cut into quarters and remove the cores.  In a large sauté pan, heat 2 Tbls. of the butter.  Add pears, sprinkle with 1 1/2 Tbls of granulated sugar, and cook, turning them once, until golden, about 8 minutes.  Sprinkle with rum and simmer for about 2 to 3 minutes.  Set aside to cool.  In a large bowl, combine the eggs, remaining sugar, honey, vanilla seeds, and salt.  Whisk until frothy.  Melt the remaining 2 Tbls. of butter and whisk into the batter, along with the flour and milk, whisking until smooth.  Scrape the pears and all of their juices into the prepared pan.  Pour the batter on top and sprinkle with brown sugar.  Bake until puffed and golden, about 35 to 40 minutes.  Let cool for at least 15 minutes on a wire rack before unmolding.  The cake will deflate gradually as it cools.  Serve warm or at room temperature.  It is quite lovely with rum ice cream or a dollop of crème fraîche.
"We all eat, and it would be a sad waste of opportunity to eat badly." ~ Anna Thomas
In closing, I hope you have enjoyed being 'At Table' today. 
Know how much I appreciate your visit and I do hope you will try the recipes. 
Wishing you…
Beautiful autumn days with special times, 'At Table.'
Bon Appétit,
Sandra
The next post of 'At Table' will be November 20, 2019. 
Notes on the Chou Farçi ~ what I did differently.  I had on hand a regular head of green cabbage, so this is what I used (as you can see in the photo).  Because I do not have a Charlotte mold, I made it in a single layer.  It was about one and a half-inch thick.  However, in using a 9 inch round glass cake pan, it turned out perfectly.  The next time I make it, I will use the Savoy cabbage, as the leaves are larger, more flexible and prettier too.  Also, when you cut this, use a very sharp knife in order to prevent smashing the slices. Charlotte molds are readily available at several online sources, I think I will purchase one. 
Rabelais spice is a mix of allspice, nutmeg, and curry ~ a traditional spice in France since 1820.
Both recipes given today are from Thorisson's book, A Kitchen In France.
Images:  Pinterest, tumblr, S. Lambiotte