"And the sun took a step back, the leaves lulled themselves to sleep and autumn was awakened."  – Raquel Franco
Ready or not, fall is on her way.  To be exact, she will arrive in 23 days – September 22, 2017. While I know there are many folks who love summer, and want to hang on to her very last hot, humid day, I am not one of them. I love fall. Fall is a glorious time of year in the Mountain State of West Virginia.  Our state magnificently wears her stunning "coat of many colors." And, many travel from far and wide to see her dressed in her finest. Truly, "Almost Heaven."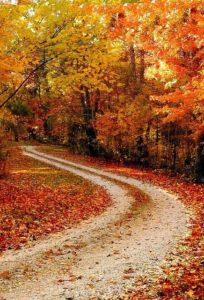 As summer becomes fall, There is  "…A distinct smell… A mixture of dried leaves on the ground and the smoke from the chimneys and sweet ripe apples…" – Arlene Stafford Wilson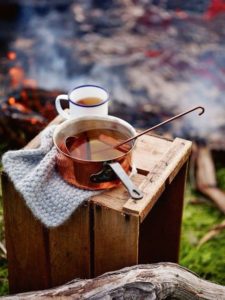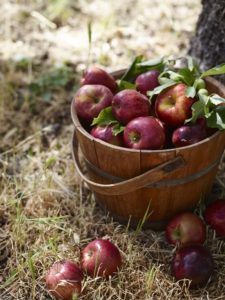 Mulled Cider
2 quarts fresh apple cider
2 cinnamon sticks
2 whole allspice berries
2 whole cloves 
1 orange thinly sliced
Combine all ingredients in a large saucepan.  Place pan on the grates of grill or stove burner.  Simmer until hot on low heat.

It is a "Season of mists and mellow fruitfulness!" – John Keats, "Ode to Autumn"
Our kitchens are alive with the preparation of all sorts of fabulous goodness.  The marvelous aromas can instantly transport one to a treasured memory of another time or place.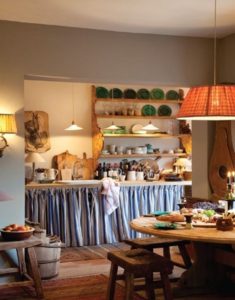 Perhaps, the memory of an apple tart your mother or grandmother would always prepare during the fall.
Rustic Apple Tart
1 Refrigerator Pie Crust
3-4 Granny Smith Apples, peeled and cored
1 Tbls. lemon juice
1 Tbls. plus 1 tsp. cornstarch
3 Tbls. brown sugar
1/4 tsp. cinnamon
1/4 cup dried cranberries
Preheat oven to 425.  Cut peeled and cored apples into 1/4 inch slices.  In a large bowl toss apples with lemon juice.  Sprinkle in the cornstarch, brown sugar, cinnamon and dried cranberries. Set aside.
In a 10 inch pie plate, place pie crust.  Arrange apples in a mound in the center of the dough, leaving a 2-inch border.  Fold the border over the filling.  It will only cover the apples partially and does not need to be even.  Bake for 15 minutes, reduce oven temperature to 350 and continue to bake another 40 minutes until the apples are tender and the crust is golden brown.  Remove from oven and brush with glaze – all over the top of the fruit and crust.  Cool, serve with whipped cream or vanilla ice cream.  Enjoy!
Glaze:  1 tsp. honey, 1/4 tsp. boiling water, mix well.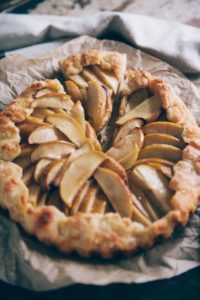 Autumn makes everyone feel like a child again.  I don't believe anyone is ever too old to play in leaves. Indeed, "Anyone who thinks fallen leaves are dead has never watched them dancing on a windy day." Shira Tamir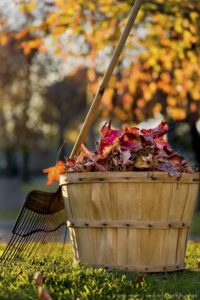 Beautiful fall weather truly beckons us outdoors to enjoy the spectacular views and to do the things we enjoy. "Doesn't it seem as if autumn were the real creator, more creative than spring…?" – Rainer Maria Rilke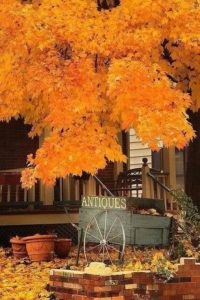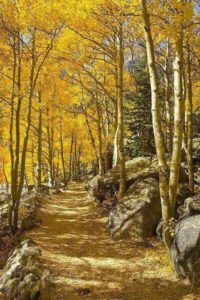 Most of all, I believe, fall draws us home.  It is a time to be by the fire, enjoy those we love, soak in magnificent beauty, and count our many blessings.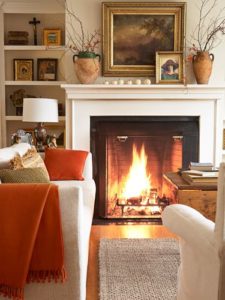 Because, "To everything there is a season, and a time to every purpose under the heaven." Ecclesiastes 3:1-8

Wishing you days  full of gorgeousness, and may this beautiful season bring you great joy !
Thanks for visiting.
Au Revoir,
Sandra
All photos:  Pinterest