"The ultimate in longevity is the Christmas fruitcake.  It is a cake made during the holidays with fruits that make it heavier than the stove it is cooked in." ~ Erma Bombeck
Happy day, dear friends.  Have you given any thought to your holiday baking?  Every year, I enjoy going through my recipes and deciding which creations of goodness  I will attempt.  Even though it is a little early to prepare some recipes ~ it isn't for fruitcakes.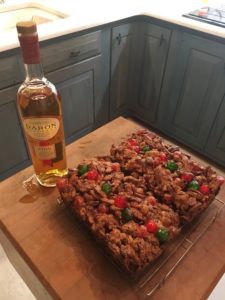 Fruitcakes are best aged a little, and especially if they are allowed to age with apple brandy.  I prefer using Calvados, a French apple brandy.  It only takes a wee bit, however, it truly creates magic.  All this being said, today I am sharing my fruitcake recipe.  It is not difficult.  You need a really, really large mixing bowl, patience to prepare the pans and of course, Calvados.


Note:  This recipe makes one 10inch tube pan or 2, 9x5x3 loaf pan size cakes.  This cake freezes extremely well.
3 – 7 1/4 oz. packages pitted and chopped dates
1 lb. candied pineapple, roughly chopped
1 lb. whole candied cherries, plus a little extra to decorate tops of cakes. 
2 cups sifted all-purpose flour
2 tsp. double-action baking powder
2 lbs. pecan halves ( yes, you read that correctly)
Cut wax paper to fit your pans.  Grease pan well and then grease wax paper, before placing in pan.
Preheat oven to 275 degrees
In large ( really large) bowl, add dates, candied pineapple, and cherries.
In another small bowl, mix flour, baking powder, and salt.  Sprinkle this mixture into the bowl containing fruit.
Mix fruit and dry ingredients well with hands – separating pieces so that all are coated well.
In another medium bowl, beat eggs until frothy.  Gradually add 1 cup sugar and beat until blended.
Add egg mixture to fruit mixture.  Mix well with hands.
Add pecans and mix until nuts are evenly distributed and coated with batter.
Pack into pans.  At this point you can decorate the top of the cake with extra cherries, this is optional. 
Bake for about 1 and 1/2 hours.  When done tops of cakes will look dry, extra baking does no harm.  I usually bake them for about 2 hours, 15 min.
Remove from oven and let stand about 10 minutes.  Turn out onto wire racks and carefully pull off waxed paper.  Drizzle with brandy – about 2 Tbls. per cake or 4 if using a tube pan.
These cakes take several hours to completely cool.  Once they are completely cooled, wrap in cheesecloth which has been soaked in a little brandy.  Then, wrap tightly in foil and either refrigerate or store in a cool place.

If you enjoy fruitcake, I promise you will love this recipe,  and me for sharing.  It is like no other I have ever tasted.  And, it isn't  "heavier than the stove."
Au Revoir,
Sandra
Note:  Should you have any questions about this recipe, just send me a message under the 'contact section' of this blog.
Photo:  Michael Lambiotte