"I do believe in an everyday sort of magic – the inexplicable connectedness we sometimes experience with places, people, works of art and the like; the eerie appropriateness of moments of synchronicity; the whispered voice, the hidden presence, when we think we are alone." –  Charles de Laet
Don't we all need inspiration?  Sure we do.  We each may require  a different amount, but personally I  feel inspiration is vital for everyone.  For me, it can be a few beautiful words, a little time spent in our garden, gazing upon a painting which I feel is lovely, or chatting with my dear friend.  But, I require that shot in my arm every day.
So, this morning I find myself thinking of the many talented people who inspire me.  And,  in thinking of them I thought,  "how grand it would be to have them all to dinner."  Of course, I am dreaming of a fabulous dinner in the garden, when the jasmine is in her glory.  Can't you just smell the intoxicating fragrance wafting in the gentle breeze?  An absolutely perfect setting for a beautiful time.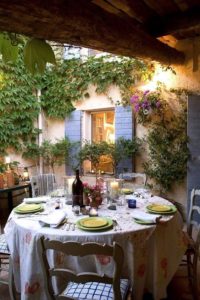 Yes, a perfect setting for my special guests.  And, on my guest list is… Maya Angelou, Julia Child, Ralph Waldo Emerson, Charles Faudree,  Claude Monet, Roger Muhl, Jacques Pepin,  Alexandra Stoddard,  my lifelong friend, Janet and her husband, and of course my husband.   Just imagine, all these magnificent personalities at the same table.  Writers, artists, designers, great chefs and good friends – what a party.  The conversation among these people would be be overflowing with inspiration. WOW!  It may just be inspiration overload.  Is that possible?  Oh, and I must not forget to mention that Jacques and Julia helped me plan the menu.  To be catered, of course.
So, back to reality.  I will tell you, every person on my guest list provides great inspiration for me.    Their art, creativity, words, painstakingly tested recipes, strength and courage, all bring much to my daily life.  "An everyday sort of magic and a sense of connectedness."   And, when I see our Carolina Jasmine in full bloom and smell her heavenly fragrance – truly for me, it is "Where Inspiration Blooms."
Won't you tell us who or what inspires you – our curious minds want to know.
Thanks for visiting today – love and hugs to you !
Au Revoir
Sandra
ps:  After I checked my list, I realized I must have another dinner.  There are many other extraordinarily, talented people I admire.
Photo: Facebook.com/Pinterest