"It's spring fever.  That is what the name of it is.  And when you've got it, you want – oh, you don't quite know what it is you do want, but it just fairly makes your heart ache, you want it so!   – Mark Twain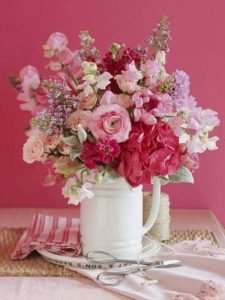 So, tell me – do you have spring fever?   Sure you do, everyone gets spring fever.  We want to throw open the windows, take down the drapes, purchase every flower imaginable, and create beauty as far and as wide as our eyes can see.  Why do we want to this ?   T. H. Robsjohn-Gibbings explains – "The surroundings householders crave are glorified autobiographies."  True words.  Our homes are about us, and we want to make them as lovely and inviting as possible.  But, we all know it doesn't happen at the snap our fingers.
Truly, creating beauty is work – but, the rewards are huge.  I often look at the end result of a project and wonder, how did I accomplish that?  Perhaps there was a bit of magic afoot.   But, when we create a beautiful home or garden, we show love.  And, love transfers our homes into homes with a soul.  We are inspired by our efforts and the beauty we have created.  Grace appears.

Spring is a marvelous time, a time of transformation.  When we are stricken with  spring fever,  we dream.  So, let's stir up a bit of magic, put our dreams into motion, and watch them come to life.  We can wave our wands, and watch the winter weather disappear from our windows and porches.  Our homes become fully alive – dripping with gorgeousness.  A beautiful "autobiography."
I do hope you have received a good measure of inspiration this morning.  However, should you still feel a bit fevered,  here are a few tips which may help:  Take a trip to your favorite garden center or antique shop, visit a public garden, have coffee with your dearest friend, purchase of a fabulous peony, enjoy a bit of chocolate, select a new fragrance, or linger over a simple meal and a lovely wine served at home to those you love.  Whatever you do – don't miss one moment of this magnificent time of year.    "Créer de la beauté, devenir inspiré !"   See translation below.
Thanks for visiting – Sending love to you and yours !
Au Revoir,
Sandra
Translation:  Créer de la beauté, devenir inspiré – Create Beauty, Become Inspired
Photo:  BHG.com/pinterest