"Dining with one's friends and beloved family is certainly one of life's primal and most innocent delights, one that is both soul-satisfying and eternal." – Julia Child
The weekend is here.  Hopefully, the weather is beautiful where ever you may be, and it is spring.  Therefore, it is time to do things, other than spending great amounts of time in the kitchen.  So, this morning I am sending you a tried and true menu, complete with recipes I believe you and your family will love.  You may just even receive a WOW – I promise you they will be impressed.
The Menu
Gruyere Cheese Souffle  
Spinach Salad With Goat Cheese and a Raspberry Vinaiagrette
Crusty Bread
Wine – Whispering Angel Rose (A Cotes de Provence Rose)
Dessert – Your Choice of Ice Cream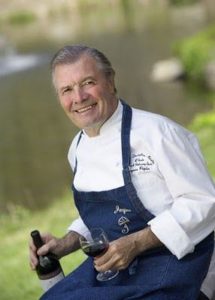 Gruyere Cheese Souffle – Jacques Pepin
3 Tbls. unsalted butter, plus more for greasing
2 Tbls. freshly grated Parmigiano-Reggiano cheese
3 1/2 Tbls. all-purpose flour
1 cup cold whole milk
5 large eggs, separated
1/2 tsp. kosher salt
1/2 tsp. pepper
1 cup shredded Gruyere cheese
2 Tbls. chopped fresh chives or 2 tsp. dried chives
Preheat the oven to 400.  Grease a 1-quart gratin dish with butter and dust with Parmigiano;  refrigerate.  In a saucepan (very large), melt the 3 Tbls. of butter over medium heat.  Whisk in the flour and cook, whisking, for 1 minute.  Whisk in the milk, bring to a boil and cook, whisking the entire cooking time, until thickened – about 1 minute.  Remove from heat, then whisk in 4 egg yolks along with salt and pepper.  Reserve the remaining yolk for another use or discard. 
In a clean bowl, beat the whites until firm peaks form.  Whisk 1/3 of the beaten whites into the sauce mixture, then fold in the remaining beaten whites.  Fold in the Gruyere cheese and chives.  Pour mixture into prepared gratin dish.  Bake for 25 minutes, until puffed and golden.   Serves 4 – nicely.
The souffle resting on the block in our kitchen.  A glass of wine pairs nicely with cooking.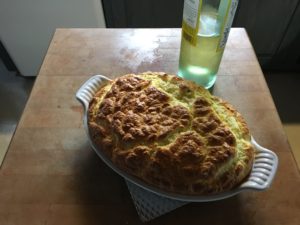 Spinach Salad With Goat Cheese
Ingredients:
Spinach, red onion, pecans, strawberries or blueberries and goat cheese.
Arrange desired amount of spinach (I use baby spinach) in individual or serving dish.  Add sliced fresh strawberries.  If nice strawberries are unavailable, blue berries will work fine.  Then top with thinly sliced red onion, sprinkle with coarsely chopped pecans and crumbled goat cheese.  Serve with a Raspberry Vinaigrette.
Raspberry Vinaigrette
1/2 cup vegetable oil
1/2 cup Raspberry Vinegar (no substitutes)
1/2 cup sugar
2 tsp. Dijon mustard
1/4 tsp. oregano
salt/pepper to taste
Whisk all ingredients together.  I usually make this an hour or two before serving, to allow for the flavors to blend together.
Serve the souffle, salad, bread, and, if possible,  with my choice of wine – Whispering Angel.  Chateau d'Esclans Whispering Angel is a beautiful Cotes de Provence Rose.   If you are unable to locate it – any good Chardonnay will be fine.

Bonappetit ! 
Thanks for visiting, wishing you and yours a lovely weekend!
Au Revoir,
Sandra
Note:  The salad and dressing are my recipes
Photo:  femininity blogspot.com/pinterest/clubdgv.blogspot.ca/pinterest