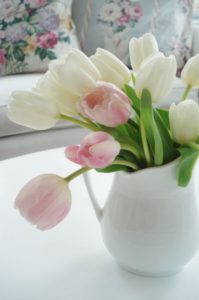 Good Morning Everyone:
My post is a day late, due to some computer issues.  Technology is so wonderful when everything works as it should, and it is absolutely maddening when it doesn't.  And, yesterday was one of those maddening days.
The good news about the day was, it gave me a chance to catch up on some reading.  I don't know about you, but things seem to fall into my hands.  Really, they do.  And, yesterday, while trying to remain calm and quiet in the middle of chaos, I opened a magazine to the following quote:
"Calmness of mind is one of the beautiful jewels of wisdom." – James Allen
There it was, just what I needed to read.  So, this morning as you begin your weekend, I wish you "calmness of mind."  Scatter joy, and I hope you find joy in the little things!  Also, I am sending you a treasured recipe.  Just in case, you would like to treat yourself and those you love to a bit of delightful goodness on a Sunday morning.  Enjoy!
English Cream Scones
2 cups all-purpose flour
1 Tbls. baking powder
1/4 tsp. salt
1/4 cup sugar
1/2 cup cold butter, diced
1 cup cold whipping cream
Preheat oven to 375.  Grease a baking sheet; set aside.  Handling ingredients as little as possible, in a bowl, combine flour, baking powder, salt and sugar.  Blen in butter with a pastry blender until crumbly.  Add cream, stirring just until dough sticks together.  Turn onto floured surface.  Knead 5-6 times gently.  Divide dough in half and pat each into a 6″ circle.  Cut across (pizza style) each to make 8 triangles.  Place on baking sheet.  Bake in preheated oven for 15 minutes.  Serve with your choice of preserves.
Note:  I often make this into one circle, I like the scones a little thicker.
Thanks for visiting today, have a beautiful weekend – Love and hugs to you!
Au Revoir,
Sandra
Photo:  Suchprettythings.typepad.com/Pinterest