"And Spring arose on the garden fair, Like the Spirit of Love felt everywhere."  – Percy Bysshe Shelley
Good Morning Everyone:
It is time to wake up, scatter joy, listen to bird song, and think of the glorious days ahead!  Yes, spring is almost here.  And, with spring knocking on our door, it is time to begin to think of the garden, projects around our home, family gatherings, and how we want to enjoy this beautiful season.  The list will vary for each of us – but I am sure everyone has their list.
I don't watch much television, but I do enjoy a few programs and one is:  HGTV "Fixer Upper," staring Chip and Joanna Gaines.  Mainly, I enjoy the program because, in my humble opinion, Chip and Joanna are "real."  They are light hearted, and I enjoy seeing their finished product.
All this being said, my husband picked up an issue of their magazine, Magnolia Journal, while grocery shopping.  He is the best man, and he loves to grocery shop.  Truly.  Plus, he always checks the magazines for me.  Just one of those sweet  things that goes a long way, in the long haul.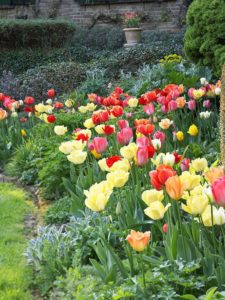 So, back to Magnolia Journal.  If you have not seen or purchased a copy, you might want to do so.  It is lovely, inspiring and a worthy read.  And, there are a couple of things from this issue (Spring, 2017),  I want to share today.  One, is a list of Joanna's thoughts about welcoming spring.  And, they are as follows:
Make Room for What Matters
Breathe Deeply
Tidy Up
Learn Something New
Choose Simplicity
Keep Growing
When I read her words, my initial  thoughts were:  She is real, and she is a girl after my own heart.  Her advice is wise, and gives one much to consider.  I especially love: Make Room for What Matters, Learn Something New and Keep Growing.  Personally, I believe these are three BIG items.  Our lives often become too cluttered with activities/commitments that really don't matter.  As well as,  our homes often become too cluttered with "things" that don't matter.  Both require editing, and often.  And, I know first hand, from my mother and grandmother,  learning something new and keep growing are two secrets toward a long and happy life.
Additionally, I am also sending you a recipe from this issue which is truly decadent, as well as easy.  A lovely dessert, or perhaps a reward for hours spent "tidying up," or working in the garden.
Affogato Aficionado – ENJOY!
1 scoop of high-quality gelato or ice cream , in a short glass or coffee cup
2 TBLS. hot expresso or strong coffee, poured over ice cream
Drizzle with chocolate syrup, salted caramel sauce, or honey
Suggestions for ice cream:  cinnamon, hazelnut, chocolate or vanilla
Note:  Affogato is Italian and  means, drowned.  Coffee ice cream is also an excellent choice – I know.
Thanks for visiting today.  Have a beautiful week.  Enjoy your own, personal thoughts of spring, and should you need just a wee nudge of inspiration…….
"If you dream it, you can make it so."  – Susan Branch
Love and Hugs to you.
Au Revoir,
Sandra
Photo:  Better Homes & Gardens/Denny Schrock/Pinterest