Good Morning Everyone :   And, Happy Monday !
With bulbs bursting through the ground, buds on the trees beginning to swell and blue skies shining – Easter can't be far away.  And, it is just around the corner, April 16.  Maybe it is all the years I worked outside the home, or maybe it is just me, but I like to plan ahead.   Planning ahead alleviates stress, and we all know life is happier without stress, especially around the holidays.
When I think of Easter Sunday, I think of a lovely sunny day, a gentle breeze and glorious spring flowers in bloom.  And, I do love to see them blooming on the table.  With the weather being as fickle as it has been this year, it is hard to pin point exactly what will be blooming.  Additionally, if you do not have flowers available to you from your own garden and it is necessary for you to purchase flowers, trying to determine what will be available to purchase in the stores is difficult.
So, let's think about pansies.  Pansies are readily available at most all garden centers this time of year.  I love pansies, they are so happy and come in such pretty and varied colors.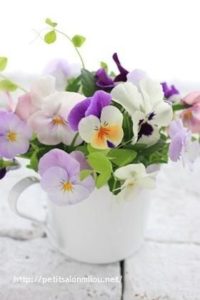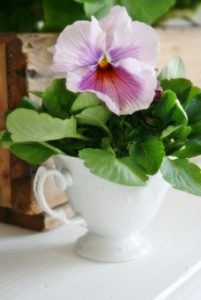 I love to see a small clump of them in a tea cup or mug placed at each setting on the table.  Pop in or tie  a hand written name on a place card and you have added a special touch.  This also makes a sweet gift for your guests to take with them when they leave – memories of the day.  Everyone loves a little present.  So, now is the time to start shopping the thrift stores.  You can find very inexpensive tea cups or mugs at these stores, or perhaps give your cupboards a thorough look, you may have on hand something which would be nice to use.   Unless your china is plain without any pattern,  I would shop for a solid color or colors, which would coordinate with the color of your china and linens you are planning to use.
And, for the center of the table you can place several little pots of pansies, with some moss tucked around, in a large bowl or tureen.  Add a candle to either side and you have created something beautiful! Scatter a few votive candles about and you have magic.
Easter is a time of new beginnings.  It is a time to recognize and truly see the beauty God has placed on this earth for us all to enjoy, and to see the beauty in the faces of those seated at our tables. It is a time to savor everything, everyone and every moment.
Thanks for visiting today – Have a gorgeous week – Love and Hugs to you!
Au Revoir,
Sandra
Photos:  Pink Pansy in cup/Fatinia.tumbir.com
Pansy in mug/Petitmilou.exblog.jp 
Pansies in bowl, centerpiece/Rene Zieg-Cottage &Vine/pinterest