Good Morning Everyone:
Thanks for stopping by this morning.  Today, I would like to chat a bit about design, specifically French design.  And, a designer I so admire – Charles Faudree.  Some of you may be familiar with him and his work, others may not.  So, let me tell you a little about what I know of him.  Also, stop here and find your coffee, if you don't have it.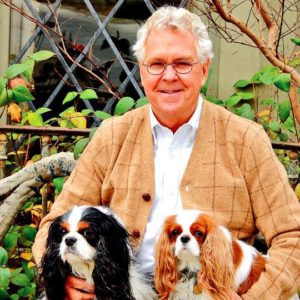 (Traditional Homes/Dolores Tipton/Pinterest)
Charles was born February 27, 1938, in Ada, Oklahoma.  He was raised in Muskogee and graduated with a Bachelor of Arts in Education from Northeastern State University in Tahlequah, Oklahoma.  After graduation he moved to Dallas, Texas where he sold home furnishings and taught art for several years.   In 1977 he returned to his home in Oklahoma and opened a combined antique shop and design studio in Tulsa's Cherry Street District.  After decorating a home for his sister, Francie Faudree, a new career was launched and immediately went into full swing.  Within a very few short years, he had compiled an impressive list of clients in the U.S. and Europe.
Charles did not have formal interior design training – but he had talent which went beyond any such training.  And, his degree in art education no doubt gave him considerable skills, taught him to see well and helped train his eyes for beauty.  But, his talent was given to him by a higher source.  He decorated homes all over the world and in 1995 assisted the first lady of Oklahoma refurbish the Oklahoma Governor's Mansion.  He was the author of five books, and the winner of many design awards.  A few of the awards include:  Traditional Home Designer of the Year Award, 1995, and House Beautiful top 100 Designers for the years of 2000 through 2004.   Additionally, in 2008 he created his own fabric line with Vervain.  He is considered to have been an expert in French design.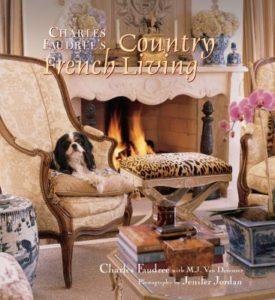 So, now that I have shared some of what I know about this special man, I want to tell you about the beginning of my walk down a different road.  The book posted above, Charles Faudree's Country French Living, made me take notice of some things and a way of design I found to be utterly beautiful.
When I look back over my life, I realize that this little journey took root many years ago.  The beginning was most likely time spent as a child in Biloxi, Mississippi and visiting the French quarter. But, as I became a young woman, there seemed to be many items and an unexplained interest of things I would gravitate toward.  Example:  I would pick up a lovely plate and turn it over to see, "made in France" and I always came across hard-to-find French monogramed linens.  I think instead of me finding them – they were looking for me.  Then, I married a man whose ancestors are from France and Belgium.  And, just like Charles Faudree, "I loved French when I didn't know what is was."
When I came upon Charles Faudree and his wonderful books, I soaked up every tiny detail.  That led me to further research about the country, the people and their way of life.  I highly admire and respect the French people.  Currently, many French people, are living in homes well over 200 years old.  They seek the best in craftsmanship and in themselves, they value time with their families, they waste little and their attention to detail is unmatched.  I continue to read everything I can possibly find on the country, the people and French design.  And, if it is to be – I hope to visit there one day.
I am sending you some lovely photos this morning, of  Mr. Faudree's work.  When you look at them, look closely at the fabrics, the trims and the mix he has so beautifully combined.  He was famous for his words, "It is in the mix – not the match."  And, he certainly was a master of the mix.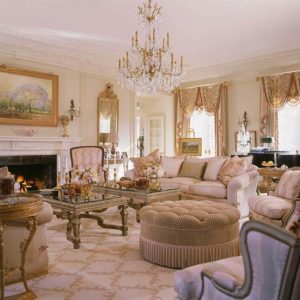 Traditional Home/Pinterest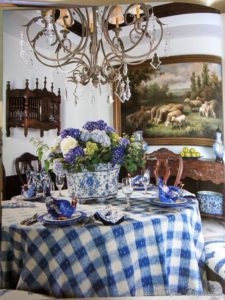 Di Bodenham/Pinterest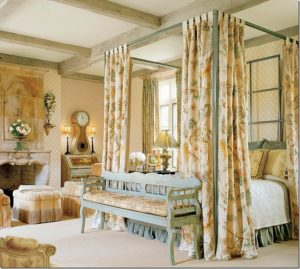 Pinterest
On November 27, 2013, at the age of seventy-five, the world lost a very talented, generous and special soul.  A humble man, who was a bell ringer for the Salvation Army every Christmas in his home of Tulsa, Oklahoma.  I hope your have enjoyed your time with him this morning and maybe he has been an inspiration to you to create something beautiful.   Charles said, "my greatest hope is that when I'm gone, people will remember I created something beautiful."   He did and they will!
See you Friday,
Sandra
PS.  Don't forget, I love to hear your thoughts about all posts, and I am happy to answer any questions.  Also, would love to hear about your interest.  Let's chat!