Good Morning Everyone:
As we end our week and begin our weekend, I want to share with you some beautiful words.   Words that make me smile and I hope will do the same for you.  And, as my dear friend Libby once said, "they place sparkles in my heart."
Words From:  Elizabeth Hubbard
I believe in the hands that work, in the brains that think, and in the hearts that love.
I believe in sunshine, fresh air, friendship, calm sleep, beautiful thoughts.
I believe Elizabeth's words to be true.  Furthermore, I believe if we focus on her words, we will not only have "sparkles in our hearts," but we will also improve our daily rounds.  Should you need something visual as a nudge toward beautiful thoughts – the photo below should help.  Visions of peonies, dancing about in your head, are almost certain to inspire beautiful thoughts.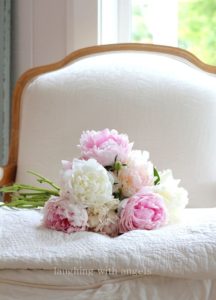 laughingwithangels.blogspot.com.tr/Pinterest
Setting the stage for a calm, relaxing weekend are easy to prepare meals.  Today, I am sharing a recipe for Roasted Red Pepper Soup.  Serve with a crusty bread, salad and nice red wine.  And,  an easy Cranberry-Pear Gallette for dessert.   Lovely meal, limited time in preparation.  Bon Appetite!
Roasted Red Pepper Soup – Serves 4-6
2 (12 ounce) jars of Roasted Red Peppers, drained – Alessi Fire Roasted Italian Style Peppers
2 Tbls. olive oil
1 medium onion, chopped
3 stalks celery, chopped
2 cloves garlic, finely chopped
4 cups chicken broth
2 cups heavy cream, milk, half & half, or a mixture
Juice and zest of one lemon
salt/pepper
Sour cream, optional
In sauté pan, heat olive oil.  Add onion, celery and garlic – cooking just until vegetables are limp.  Cool.  Place the onion mixture and red peppers in a blender and puree them.  Then in medium size Dutch oven, place the pepper mixture, chicken broth and cream.  Cook over low heat until mixture is reduced about 1/4.  Cook uncovered.  Turn off heat and allow to cool to room temperature.  Add lemon juice and zest to cooled mixture.  Reheat when ready to serve.  Serve with a dollop of sour cream.
Note:  Regarding the peppers:  In my area I have been unable to locate the Alessi peppers.  I have used Mt. Olive Roasted Red Peppers, and they are perfect.
Rustic Cranberry-Pear Gallette
1/4 cup sugar, plus 1 Tbls.
1 Tbls. cornstarch, plus 1 tsp.
2 tsp. ground cinnamon
2 large pears, peeled, cored and thinly sliced
1/3 cup dried cranberries
1 tsp. vanilla
1 refrigerated pie crust at room temperature
1 egg white
1 Tbls. water
Preheat oven to 450.  Coat pan or baking sheet with nonstick cooking spray and set aside.  I use a regular 10-inch Pyrex pie plate and I spray with baking spray with flour.
In a medium bowl, combine 1/4 cup sugar, 1 Tbls. plus 1 tsp. cornstarch and cinnamon – mix well.  Add pears, cranberries and vanilla – toss to coat.  Remove crust from pouch, unfold it, and place  on prepared baking dish/sheet.  Spoon pear mixture in the center of crust to within 2 inches of the edge.  Fold edge of crust 2 inches over pear mixture and crimp slightly.  In a small bowl, combine egg white and water – whisk until well blended. Brush egg wash onto outer edges of pie crust and sprinkle with remaining of 1 tsp. sugar.  Bake 25 minutes or until pears are tender and crust is golden brown.  If edges brown too quickly, cover with foil after 15 minutes of baking.
Note:  This makes 4 nice servings and is wonderful with a scoop of vanilla ice cream or a dollop of whipped cream.
Au Revoir – See you Monday, and have a beautiful weekend!
Sandra
PS.  Remember, I love to hear from you.  Should you have any questions about the recipes, just send them to me – via contact me.  I will respond quickly.  And, do let me know if there are certain topics you would like to see on this blog.  The fun begins when the discussion begins!  Also, on the last post a reader wrote with a couple suggestions of worthy reads – will post them soon.  Tell me what you love to read – what "places sparkles in your heart?"
Thanks for Visiting Today – Love and Hugs to You!