" The ordinary arts we practice every day at home are of more importance to the soul than their simplicity might suggest."  – Thomas Moore
Happy Friday Everyone !   This morning, just in time for weekend cooking, I am sending  you a favorite dinner menu.  One I believe you will enjoy,  complete with recipes.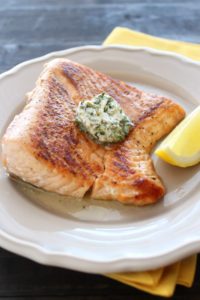 The Menu
Pan Seared Salmon with Herb, Garlic and Citrus Butter
Steamed New Potatoes with Chives 
Bibb Lettuce Salad with Basil Green Goddess Dressing
Wine – Chilled white, such as Sancerre or Chardonnay
Dessert – Chocolate Orange Mousse with Whipped Cream
Salmon Recipe
For the Butter:
1 Tbls. extra virgin olive oil
1 Tbls. minced garlic
1 tsp. sea salt
1/2 cup (1 stick) unsalted butter, room temperature
1 Tbls. fresh orange juice
1 tsp. orange zest
2 Tbls. chopped fresh parsley or 2 tsp. dried
2 Tbls. fresh chopped dill or 2 tsp. dried
2 Tbls. fresh chopped chives or 2 tsp. dried
1 Tbls. fresh thyme or 1 tsp. dried
1/2 tsp. pepper
Heat oil in a small skillet over low heat.  Add garlic and salt, saute 3 minutes (watch this, you do not want garlic to brown).  Cool completely.  Place room temperature butter in medium bowl.  Stir in orange juice and orange zest, then add parsley, dill, chives, thyme, pepper and cooled garlic.  Using your hands,  shape butter into a log and set onto waxed paper or plastic wrap.  Roll and seal ends, refrigerate at least 8 hours or overnight.  I prefer to make this a couple of days ahead for the flavors to mingle.  Also, this can be frozen – defrost before using.
For the Salmon:
2 to 6 (6 to 8 oz.) skin-on salmon fillets, preferably wild caught, pin bones removed
Extra Virgin olive oil
1/2 tsp. salt
freshly ground pepper
1/4 to 1/2  tsp. dried rosemary
Preheat a large nonstick skillet over medium-high heat.  Meanwhile, for preparation,  arrange salmon fillets skin side up on a baking sheet.  Brush with olive oil.  Sprinkle with salt, pepper and rosemary.  Transfer salmon skin side down in skillet (cook in batches if necessary; do not crowd skillet) and cook until skin is crisp and browned, 3-4 minutes.  Using spatula, turn salmon over and cook until salmon is medium rare, about 4 minutes;  cook longer if salmon is thick or if you prefer cooked through.  Turn off heat but leave salmon in skillet;  salmon will continue cooking from residual heat.
To Serve:  Remove butter from paper, Cut butter into medallions.  Set 1 salmon fillet on each plate.  Top each salmon fillet with butter.  Sprinkle steamed potatoes with chives and the herb, citrus butter is also lovely on the steamed new potatoes.

Basil Green Goddess Dressing – Note:  I cut this recipe in half.
1 cup good mayonnaise
1 cup chopped scallions, white and green parts (6-7 scallions)
1 cup chopped fresh basil leaves
1/4 cup freshly squeezed lemon juice (no substitute)
2 tsp. chopped garlic
2 tsp. anchovy paste
2 tsp. kosher salt
1 tsp. freshly ground black pepper
1 cup sour cream
Place the mayonnaise, scallions, basil, lemon juice, garlic, anchovy paste, salt and pepper in a blender and blend until smooth.  Add the sour cream and process just until blended.  If not serving immediately – refrigerate.  I make this a day ahead if possible – I think it is even better if it sits a day.
Note:  Prepare salad, with your choice of ingredients.  I often substitute iceberg lettuce, mixed with baby spinach.  Also, I omit onions as there is a good amount in the dressing.

Chocolate Orange Mousse
6 ounces good semisweet chocolate, chopped
2 ounces good bittersweet chocolate, chopped
1/4 cup orange liqueur – (recommended:  Grand Marnier)
1/4 cup water
1 tsp. good vanilla
1 tsp. orange zest
12 Tbls. (1 1/2 sticks) unsalted butter, at room temperature
8 extra-large eggs, at room temperature, separated
1/2 cup plus 2 Tbls. sugar
pinch of salt
1/2 cup cold heavy cream
Combine the 2 chocolates, orange liqueur, 1/4 cup water, vanilla in a heat-proof bowl.  Set it over a pan of simmering water just until the chocolate melts.  Cool completely to room temperature. Whisk in the orange zest and butter until combined.
Place the egg yolks and 1/2 cup of the sugar in a large bowl.  Beat on high for 4 minutes, or until very thick and pale yellow.  With mixer on low speed, add the chocolate mixture.
Place 1 cup of egg whites (discard the remaining whites), salt and 1 Tbls. of sugar in another large bowl. Beat on high speed until firm but not dry.  Whisk 1/4 of the egg whites into the chocolate mixture; then fold in the rest carefully with a rubber spatula.
Using the same bowl, used for beating egg whites,beat heavy cream and remaining 1 Tbls. of sugar until firm.  Fold the whipped cream into the chocolate mixture. Pour the mouse into individual serving dishes or 8-cup serving bowl and chill.   Serve with a dollop of whipped cream.
Bon Appetit !
Thanks for visiting – Wishing you and yours a Beautiful Weekend !
Au Revoir,
Sandra
Salmon recipe: "Monet's Palate Cookbook"
Green Goddess Dressing and Chocolate Orange Mousse – Ina Garten
Photo:  handletheheat.com/Pinterest