"A garden is a reflection of its owner, a thing of beauty that changes over time, a window to the creativity within." – Lee Miller
Change can be such a dreadful thing.  Even when it is for the best, it is never easy. And, when a gardener must say goodbye to their beloved garden, it is more often than not – heartbreaking.  I know this to be true from my own experience and from the experience of two dear friends.
When one decides to create a garden, thoughts of one day having to leave this love and creation never enters the mind.  The reason or reasons for leaving do not matter, saying goodbye is extremely difficult.  Truly, dreadful.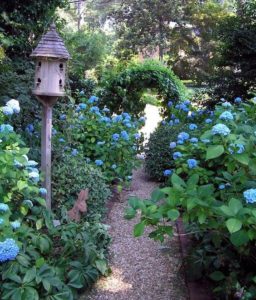 So, what is one to do when faced with leaving their beautiful garden?  Well, first cry tears to fill buckets and cry for days, I did.  Then, if your garden is falling into new hands; make charts, name plants and give as much detailed information as possible, in writing, to assist the new owners with the care and maintenance of the garden.  Next, dig your treasures – either to take with you to your new garden or to put into the hands of someone you know who would love and care for them as you did.

With the move behind you, what is next?  You may be faced with a massive yard to conquer or a tiny yard in which to place those 30 peonies and a wash tub of irises that you chose to move.  Or perhaps, you have no yard and must learn about container gardening. Whatever your new situation may be, you will and must move forward.
Now, don't misunderstand me, I am not saying you won't mourn the loss of your old friends.  You will worry and you will grieve, that will never go away.  Even after twelve years, I still think of the beautiful friends in my previous garden, hoping they are well and continuing to create beauty with their magnificent blooms.  But, I have a new friend and a different friend.  Our current garden has different plants and it is a better garden.  Why is it better?  It is better because it enjoys the rewards of my experience.  And, the same will be true for you.  You will see a new garden alive and flourishing because of the many lessons learned from your previous garden.  
Gardeners are such optimistic folks.  They are a creative lot, always looking to another season, interested in learning ways to improve their gardens and learning about growing new plants.  And, they strive to bring to life the following words written by Michael Pollan:  "A garden should make you feel you've entered privileged space – a place not just set apart but reverberant – and it seems to me that, to achieve this, the gardener must put some kind of twist on the existing landscape, turn its prose into something nearer poetry." 
So chin up, gloves on – it's time to create beauty…"poetry."   And, you will!
Au Revoir,
Sandra
Photo: home-and-garden.webshots.com