"This is the gate of my garden.  I invite you to enter in:  not only into my garden, but into the world of gardens ~ a world as old as the history of man, and as new as the latest contribution of science; a world of mystery, adventure and romance; a world of poetry and philosophy; a world of beauty; and a world of work."  ~ Elizabeth Lawrence
Many of you may or may not be familiar with Elizabeth Lawrence.  She wrote Through the Garden Gate, a Sunday column in the Charlotte Observer, from 1957 ~ 1971.  The quote from her, was part of her first column on August 11, 1957. Along with writing her weekly column, she was the author of several wonderful gardening books.  One I am especially fond of is "Through the Garden Gate."  It is a collection of 144 columns by Ms. Lawrence and is a marvelous treasure.  Still today, her words continue to serve as great inspiration for gardeners, and the thought of following her into her garden remains a lovely invitation. One, I would  certainly would accept.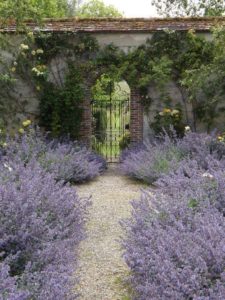 As all gardeners know, through the garden gate there lies a "world of work." However, many gardeners would probably agree with Frances Schultz.  "Doing, creating, practicing, cultivating, or caring for something you love is one of the most spirit~feeding, heart~singing things you can do."  Gardeners love sharing their gardens and value the time spent in them.  Gardeners enjoy gorgeous flowers in a kaleidoscope of colors, shrubbery, trees, luscious vegetables and herbs, sweet bird song and heavenly smells.  However, I believe there may be something much greater all gardeners enjoy ~ a respite from the weariness of the world.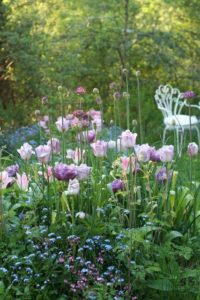 "In the garden I tend to drop my thoughts here and there.  To the flowers I whisper the secrets I keep and the hopes I breathe.  I know they are there to eavesdrop for the angels." ~ Unknown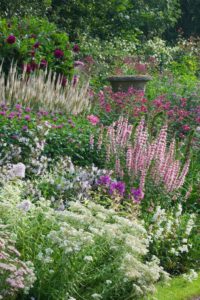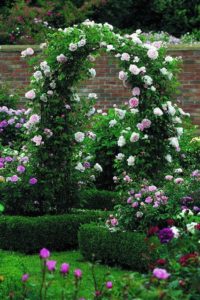 Gardens restore our souls.  They are a sweet, fresh, gentle and delightful place.  Where we can enjoy the many different symphonies of bird song, the hum of bees, and the sound of trickling water.  A place to simply, "Be."  All of which, lulls us to a place of peace.  And, in this place of peace, our sense of sight, smell, sound, taste and touch is restored.  This restoration enables us to see sweet fairytale wonder, a multitude of minute details, regain hope, and feel the presence of God.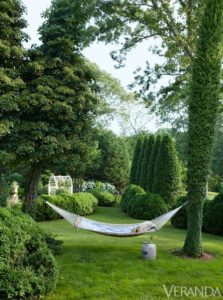 "From the tickle of grass underneath bare feet to the sweet perfume of antique roses that whisks us along on a sentimental journey, being in the garden means being in the moment.  Every sense gets engaged, while the other cares of the world melt away." ~ June, 2016, issue of Flower

Planning and planting an enchanted garden takes time.  I have known many gardens, had the great joy of planting three, and have had the wonderful opportunity to visit many.  Added to the list of beautiful gardens I have seen ~ my mother's garden.  Where spectacular wide sweeps of blush pink rhododendron were backed by giant hemlocks and flanked along the sides by bridal wreath spiarea.  Truly, one was transported to another world. 
Obviously, I can't fail to mention our garden in Virginia.  She was dressed with tall loblolly pines, which shaded blood red Tom Knudsen camellias and white Sister Theresa hydrangeas.  For fragrance and color, the garden was drenched in an assortment of over 200 peonies, along with 70 plus roses. 
I am blessed beyond measure to have the memory of these gardens.  And, in each and every one of these magical places, I paused and felt a presence calling me to slow down, linger a while, enjoy the beauty and simply "Be." I felt a sense of reverence for the peace and loveliness ~ a sense of gratitude for the privilege to enjoy such exquisite beauty.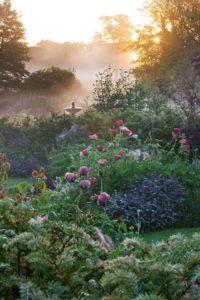 "You haven't really experienced a garden until you have slept in it, seen it, that is, in light fading to extinction, explored it at night with hesitant steps, and watched it come awake to birdsong at dawn. ~ Hugh Johnson

As we enter into this glorious season of spring, I wish all of you who are gardeners the happiest of moments in your gardens.  For those who may not be gardeners, perhaps you may have found a bit of inspiration here this morning.  Contemplate the impact a peaceful garden could make and thereby, enhance the quality of life for you and those you love.  Walk 'through your garden gate.' Visualize how you would like it to look, be fearless, dream big, but start small.  Create a place where you and your family can immerse yourselves in beauty and be in awe of the splendor of nature.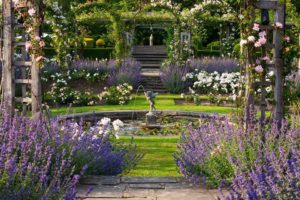 "Those who contemplate the beauty of the earth find reserves of strength that will endure as long as life lasts." ~ Rachel Carson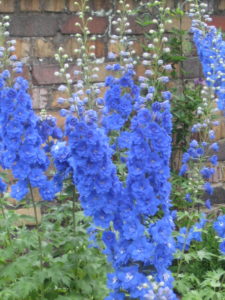 Thanks for visiting.  Wishing you a glorious day ! 
Au Revoir,
Sandra
Photos:  Michael Lambiotte, Facebook, Pinterest, Tumblr,Madaboutgardendesign and Veranda Magazine