"But remembering those moments, I stand still in ecstasy, inhaling through the noise of falling rain, the smell of invisible, enduring lilacs." ~ Marcel Proust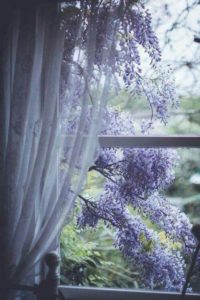 With the promise of spring soon to arrive to the hills of West Virginia, one of the things we will see and enjoy, are lilacs. Lilacs are one of the many fabulous beauties of the garden world, but they are not happy in all parts of the country.  So, today I thought I would share some of what I have learned with regard to growing these beauties.
Like many things that grow easily and are abundant, lilacs can often be taken for granted.  They are common in this part of the country, and thrive in our climate.  However, because I always adored them, when we moved to Virginia, I was determined to have them at our home.  My decision to grow them went completely against the advice of a grand and experienced gardener, my mom.  I can't tell you the many years I struggled to grow them, with zero success.  I watched too many, that I nurtured and prayed over, only make it through one or perhaps two growing seasons, then wilt under the boiling sun and die.  I ordered specific cultivars, special food, amended the soil, purchased books about their care ~ you name it, I tried it.  I desperately wanted lilacs by our back gate. After all, what could possibly be more inviting than lilacs greeting everyone who entered?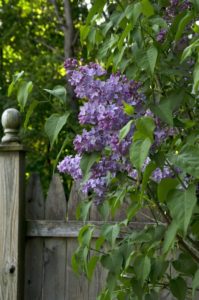 "Lilacs are May in essence." ~ Jean Hersey
But, I finally learned one gigantic lesson in gardening.  Not all plants thrive in all parts of the country.  And no amount of wishing, hoping and praying will make it happen.  Lilacs are not happy in coastal Virginia.  They are not fond of sandy soil, torrential rain, brutal heat and humidity.  They like rocky soil, something their little roots can wrap themselves around, cold winters and moderate summers.  

When we returned to West Virginia, one of the first things that went into our garden was a lilac.  We now have three, and one of my favorites is a dark violet lilac, Ludwig Spaeth.  He is a beauty and was given to me by my friend, Cathy.  A snip from an old one in her garden.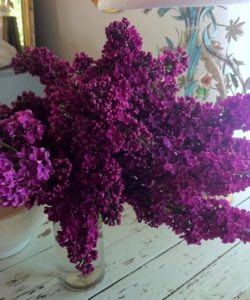 Lilacs are easily started from a start of  an old shrub.  Usually, if you look at the base of a mature plant you will see young sprouts.  Select one about 3 or 4 inches tall and give a quick, firm jerk.  You should see some roots.  I usually pot this in a medium size pot, with garden soil.  Place it where you can easily water, and check its progress.  Give it a little morning sun and shade in the afternoon.  It may wilt a little, but it should soon perk up and take off.  After it looks strong and is beginning to grow, you can plant it in the desired location. Try to plant on a cloud-covered day, with the possibility of rain in the forecast.  And, if possible, it is better to wait until early fall to plant.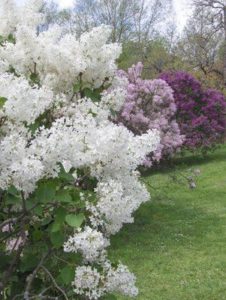 We have another, quite special lilac, which came from my husbands family farm in Pennsylvania.  The home, barn, and outbuildings are all gone now, but the lilac continues to grow and bloom.  Visiting the home-place several years ago, we were able to obtain a piece of it ~ now a joy every spring.  I believe it to be a cultivar named President Lincoln, an heirloom variety.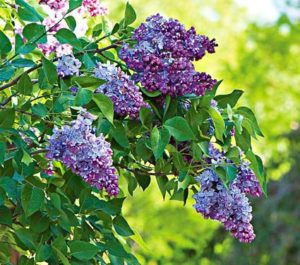 Lilacs grow rapidly and can quickly get out of hand.  They are at their best and can be enjoyed the most, when they are kept at a height you can easily reach to cut their blooms.  After all, lilacs are all about enjoying their fragrance ~ something you can't do when the blooms are high above your head.  Lilacs should be pruned immediately after the blooms are finished.  If you have an old lilac in need of having the height reduced, you can prune the height by one-third each year until it reaches the desired height.  Be sure to check the shrub well each year, removing any branches that are crossing or rubbing each other.  This can cause a break on the skin of the shrub.  Therefore, inviting insects and disease.  Also, keep the inside thinned to allow for good circulation.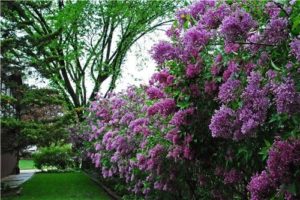 "A faint smell of lilac filled the air.  There was always lilac in this part of town.  Where there were grandmothers, there was always lilac." ~ Laura Miller

So now you know, I have garden loves other than peonies.  I hope you have enjoyed "When The Lilacs Bloom," and that you live where you can enjoy them, too.  However, if you do not, at the end of this post I have listed a few lilac festivals you might enjoy visiting this spring.  And most importantly, do remember:  "You will know it is here, or getting near, when the LILACS Bloom !" ~ Unknown   (The words on a vintage sampler, gifted to me from my husband for my birthday many years ago.)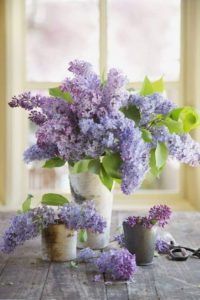 Did you know?   "When a man gives a woman a lilac, he's asking her a question:  do you still love me? ~ Colleen Houck
Thanks so much for visiting.  Wishing you and yours a most beautiful day ! 
Au Revoir,
Sandra

Lilac Festivals
Lilac Time at Lilacia Park
Lombard, Illinois
May 4 through 20, 2018
Rochester, New York Lilac Festival
May 11 through 20, 2018
The Mackinac Island, Michigan Lilac Festival
June 8 through 17, 2018
www.mackinacisland.org
Photos:  Pinterest and facebook