"To love beautiful linen, is to love fair weather, fair weather that one can acquire and carry home." – Louise DeVilmorin
I have always been in love with beautiful linens, specifically French linens.   And, finding them over the years while antiquing would always make me giddy as a school girl.  However, I rather like to think they found me.  I believe when we have an appreciation for specific things, they somehow work their way onto our path so we can "carry them home."
Today, I want to share a beautiful find – Saphyr Pure Linen, French linen.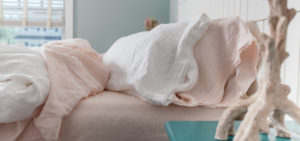 Saphyr photos
The person behind Saphyr Pure Linen is Rory O'Mara. Rory was the Director of International Fashion Marketing at Cotton Incorporated  for many years. During  her years of traveling she learned Europeans are fond of, and have the luxury of dressing their beds with beautiful linen. Nothing compares to the softness of French linen.
Linen is made from the fibers of the flax plant, and just as a point of interest, Saphyr is the common name for the bloom on the plant.  Rory obtains the linen for Saphyr from the area it is grown and milled, specifically from the coast of Belgium, into France, and on through the Normandy region. Upon the touch of French linen you immediately know you have something quite different and special.  The more linen bedding is used and washed, the softer, stronger, and more supple it becomes. In other words, it becomes better with age.  Also, linen is mildew and moth resistant, non-static, and lint-free.  While it is more costly than cotton bedding, if properly laundered,  it will serve you well for decades.  
The French not only spoil themselves by dressing their beds in beautiful linen, they also dress them quite differently than many Americans.  Actually, they are artfully layered, paying great attention to detail.  First, a stuffed and quilted mattress pad tops the mattress, followed by two flat linen sheets (the French are not accustomed to fitted sheets).  Last, a blanket covered by another sheet.  In the winter months the blanket is replaced by a couette (comforter) which is filled with duvet.  Duvet or down, comes from the soft feathery underbellies of geese.  The couette has its own covering, often referred to as a duvet cover.  When the middle sheet is folded back, it most always reveals an embroidered monogram or family crest.  This is embroidered with great care in order for it to be easily read standing at the foot of the bed.
A French bed would not be completely dressed without un traversin – a long firm pillow (round bolster) which spans the width of the mattress.  The traversin may also be wrapped in a blanket cover or in its own, specially made case and will always support European square pillows (26″ x 26″).  Additionally, the European square pillows are often embellished or monogrammed.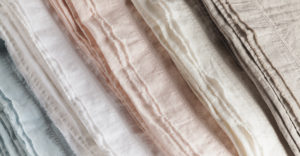 The French are famous for their love of home and striving to acquire the best. They will save their pennies for fine workmanship, rather than to quickly squander their funds on anything not of quality. This very attention to detail is what makes Saphyr Pure Linen special.  So today, I am offering you a treat.  A GIVEWAY !  A standard/queen size set of Saphyr Pure Linen pillowcases in fresh white.   To enter:  Complete one of the following sentences.
A.   I love linen because…  
B.  I am interested in linen because…
All entries must be received by Friday, May 26, 2017.  Leave your answer to the sentence, along with your first name under the comment section of the blog.  The winner will be announced on Tuesday, May 30, 2017.
Thanks for visiting, enjoy your week !
Au Revoir
Sandra
Notes:  This post was not sponsored by Saphyr Linen.  Although, I greatly appreciate their assistance with photos and information regarding Saphyr.  All photos used in this post are with permission of Saphyr Pure Linen.  To order from Saphyr Pure Linen or to visit their website go to:  https://saphyrpurelinen.com/  You will be glad you did!