"Only by paying careful attention to the simple details of daily tasks and to our immediate surroundings can we live vitally and beautifully all the days of our lives." –  Alexandra Stoddard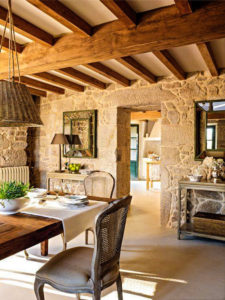 While most of us do not live in the South of France, and have in our view magnificent vistas, or live in gorgeous aged stone homes. We can, however, add a bit of romance to ordinary days in our castles. And, who doesn't like a bit of romance? Romance and beauty can be added to our lives in many ways, but especially through our everyday rituals. It is this bit of romance we add to our lives, which over time, develops into the art of living well. When we make the simple things we do everyday more meaningful and attractive, this enhances all other areas of our lives, which in turn enhances the lives of those we love.

Much of life is spent living in the details.  Therefore, when we pay attention to our daily routines and rituals, we can turn them into something pleasant and lovely. We all have these rituals and details we need to address everyday.  Many of us spend time daily, tidying areas of our homes. I enjoy a giving myself a reward at the end of my work, and for me – that reward is always flowers. Slipping away to the garden to clip something lovely brings me great joy, and enhances the quality of my day. If you do not have a garden, or if it is not bloom season,  most all grocery stores have bouquets available for purchase. Treat yourself to something you deem lovely. You will be happy you did.  Flowers nourish our spirits and our homes.  They add romance in a way nothing else can. Truly, a few blooms have magical powers.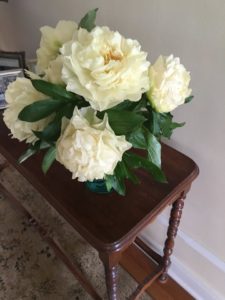 Sunny Girl Peony, from our garden – Spring, 2017

In thinking of the little, but significant, details in our daily lives:  I think of one which technology has made easy to overlook – handwritten notes. We all have people we need and want to thank, or let know we are thinking of them. This detail can be easily addressed by sending a quick email or a Facebook message, but neither replaces a handwritten note. Aren't you almost giddy when you see a handwritten envelope in your mail among all the junk ?  Sure you are, and so is everyone.  So, purchase some pretty note cards or create your own, and write to thank someone or let them know you are thinking of them. You will add romance to your day, by knowing your thoughtful note will enhance the quality of their day. It is rather like the old saying, "the scent of the rose remains on the hands of the giver."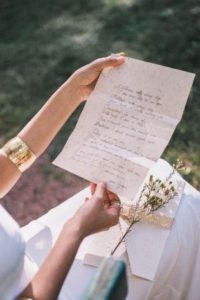 "Letters Mingle Souls" – John Donne

Next, one easy and definite way to add a little romance to the day,  is through the preparation of a lovely meal. You do not have to be a fabulous cook to create something beautiful, as well as marvelous tasting. Such as roasted chicken with baby potatoes, and a salad of mixed garden greens. Set a pretty table, uncork the wine, and light the candles. Instant romance!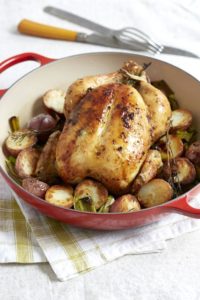 And, while the chicken is roasting, what could be more lovely than a luxurious bath or a long steamy shower? Sprinkled with some marvelous smelling lotions and potions, of course.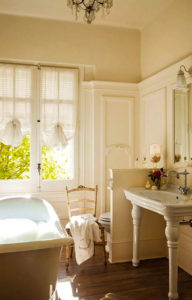 Oh, but I am not finished. Do you remember, back in May I wrote a post about beautiful linen, specifically French linen? visit here  A bed dressed with beautiful French linen, is a marvelous bit of romance we can choose to enjoy everyday. And, Saphyr Pure Linen is gorgeous French linen.  visit here
All this being said, I had promised another 'Giveaway' of this beautiful linen at some point during the fall.  Well, fall is here, and actually it is slipping away rather quickly. So let's get the 'Giveaway' started.   To enter simply list 3 reasons you would like to win a Standard/Queen set of Saphyr Linen Fresh White Pillowslips. You can do this under the comment section at the bottom of this post or under the contact section  and it will come directly to my email.  All entries must be received by the end of the day on Tuesday, November 7, 2017. The winner will be announced on Wednesday, November 8, 2017.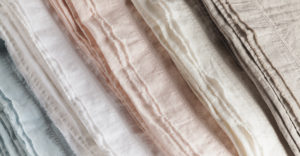 I hope you have received a bit of romantic inspiration today.  It is, after all, the little things which make such a difference in our lives. And, by being mindful, we can add such romance to our ordinary days.  Therefore,  "living vitally and beautifully all the days of our lives."
Wishing you and yours a beautiful week !
Au Revoir,
Sandra
Photos: Pinterest, Saphyr Pure Linen, M.S. Lambiotte
Notes:  This post was not sponsored by Saphyr Pure Linen.  Although, I greatly appreciate their assistance with use of photos and information regarding Saphyr.  All photos used in this post are with permission of Saphyr Pure Linen.