"The cost of freedom is always high, but Americans have always paid it.  And one path we shall never choose, and that is the path of surrender, or submission." – John F. Kennedy
Memorial Day Weekend is a special time of remembrance across our land.  It is also the unofficial start to summer and a busy time for many families.  There are cookouts, family gatherings, lake time and beach time.  All translated to, little kitchen time.  So today, I am sending along two wonderful recipes.  Both are easy to prepare and transport, should you need to provide a dish for a gathering.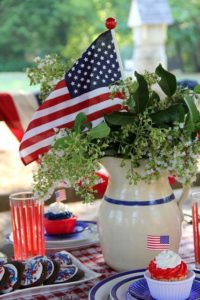 Macaroni Salad (recipe from a Mississippi cookbook)
1 pound elbow macaroni
4 celery hearts, finely chopped
2 medium carrots, grated (1 cup)
1 cup chopped sweet pickles
1/2 small onion, grated
1 (4oz.) jar chopped pimientos, drained
6 hard-boiled eggs, grated
2 cups Hellmann's mayonnaise
1/2 cup Dijon mustard
1 Tbls. cider vinegar
4 dashes Tabasco sauce
2 Tbls. chopped fresh parsley
2 Tbls. granulated garlic
4 tsp. sugar
2 tsp. pepper
1 tsp. dry mustard
1/2 tsp. salt
Cook the macaroni according to the package instructions.  Drain well and set aside.  In a large bowl, combine the celery, carrots, pickles, onion, pimientos, eggs, mayonnaise, Dijon mustard, vinegar, Tabasco, parsley, granulated garlic, sugar, pepper, salt, and dry mustard.  Taste:  You may want to add  a little more salt.  Add the cooked macaroni, toss until well coated.  Refrigerate overnight for flavors to mingle.  Note:  It is important to add the macaroni to the mayo mixture while the macaroni is still warm, so the noodles absorb all the ingredients and flavors.  
Pineapple Cake
Note:  I have made this recipe sine the early 1970's.  The recipe was distributed in the school district where I worked, by the school nurses association.  You will note there is no butter or oil in the cake.  Also, it is so easy to prepare because you mix it by hand, you use only one bowl and you don't even have to grease the baking pan.  It doesn't get any easier and it is delicious. It tastes very much like a Pineapple Upside Down Cake.  It is a wonderful cake to take to a gathering, just cover with foil and go.
Preheat oven to 350
2 eggs
1 cup brown sugar
1 cup granulated sugar
1 (20 oz.) can of crushed pineapple, undrained
2 cups all purpose flour
2 tsp. baking soda
Be sure to mix this cake by hand.  In a large bowl, beat eggs, with a fork.  Stir in sugars and undrained pineapple.  Stir in flour and baking soda. Mix well.  Pour into an ungreased 13×9 inch baking dish.  Bake in preheated oven at 350 for 35-40 minutes or until a toothpick inserted in the center comes out clean.
Frosting
3 oz. cream cheese
1/4 cup butter, softened
1 tsp. vanilla
2 cups confectioners sugar
Mix cream cheese and butter with mixer.  Add vanilla, gradually add the sugar. Spread on cooled cake.  Note:  This makes a thin layer of frosting, but enough.  If you prefer a thicker frosting, simply double the frosting ingredients.

This weekend take a moment to remember, and be grateful, for the many who have sacrificed to ensure our freedom.  
  Have a beautiful weekend, and be safe in your travels.
Au Revoir,
Sandra
Photo:  Pinterest