"Old houses, I thought, do not belong to people ever, not really, people belong to them." ~ Gladys Taber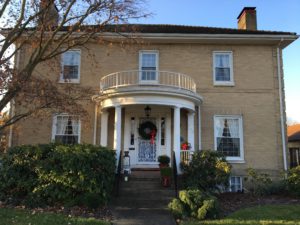 Good Sunday morning, sweet friends.  I hope this finds you well and that the first week of February was kind to you. 
You may be wondering about the above photo of our home still dressed in Christmas attire.  The photo is a rather good one for a cold December/January day. We even have a blue sky, which is a rare winter sight in these West Virginia Hills.  At the time the photo was taken, I was not ready to say goodbye to Christmas.  However, this post is not about the weather or what our home is wearing.  It is about something I came upon in my collection of lovely things that offered me additional thoughts and wonder of the things I love and treasure.  And therefore, food for my 'Sunday Thoughts' ~ "Wakened Hands."

"Things men have made with wakened hands, and put soft life into are awake through years with transferred touch, and go on glowing for long years.
And for this reason, some old things are lovely warm still with the life of  forgotten men who made them." ~ D. H. Lawrence
When I read these words, I was brought to tears, as I immediately thought of our dear old home.  Look closely at the photo of our home and notice the roof.  The roof is original to the home, built in 1939, and is made of clay tiles ~ handmade.  Now, there have been repairs over the years before us, which some actually did more harm than good.  You see, you can't walk on clay tiles or you will crack them.    
A few years after we were settled in our home and after a bad storm, Mike thought he heard dripping sounds in the attic.  So up to the attic he goes and his thoughts were correct. We had a leak.
We have the very good fortune of having an excellent young contractor in our area.  He appeared quickly after a call from Mike.  They discussed the situation and after checking the roof, inside and out, our contractor's thoughts were not to replace the roof, provided Mike could locate the tiles.  He also knew how to replace the tiles without walking on the roof.
Fortunately, in the attic of the garage, there was a box of unused tiles from when the house was built with a company name stamped on the tiles.  And so, Mike began his internet search.  Much to his surprise, he discovered the company was still in business and owned by the family who began making the tiles in Rome, Italy nearly four hundred years ago.  When the family immigrated to America they first settled in Chicago.  Then in 1902 opened their business in New Lexington, Ohio, where they remain today.  Their location in Ohio was a plus with regard to the cost of shipping as New Lexington is about a three-hour drive from us. 
After much discussion with one of the owners of the company, he asked Mike to send him one of the tiles currently on the roof.  After receiving this tile they created a sample tile and sent it to us for approval of the color.  The match was nearly perfect.  The tiles were handmade to match, in size and color, of our original tiles.  We were set to order. Five hundred tiles were ordered, enough for current and future repairs.  They arrived at our door in West Virginia via a flatbed trailer.

"Some say the antique syndrome surfaced to offset the newness of the land, the homes, and the settlers.  Some say the interest was initiated by a desire to return to the roots of yesterday.  I contend the entire movement to acquire antiques was born out of sheer respect of things that lasted longer than fifteen minutes." ~ Erma Bombeck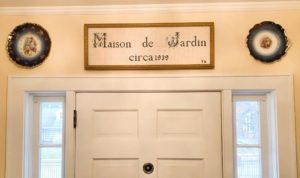 I do not remember not being drawn to beautiful things made by hand.  I suppose that is because I have had a needle and thread in my hands since it was safe for me to hold a needle.  I believe the love and appreciation of handwork and craftsmanship go hand-in-hand with the love of old and treasured things.  For instance, the needlework, pictured above, was stitched with love for me by my dear friend, Janet.  She created this lovely piece, which hangs over our front door after we gave our home a name.  Should you be interested in the story of naming our home, visit here.
Of all the many lovely pieces that my sweet friend has created for me, I would have to say these two are my favorites.  Or perhaps it is as Mike says, "My favorite is the one I am enjoying at the moment."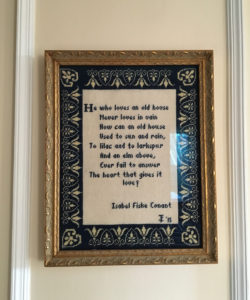 I like to think Isabel Conant would be proud her words were beautifully stitched and hang in the foyer of our old home.

"Beauty reminds humans that we have needs beyond function and practicality." ~ unknown
Another reason I am drawn to old things is the stories.  I look at a lovely old quilt or beautiful china teacups and I can hear their stories.  This beautiful old quilt was stitched by Mike's grandmother and kept numerous family members warm throughout the years.  She has been gone for many years, however, her quilts have remained "glowing for long years."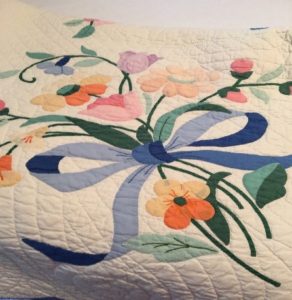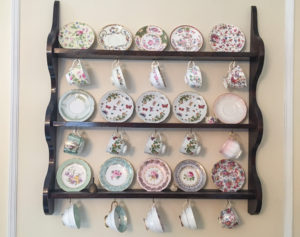 I rather imagine these teacups and saucers attended many a fireside chat as well as tea parties.  Oh, the stories and secrets they could tell.  The three on the center shelf (with butterflies) are part of a set my mom received as a gift when she was the West Virginia State Garden Club, President.  She loved pretty teacups and said, "Tea always tasted better when served in a pretty cup."  These are just a few of my collection of too many.

"A precious, mouldering pleasure 't is, to meet an antique book, In just the dress his century wore; A privilege I think." ~ Emily Dickinson
In closing, to me, Emily Dickinson was right when she said, "It is a privilege to meet an antique book."  Antique books do speak to me and certainly, take me under their spell.  They most always contain marvelous information and are also usually beautifully written, not to mention how pretty what they are wearing may be. 

I do adore these lovely gems and if you have never ventured down the old book trail, you might want to take a little stroll. 

But a warning, it can be a bit consuming.

Dear friends, I thank you so much for your visit.   And, perhaps you will think of Lawrence's words the next time you come across something of age which tugs at your heart.  Remember, there is always a reason it speaks to you.  Whether it may be an old home or a book, it is asking for your attention.  And, I believe it is also asking you to pause a moment and remember the "wakened hands" who with such care and pride in their work, created magnificent beauty.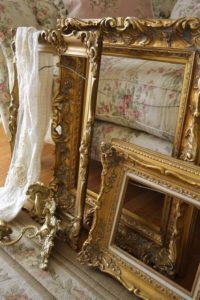 Wishing you and yours a lovely and peaceful day.
And . . .
May your week ahead be full of sweet surprises.  Stay well!
"We may talk of saving antique linens, species, or languages; but whatever we are intent on saving, when a restoration succeeds, we rescue ourselves."  ~ Howard Mansfield
Amour,
Sandra
Images:  Michael S. Lambiotte and tumblr