"It is in the smallest details that the flavor of life is savored." – Sarah Ban Breathnach
What exactly is it that gives a home or a certain place just that bit of "je ne sais quoi" – the intangible quality which makes something distinctive or attractive? Perhaps you, too, have entered someone's home or a place and were seduced by such charm.  Charmed by a certain something you couldn't quite explain. A charm so sweet, it cast a bit of a spell over you. This has happened to me many times, and I imagine it has to you as well.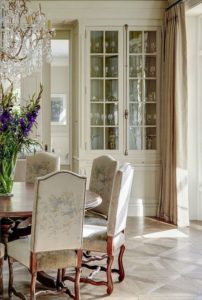 For one to be so  charmed, the home or place need not be extravagant  – but the details must be huge.  Truly, that "certain something" is all in the details.  While the room in the photo above has a fabulous chandelier, the remainder of the room is fairly unadorned.  However, the details make it grand.  The chairs are lovely and the beautiful floral fabric is not only on the fronts, it is on the backs as well.  There are gorgeous flowers on the table.  Attention to detail, and the detail is stunning. Don't you want to see more of this home?  Sure, you do.  I do.
It is my opinion, such charm is also most often visible on the outside of a home. One notices that certain something,  from the moment you arrive at a property. You simply know, "This is going to be special."   Maybe you wind through a lovely flower lined walk, or your attention is immediately caught by wonderful architectural details of the home or, just maybe, you notice a plaque on the front of the home.  And you realize, oh my goodness the house has a name.  Absolutely, you must see more.  Once inside, you are not disappointed.  

Yes, a name does give a home charm, a bit of "je ne sais quoi."  Both of the homes my husband and I have owned have been given names.  Our current home took me quite a while to name.  I had thought about it from time-to-time, but nothing I thought of made my heart sing.  That all changed one spring day while I was working in the garden.  The name, The Garden House, simply floated into my mind. Yes, that would be the name – but with a twist.  
I know you are asking, "what is the twist?"  Our sweet home is an old French Georgian.  It was built in 1939, is loaded with charm, has wonderful architectural details, and it well deserved a name. But the name had add to the charm.   So, because of the home's French architectural  style, the many French details on the interior, and our last name being French,  I decided the name would also be in French.  "Maison De Jardin," translated – The Garden House.
Ah, now you finally understand the name of this blog.  The "flavor of life truly is savored in the smallest of details."  I smile every time I see the lovely plaque on the front of our home.  It adds that certain something.  And, the day the plaque was secured in place, truly our home stood a bit taller.  To me, on that day, I will always believe our home knew she was being recognized as special.  She knew she was loved.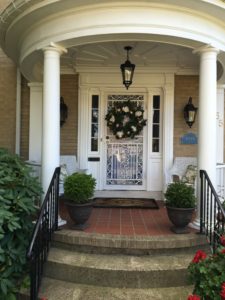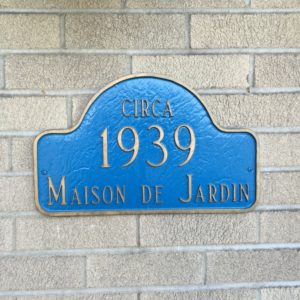 So as you roam about your castle.  Be sure to let it know it is loved.   And remember, that "certain something," really is, all in the details!  
Thanks for visiting, have a beautiful week!
Au Revoir,
Sandra
Additional Information:
 – Surveys indicate homes with names have a higher value and sell easier (our former home sold in 18 days).  Go to Danthoniadesigns.com for further reading. This web site also gives many ideas for home names.
 – "The Bee Cottage Story," by Frances Schultz – Frances Schultz is an interior designer, author of several books, former House Beautiful magazine columnist and for six years was on-air host of the award-winning cable television show "Southern Living Presents."  Her latest book, The Bee Cottage Story, released in July of 2015, is a book devoted to the many reasons she named her cottage and how she chose the name.  A lovely and informative book.
Photo:  Home Bunch/Pinterest