"The flowers of late winter and early spring occupy places in our hearts well out of proportion to their size." ~ Gertrude S. Wister
Good Sunday morning, sweet friends.  This past week our weather has been quite cold.  Although, on Tuesday we had blue skies and temperatures hovering around fifty degrees.  So out  I went for a 'walk about the garden.'  Such a good idea it was because the next day we had snow and temperatures in the twenties.
On this lovely blue sky day, I was delighted by the many splendid things happening.  One of which was the charming snowdrops, well on their way through the soil.  Louise Wilder, an American gardening writer, tells us, "Snowdrops are a fragile but hardy celebration . . .in the very teeth of winter.  True words.  I never fail to be in awe of their remarkable strength to come forth in the bitter cold and provide us with delicate and delightful little blooms.  Indeed, a few snowdrops in a tiny vase provide such joy on a gray winter day.   

"Life is the greatest gift that could ever be conceived … A daffodil pushing up through the dark earth to the spring, knowing somehow deep in its roots that spring and light and sunshine will come, has more courage and more knowledge of the value of life than any human being I've met." ~ Madeleine L'Engle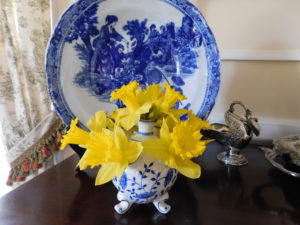 Daffodil ~ King Alfred.  The lovely Tulipiere was a gift from a dear friend.
A few years ago, I wrote a lengthy post about daffodils.  There are so many varieties and classifications. I only touched the surface in this post.  Should you be interested in reading,  visit here.
Daffodils are such a cheerful sight in the spring.  Bursting with sunshine, they seem so happy.  As many years as I have watched them poke their sweet green heads through the soil, I am always thrilled beyond words to see them.  On my walk, I was happy to see many of ours are on their way up, with the bold King Alfred arriving first, as always.  King Alfred will soon be keeping company with Billy Graham, Barrett Browning, sweet Tete-a-Tete, and many others.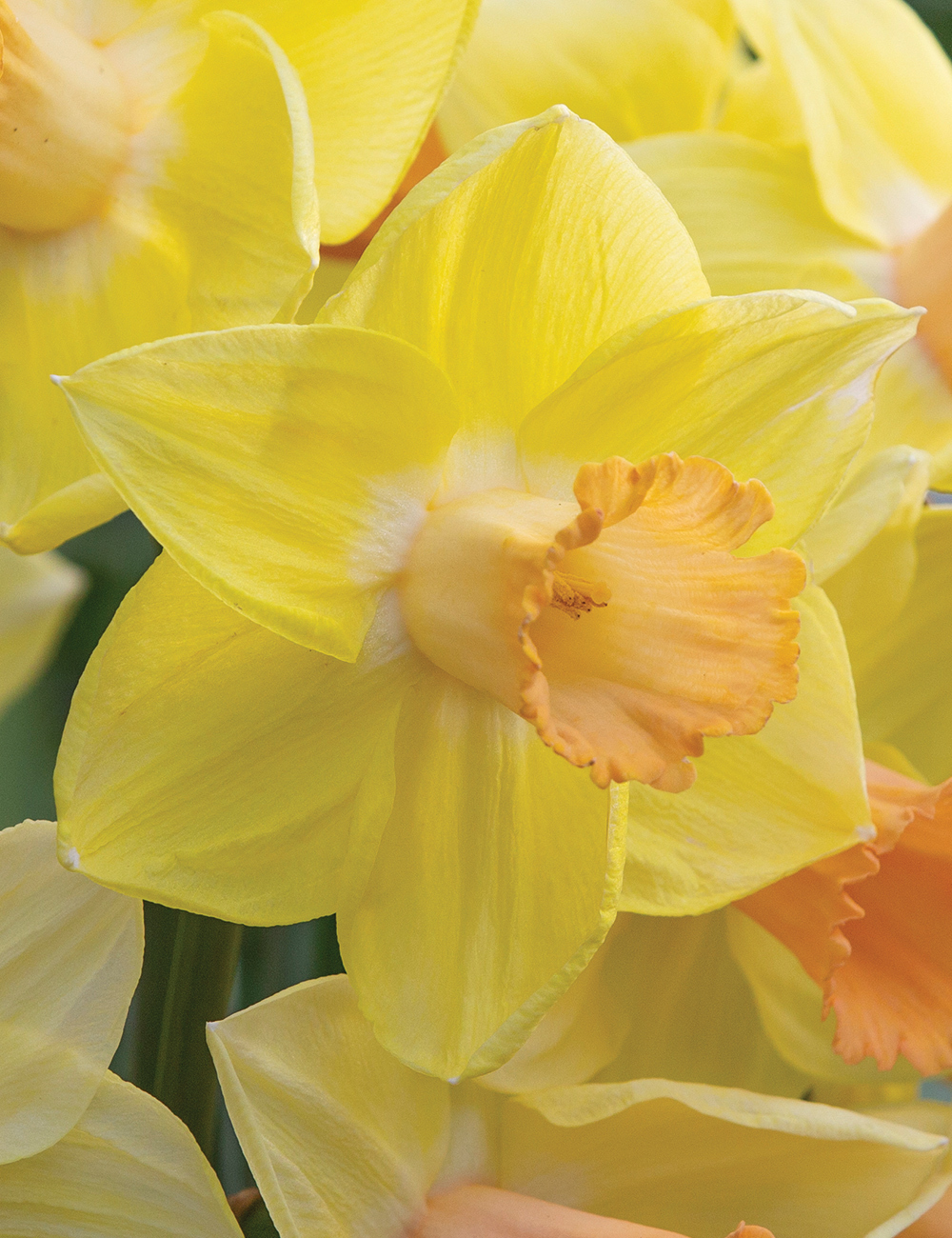 Daffodil ~ Billy Graham.
Daffodil ~ Barrett Browning.
Daffodil ~ Tete-a-Tete with Muscari.  Tete-a-Tete is a miniature daffodil.
I hope wherever you may be that you are seeing a few tiny snippets of spring.  These little wonders can certainly carry us through the winter, especially if one is not a winter person.  I happen to enjoy winter and all of its dazzling beauty, but I know winter can be difficult for many.

"Sometimes you will never know the value of a moment, until it becomes a memory." ~ Dr. Seuss
Dear friends, in closing, the following words are from my first post, written on January 29, 2017.  Now and again, I look back at this post as I always want to remember why I began this adventure.  
"There is so much I want to say and so many things I hope to inspire.  I want this blog to be special for you ~ something you look forward to in our crazy world, a source of inspiration."  
I hope I have been successful in some small way and that my blog, for the brief few moments you visit, offers you peace and inspiration.  Inspiration to possibly inspire you to create beauty for yourself and those you love.  Or, perhaps you read a few special words to tuck away in your heart and bring forth on a difficult day. Something which speaks to you.
We are all too busy, so know, I sincerely appreciate your visit and the time you take to comment.  It is what moves me forward on this journey.  This past year has proven how terribly important a circle of like-minded friends, even virtual, can be. 
Wishing you and yours a beautiful and peaceful day.
And. . .
May your week ahead be full of kind people, sunny skies, and snippets of spring.
Stay well!
"I already hear the flowering spring" ~ unknown
Amour,
Sandra

Images: Tumblr, White Flower Farm, and M.S. Lambiotte