"On earth, there is no heaven, but there are pieces of it." ~
Jules Renard
Good morning, dear friends.  I do hope this finds you well and under blue skies.  This morning finds my thoughts here, there, and everywhere.  As I am certain, your thoughts probably are too. I am terribly concerned for the people who have been affected by these hurricanes.  And, the situation in Ukraine continues to be beyond tragic. The lives of many in both situations are and may be forever changed.  I pray all of you are safe and that your families are also. 

With all the sadness of our current world, I thought perhaps we needed something lovely to lift our spirits.  Therefore, I hope you will enjoy the selection of photos and words I have chosen to accompany them.  I promise you, with my thoughts so scattered, they will be far better than what I could present. You might want to find a nice cup of coffee or tea.

"October had tremendous possibility. The summer's oppressive heat was a distant memory, and the golden leaves promised a world full of beautiful adventures. They made me believe in miracles."  ~ Sarah Guillory
"Autumn teaches us a valuable lesson. During summer, all the green trees are beautiful, but there is no time of the year when the trees are more beautiful than when they are different colors. Diversity adds beauty to our world." ~ Donald L. Hicks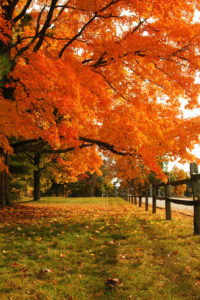 "Autumn that year painted the countryside in vivid shades of scarlet, saffron, and russet, and the days were clear and crisp under the harvest skies." ~ Sharon Kay Penman

" The leaves are flying high away, and the heart flies with them… " ~ Emily Dickenson
"It was October again. . .a glorious October, all red and gold, with mellow mornings when the valleys were filled with delicate mists as if the spirit of autumn had poured them in for the sun to drain~ amethyst, pearl, silver rose, and smoke~blue.  The dews were so heaved that the fields glistened like cloth of silver and there were such heaps of rustling leaves in the hollows of many stemmed woods to run crisply through." ~ L.M. Montgomery 
"October sunshine bathed the park with such a melting light that it had the dimmed impressive look of a landscape by an old master." ~ Elizabeth Enright

"October, tuck tiny candy bars in my pockets and carve my smile into a thousand pumpkins… Merry October!"  ~Rainbow Rowell
 The trees go all red and blazing orange and gold, and wood fires burn at night so everything smells of crisp branches.  The world rolls about delightedly in a heap of cider and candy apples and pumpkins and cold stars rush by through the wispy, ragged clouds. . ." ~ Catherynne M. Valente 
Dear friends, I hope you have enjoyed your visit.  Know I wish you and yours a beautiful day.
And. . .
May the 'Hope of a New Day' bring us joy and peace.
Amour, 
Sandra