"Apple butter is not a combination of apples and butter. Let's just get that out of the way. There is no butter in apple butter, which does make it seem like whoever named the stuff could have done a slightly better job. But if it has nothing to do with the creamy dairy product, then what is apple butter? " ~ Bon Appétit Magazine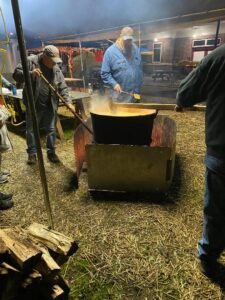 Good morning, dear friends.  I do hope this finds you well and enjoying these autumn days.  Life is good here in 'The Hills.'  We have been notified Jack Frost will pay us a visit tonight ~ so we know for certain October has arrived.  I hope you will enjoy your visit, as something a bit different is in store for you. 
Along with the arrival of October comes apple butter and the Salem, WV Apple Butter Festival.  West Virginians will look for any excuse to hold a festival.  There seems to be a festival for every berry, season, and occasion.  Even ramps have a festival.    Festivals are in every town and community.  Goodies and recipes abound.  From violet jelly to . . .apple butter. 
My husband belongs to a group known as the Salem Rifle and Pistol Club.  They gather for different events at their club ~ target shooting, learning new skills from skilled and certified instructors from their club, other clubs, and members of various law enforcement agencies.  They are quite a diverse group and personally, I believe they also gather to 'shoot the breeze.'  Their backgrounds range from educational professionals, farmers, skilled craftsmen (who can build and fix anything), retired military men, law enforcement officers, attorneys, and businessmen.  There are a few ladies in the group, who joined mainly because they want to know how to properly and safely hold and fire a weapon.  
In order to help support the club, one fundraiser each year is held and that is making apple butter ~ the old-fashioned way.    The apple butter is placed over an open fire, in its copper kettle, during the wee hours of the morning, then the members of the club take turns stirring.  The club holds two to three "Apple Butter Kettles" (and a demonstration kettle at the festival) each October in order to have enough to sell at the festival.  In addition to the festival, the apple butter is most usually sold at a local grocery store.  However, there will not be any available for sale at the grocery store this year ~ they sold out.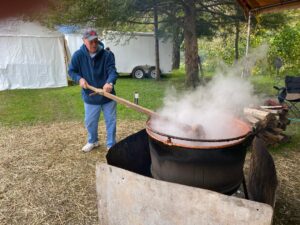 Mike Lambiotte stirs a demonstration kettle at the festival.

"The Mountaineer is not just a mascot. It is a leader. And I will proudly lead my University and state with love and passion ~ my home among the hills," Roush said. "I also hope to serve as an inspiration for young girls for generations to come."  ~ Mary Roush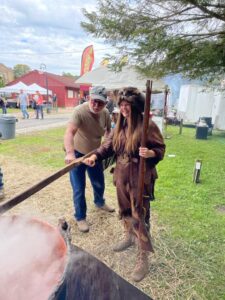 Mary G. Roush, West Virginia University Mascot ~ 2022~2023. "The Lady Mountaineer"
The photo above is of Mary Roush, stirring apple butter.  She is the 2022~2023, West Virginia University Lady Mountaineer and the third female in nine decades to don the buckskins and carry the rifle as the 68th Mountaineer Mascot.  She fires the rifle at athletic and other various events, and public appearances throughout the state.    For those of you who are not familiar with WVU, this is quite a coveted position.  I would imagine Roush could hold her own against any of the men in the Salem club.

"Aim to be the blue ribbon best. Have high standards and work to be exceptional. Develop yourself from practice to be a winner at what you do." ~ Mark F. LaMoure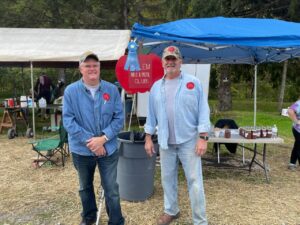 These two fine-looking gentlemen are standing in front of the blue ribbon won by the club for their outstanding apple butter. Winning a blue ribbon is quite an accomplishment, whether one is sixteen or sixty ~ you or the group represented is always proud.

"Being a festival queen is a remarkable opportunity for a young woman.  It teaches a lot of life skills." ~ unknown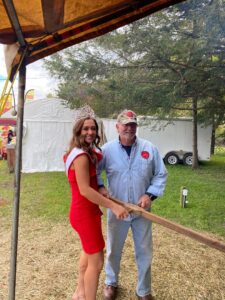 There certainly can not be a festival without a queen.  And, this gentleman looks happier helping the lovely queen stir the apple butter than he did standing with his friend in front of the blue ribbon.   Pretty girls do have an amazing effect. 

Dear friends, I hope you have enjoyed your visit.  Should you live near and may be looking for a road trip,  Go to festival.Net for a list of current fairs and festivals in the 'Mountain State.'
Know, I wish you and yours a beautiful day and week ahead.  
And. . .
Enjoy the falling leaves!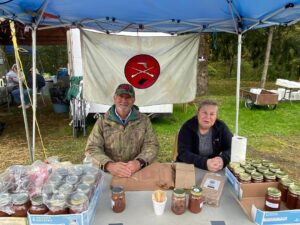 "The greatness of a culture can be found in its festivals." ~ Siddharth Katragadda
Amour,
Sandra

Note:  Inspiration for this post came from my dear friend, Janet.
Photos:  Mike Lambiotte