"In the hazy days at summer's end when the air's still warm and the green near spent.  When the days grow short and the evenings tall.  Then you feel in a whisper, Fall." ~ Laura Jaworski
Good Sunday morning, sweet friends.  Are you beginning to see "whispers of fall?"  I hope so, because they are signs of magnificent beauty about to arrive in the days ahead.  If you would, take a moment and do as Catherynne M. Valente instructs us,  "Squeeze your eyes closed, as tight as you can, and think of all your favorite autumns, crisp and perfect, all bound up together…"  Now, isn't that a lovely way to begin your day?  I imagine you could describe many beautiful days and times that accompanied your perfect autumns.

"Summer is leaving silently.  Much like a traveler approaching the end of  an amazing journey." ~ Darnell Lamont Walker
Summer does quietly slip away as we welcome glorious autumn.  Every season holds its own great magic and beauty, however, to me autumn is extraordinary.  The weather is delightful, the humidity of summer is gone, and the sights are a visual feast.  There is a beautiful stillness to everything as Mother Nature's summer begins to drift off to sleep.  Truly, a magical season.

"Autumn evokes different feelings for everyone…As the energy of summer slows down, the frosty winter is getting closer, a beautiful autumn day is truly special.  Cool morning air, grass wet with dew, and those amazing warm golden colors spreading through the trees…unforgettable autumn." ~ Vicki Chicago-Marsh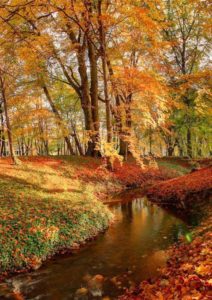 "A tangerine and russet cascade of kaleidoscopic leaves create a tapestry of autumn magic Upon the emerald carpet of fading summer." ~ Judith A. Lindbergh

Dear friends, I hope this finds you well and beginning to dream of lovely autumn days.  This is such a wonderful time to enjoy simply being alive, dressing our homes for autumn, and soaking in every drop of  Nature's glory.  The magnificent beauty is free for our enjoyment.  
Know I wish you and yours a glorious day. 
And…
Thanks so much for your visit, have a wonderful week.  Stay well!  
"The sunshine kissed the summer blooms and sent them all to slumber.  Sweet dreams to you, my treasures, for I'll see you all next summer." ~ Freya Turrill
Amour,
Sandra

Images:  via tumblr