"There is a certain majesty in simplicity." – Alexander Pope
With the holidays fast approaching, certainly we are all beginning to give thought to our celebrations. If you are hosting  one or more of these special celebrations, you are most likely thinking of: the table, food and other decorations for your home.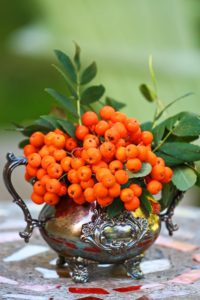 While we all want our food, tables and decorations to be spectacular, what is really important are those family members and dear friends who will be seated at our tables, celebrating the holiday with us.  It especially matters that we take care of ourselves, so as not to be so exhausted from preparations that we are unable to enjoy this special time or create those Norman Rockwell memories.  So let's keep it simple. Understand, this is the voice of experience speaking.
I have heard the words, 'there is beauty in simplicity,' most of my life. My dear mom preached these words and she was correct. When we keep our tables, decorations and food simple, then we are not exhausted. Therefore, we can enjoy the celebration of the day, and being with the people we love.  And the good news is:  Simple can be quite elegant.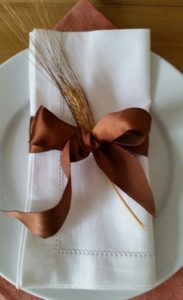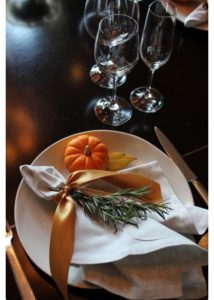 Things such as satin or velvet ribbon used as a napkin ring, tied with sprigs of rosemary, boxwood, or a shaft of wheat – adds instant beauty and charm to the table. And for the centerpiece, nothing can compare with the glory of nature.  Add a few candles and you have created magic, setting the stage for a memorable time.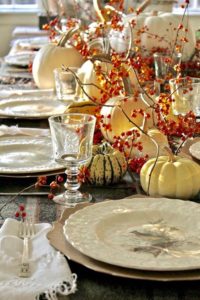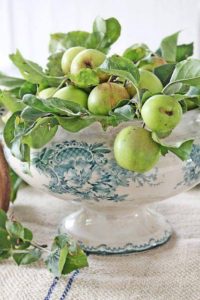 As an extra touch, I have always enjoyed placing a simple gift at each place setting.  Something small, but something for your guests to take home and enjoy, along with their treasured memories of the day. One such small gift is a pomander ball.  They are quite old fashioned, but so lovely.  Plus, they are easy to make and smell divine.  You can be as creative as you wish in your design or just scatter them with a few cloves.  The pretty orange is a blank canvas for your creativity, tie with narrow satin ribbon and voila – magic. Also, this special hand-made gift adds an extra splash of love.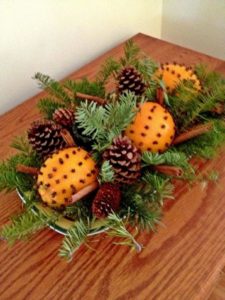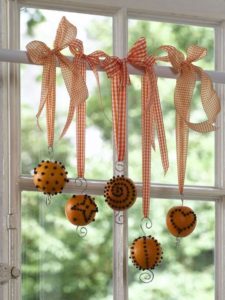 I especially enjoy seeing them hung in a window – they are quite festive, and are a wonderful project to do with the 'little one's' in your life.  Children feel most special when they see their projects hanging about.
One additional small touch I enjoy doing at Thanksgiving is serving dessert on our Christmas china.  This has come to be our custom of ringing in the Christmas season.  If you do not have Christmas china, you could serve dessert with some lovely Christmas napkins, play some Christmas music or sing Christmas carols. 
                                                  The pattern is Merry Christmas, by Johnson Brothers.
Additionally, my husband and I always light our tree on Thanksgiving evening for a while before we go to bed. It is a small indulgence we have come to enjoy. Just like velvet and satin ribbon. And, in the words of Clinton Smith, "It's the rare quiet moments in our lives that are the most indulgent."
 Everyone has their own special and unique way of ringing in the season.  What are some of yours?
Thanks for visiting. Wishing you and yours a beautiful week !
Au Revoir,
Sandra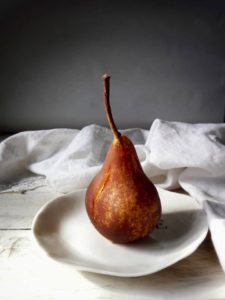 Special Notes:  
Clinton Smith is the Editor in Chief of Veranda.
The Events Section of this blog has been updated.  Be sure to give it a read.  There are some lovely events happening across the country, some may be near you.

I will be posting some great holiday recipes soon – be sure to follow along.  Also, you can easily find previously posted recipes by going to the Recipe Archive on the bottom right of the home page. 
All photos,Pinterest