"Things that the color blue bring to life:  Nostalgia… It's delicate, but potent.  It's a feeling in your heart far more powerful than memory alone.  A feeling of a place we ache to go again." ~ Rosemary Danielis
Good morning and happy day, dear friends.   Really, I am not singing the blues.  But, I am singing about how much I love blue. I know, I do that often.  However, I have noticed I seem to enjoy all the blue in our home even more as cooler weather approaches.  So, I thought I would share some of the blue in our home, in and on other homes, and in the garden.  I hope you will leave 'Singing The Blues.'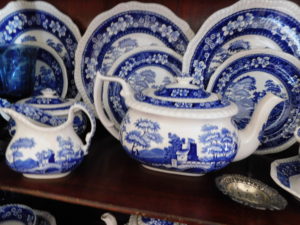 Spode ~ 'Tower Blue'
Each time I pass by these lovely dishes sitting in our china cabinet, I am reminded of how I enjoy seeing them on an autumn table.  They also serve to remind me of how much I adore blue.  And, where I was and who I was with when I first saw them.
I was with my dear friend, Janet (she is a blue lover too), and it was sometime during the spring of 1972.  Janet and I were doing a little shopping for our future homes.  You see, we were both about to be married. We really didn't have anything, in particular, we were searching for that day.  We were simply enjoying our time together, talking about our upcoming weddings, shopping, having lunch, and admiring anything and everything gorgeous.  This led us to a lovely local jewelry store, which always carried everything imaginable along the line of 'stunningly beautiful.'  And there they were, displayed perfectly ~ Spode 'Tower Blue.'
These pretty dishes are a treasure to me.  Memories of many wonderful meals, holidays with family, and of course, my dear friend.  And actually, I believe they are partially responsible for my infatuation with blue.  (See note at the end of this post regarding the tea strainer, a gift from Rita.)

"Oh! Darkly, deeply beautiful blue, as someone somewhere sings about the sky." – Lord Byron
Rich, deep blue always commands my attention. In my opinion, it is a classic.  

Perhaps, Vincent van Gogh had images similar to these photos in his mind or sight when he said, "There is no blue without yellow."
 Was it bold blue and yellow?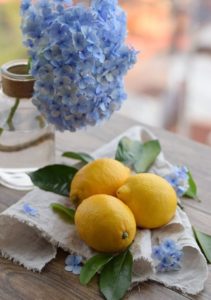 Or, soft blue and yellow?


While any shade of blue speaks to me, the shade which always captures my heart is French blue.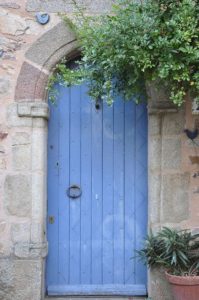 There is just something about this shade that makes my heart begin to sing  ~ 'oh, you beautiful blue.'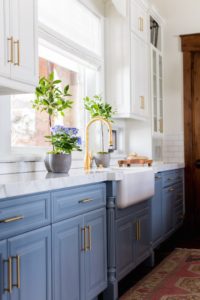 Such a nice color choice for these kitchen cabinets.
Don't you want to find your book, a nice cup of tea and relax?  Perhaps, even enjoy a nap.
Would you look at this, it is Cinderella's dressing room, in French blue.  Complete with fireplace, loads of cabinetry and drawers, and, of course, an oil painting.  I can hear you gasping!


"Blue offers up a tranquility which belies its true appearance."  ~ Anthony T. Hincks
Gorgeous needlework is another one of my loves and when done in blue ~ it is extra special.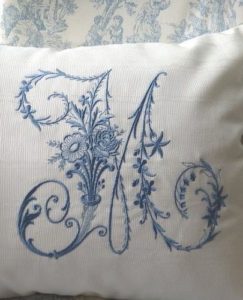 Magnificent monogram and the stitching is extraordinary.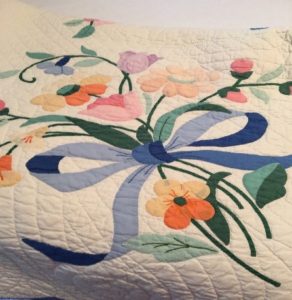 The blue is what drew me to this quilt, but the stitching is exquisite.  It is an estate sale purchase and for me, a treasure.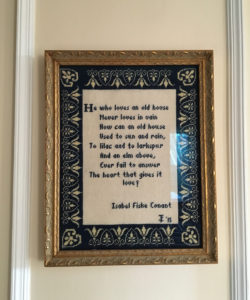 I can't show you needlework that I cherish, without showing you this stunningly beautiful piece of needlepoint done for me by Janet.  It is a poem I love and is appropriate for our home which was built in 1939. The piece, her design and complete with a fleur-de-lis border, hangs in our foyer.  The blue is a rich shade, but not as deep as it looks in the photo.   (Please forgive the glare on the photo.)   


"Blue color is everlasting appointed by the deity to be a source of delight." ~ John Ruskin
Blue is extra special in the garden and is a marvelous feast for our eyes.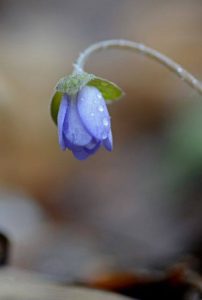 It can be the smallest bloom ~ but you will notice it immediately.  Maybe, it is because blue is not the color of too many flowers.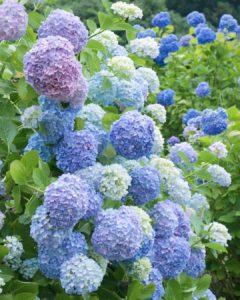 Oh, if you have ever seen a mass planting of blue hydrangeas or a vase of blue delphiniums, only Billy Baldwin's words are fitting.  "I felt a sudden shock of beauty so strong that I could only stand frozen in wonder.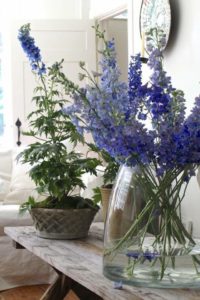 In closing, I have saved the most beautiful blue for last.  It is the blue of the Eastern Bluebird.  To see them in nature, bouncing through the sky, is a glorious sight you will never forget.  We had them at our home in Virginia.  They love wide open fields and someone to provide boxes for their nesting.  Something Mike was happy to do.
"The bluebird carries the sky on its back."  ~ Henry David Thoreau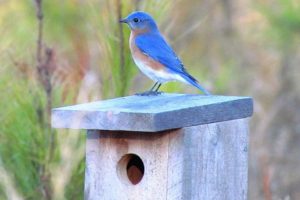 I so miss my little friends.


Thanks for visiting!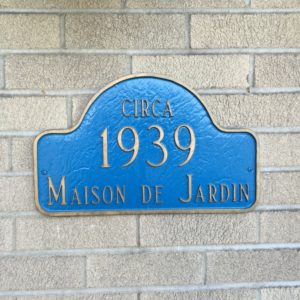 Hope you are seeing blue skies.
Au Revoir,
Sandra
Special Notes:
Tea Strainer:  The tea strainer was gifted to me by a fellow West Virginian and sweet blogging friend, Rita.  It is a lovely piece, with a wooden handle.  Rita does an annual purge of items from her antique shop, as she enjoys seeing things find a happy home.  The tea strainer certainly is happy with me along with other items I will show later.  Talented Rita writes the blog Panoply, visit here.
Images: M.Lambiotte and Tumblr