" The details of decorating give a home its soul." – Charles Faudree
Do you love gorgeous fabric?  I certainly do.  You might say, I am a fabric junkie. To be lost for hours in a fabric warehouse is simply splendid.  It is marvelous to touch, feel and drool over beautiful fabrics and envision them created into something magnificent. I particularly enjoy seeing an exquisite piece of fabric transformed into a lovely table skirt.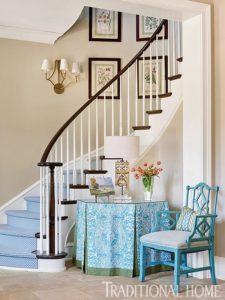 Skirted tables are classic.  They can add color, charm and texture to a room. Creating beauty and providing service. A table wearing such gorgeousness, creates attention and begs to be admired.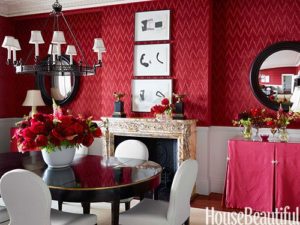 Skirted table coverings can be made for any table.  They are stunning either pleated, slightly gathered or simply made to drape. And, when they are embellished with some fabulous trim or ribbon, well, they advance to a new level.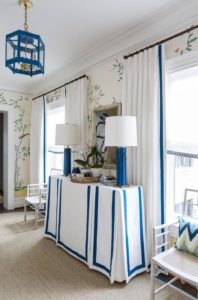 Additionally, an overlay or topper in a contrasting or different type of fabric, can add to the charm of a skirt. Along the edge of the overlay is a wonderful place to add trim.  Often, I like to take a contrasting fabric and create a small pleated edge.  This can take time, but is far less expensive than purchasing ready-made trim.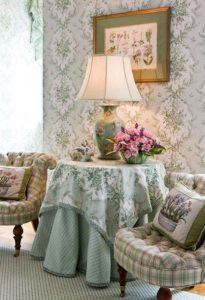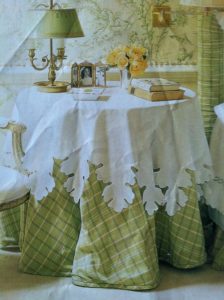 While skirted tables are lovely, and can often be a showpiece, they are also quite functional.  They create warmth in a large entryway, and are so welcoming in this space which can often seem cold.  When placed next to a sofa, chair or bedside, they provide a perfect space for a fabulous lamp and treasured mementos.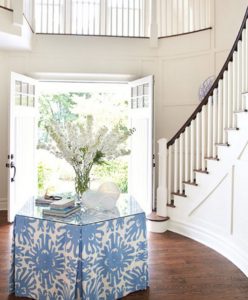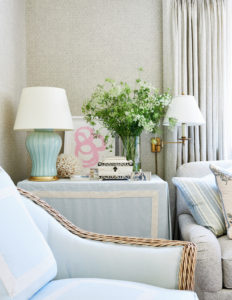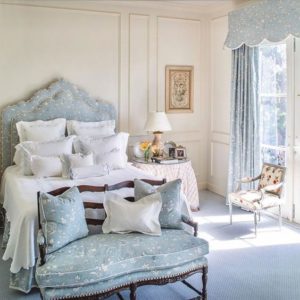 But, one of the finest assets of a skirted table is: The table itself need not be perfect or to your liking. If you come across a great find and it is the size you need, that simply translates to ~ spend your money on gorgeous fabric. Underneath a skirted table is also a great storage area, for items seldom used.  Under one of mine, I store a collection of pitchers and vases used to hold peonies. Understand, when you have over 60 peonies, it is necessary to have many containers during bloom season.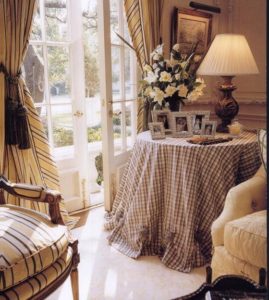 And, I can't fail to mention lovely skirted vanity tables.  A skirted vanity is so romantic and adds such softness to a bedroom.  It serves to remind us to slow down for a moment, dress lovely, mist ourselves with a marvelous intoxicating potion and put our best foot forward.  Which always lifts our spirits, and impacts our day.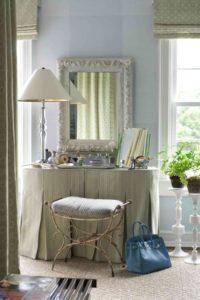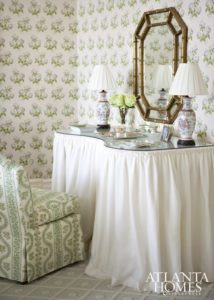 While I love all the beautiful skirts I have shown, I would have to say one of my most favorite coverings is one designed for a dining room or kitchen table.  Not just an ordinary skirt or table covering, but a covering for a dining table simply designed and dressed by the masters of charm ~ the French.  The French can serve you a simple meal of an omelet, gorgeous wine, salad and cheese.  Yet, when you are seated to a beautifully dressed table, clearly you are moved to be in the moment with family and/or friends.  You are seduced by the charm and captivated by the beauty of simplicity.  A marvelously dressed French table is most often coverings to the floor, full and flowing, often with layers. Magnifique !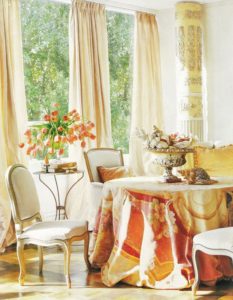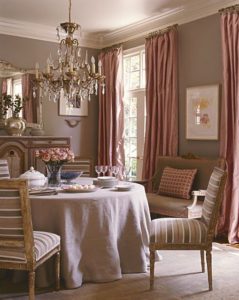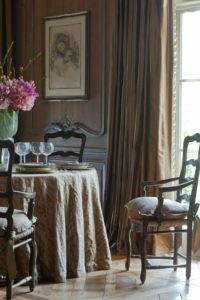 I hope I have provided a wee bit of inspiration today. For it is true, the details we choose to add in our homes, truly gives them 'soul' and makes them 'sing.'  
"Exquisite details make interiors sing." – Larry Laslo
Wishing you and yours a beautiful week !
Au Revoir,
Sandra
All photos: pinterest and Atlanta Homes, House Beautiful, Traditional Home and Veranda