"Gathering beloved objects and collectibles together in artistic vignettes makes a house a home."  – Unknown 
The French word vignette, means "little vine."  However, today it has come to mean a lovely intimate grouping of things.  A grouping which often tells a story.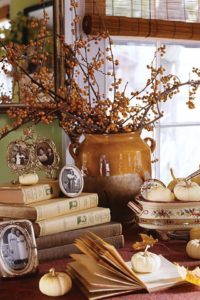 While vignettes can become a focal point in a room, personally, I love to come upon them. A beautiful vignette never fails to captivate your heart.  It can hold photos of  family members you cherish or a special celebration, books you love, a treasure acquired on a trip, flowers you adore – many different things. A vignette can be in any room of your home, and grouped in various different ways.  However, it will hold things of meaning, only for you.  These special creations bring such life to your home and provide unmatched charm.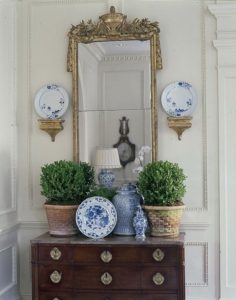 A vignette is especially lovey in an entryway or foyer.

In the kitchen, a vignette can add interest to a large island or a specific area.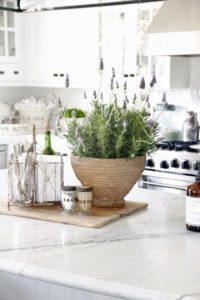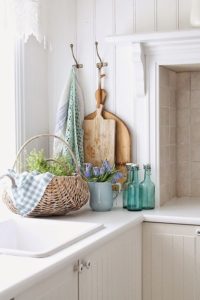 Vignettes can also be most helpful in the kitchen. They can serve as a means of keeping items, often used, grouped together and close at hand.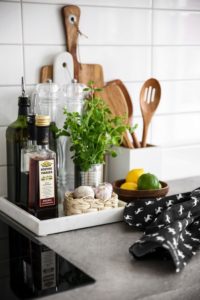 Items on their own can appear scattered or untended.  However, when grouped together they create greater visual impact.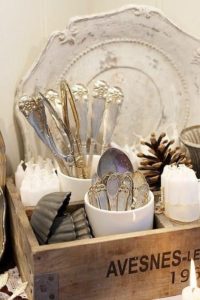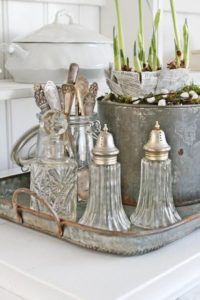 Items grouped together can also create a softness which they may have standing alone.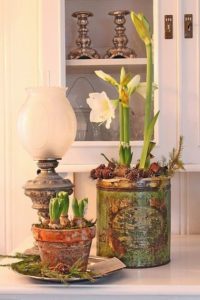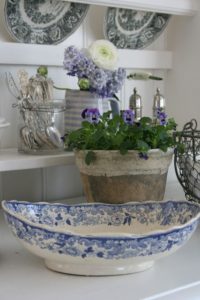 The bathroom is also a lovely place for a vignette.  In this area they can be extremely useful,  as well as visually beautiful.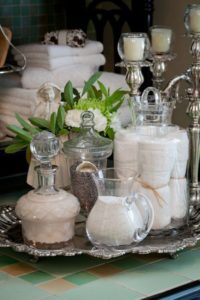 But, there is more – wall vignettes.  These storytellers,  are often carefully chosen pieces of lovely china, treasured heirlooms or collections.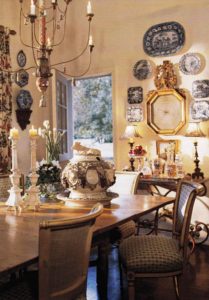 The photo above is a design by, the late Charles Faudree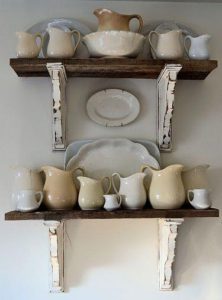 There is a bit of skill involved in arranging a lovely vignette.  Such skill, like any skill, improves with use.  So, gather the things you love, call forth your creativity, and begin to play.  Vignettes are a wonderful way to bring those things you have been hiding in the closet, out where you can enjoy them.  Find a pretty tray to use.  If you need to elevate some things, use a few marvelous old books or a garden planter.  There is no written rule that garden things must be used completely for gardening.  The garden world has some gorgeous containers.  Add a small candle or a vase of flowers – magic!   
In closing, I will tell you something I know to be true, and feel is significant in creating an enchanting home or garden:  "Homes, like gardens, should reveal themselves to you.  One does not need to see everything immediately. When you sit in a room or garden, I feel it is marvelous to be charmed and fall under its' spell. Simply, taking the time to enjoy the contents of the room or garden as it slowly begins to say, Hello."  The same holds true for a lovely vignette, it should slowly reveal itself to you. This is when the magic comes alive and you will clearly see the beauty and charm.  Thereby, using a beautiful decorating tool, and affectionately transforming a house into a home, or a yard into a garden.  
Thanks for visiting. Have a beautiful week !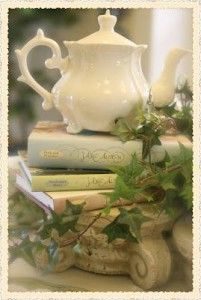 Au Revoir, 
Sandra
Photos: Pinterest and Facebook