"Put your hand in mine and let us help one another to see things better." – Claude Monet
I do love the garden.  Having my hands in the cool damp earth of spring is a pleasure – one I will never take for granted.  Seeing a tender plant grow into maturity,  therefore making my vision a reality, truly makes my heart sing.  But, I want to tell you this joy came by the way of much failure and success.    "My walk, down the garden path,"  as I believe to be the walk of many gardeners, has been full of exhilarating, heartbreaking and lots of  in between, moments.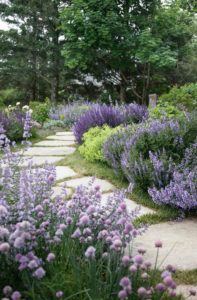 There are many things I have learned in my forty plus years of gardening.  The two I believe to be most important are:  1) Plant for your planting zone.   2) Educate yourself about the plant you are interested in, before purchasing.  Or, as my husband so often says to me, "Sandra, when all else fails, read the directions." Goodness, have I learned that one the hard way. Yes, I have.  I remember planting a flat of fabulous impatiens directly in the boiling sun of coastal Virginia.  Also, while living in this beautiful part of our world, I was determined to have a lilac. Well, I did, until one July arrived.  The sky opened up with rain, daily, for the entire month, and, I watched my lilac – wilt and die.   And, there were other examples, all heartbreaking – all due to my failure to read and educate myself.
However, I was not defeated.  You see, I had my mother, who was a magnificent gardener, and wonderful co-workers/friends who were also magnificent gardeners.  Mom was 380 miles away, but a dial away on the phone.  And, I could see my friends daily.   So, armed with mom and my many passionate gardening friends, gardening knowledge was to be mine.   In addition to all the help from mom and my dear friends:   I read everything I could put my hands on, visited gardens both public and private, and worked at mastering my craft in my every spare moment.
Along with wonderful memories of times shared with mom, that I will forever treasure, I also treasure my many dear friends I have made through gardening.  These friends are like minded, wonderful souls who have graced the walk on my path.  And, I see many of them every spring when the plants they so generously shared with me happily bloom.
Our sweet garden also holds one of my great passions, and that is peonies.  My love affair with peonies began when I was thirteen years old and saw a red one in bloom in the garden of one of mom's friends.  I can still remember the house and where I was standing, when I was struck by the glorious beauty of the plant.  And, so, that very moment was responsible for my falling in love with this outstanding plant.  Even after all the years I have grown peonies (since 1983), I still become giddy with excitement when I see their red shoots peaking through the cold, spring soil.  I know heavenly beauty will soon be arriving in our garden.
Today, I hope you have found "inspiration that will bloom."   Cherish the "walk down your garden path."  And, remember the walk is all about the beauty you will see and the friends you will make along the way.  Especially, remember to share your garden and plants, so others will remember you.  Sharing is the true beauty of a garden.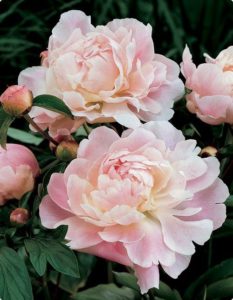 Thanks for visiting – love and hugs to you !
Au Revoir,
Sandra
ps.  Do share your garden stories, and, remember if you have questions – please ask.  I will try and help.
        The peony in the photo above is Courage.  She is one of my favorites, and blooms in our garden.
Photos: homedesignlover/pinterest, ellenzee.tumblr.com/pinterest