"It is something to be able to paint a particular picture or to carve a statue, and so to make a few objects beautiful, but it is far more glorious to carve and paint the very atmosphere and medium through which we look…To affect the quality of the day – that is the highest of art." –  Henry David Thoreau
If you have been following me for any amount of time, you are most likely aware, I am passionate about home.  Our homes mean so very much to us.   The old saying, "my home is my castle," is undeniably true.  And, we must love our castles, for they are our private world.  Additionally, beauty in our castles sustains and inspires us to live well. Beauty elevates us to a higher place. Art points us to beauty and light.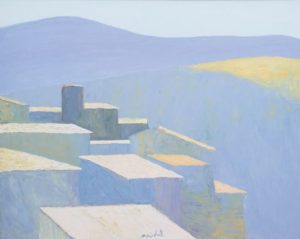 My husband, Mike and I were first introduced to the magnificent work of Roger Muhl through Alexandra Stoddard.  Alexandra and her beloved Peter were close friends of Roger and his wife.  They traveled to Mougins, France many times to visit with them. When I first saw his work, truly I was mesmerized.  I had never before seen such vibrant colors, nor had I ever been so moved by a painting. You see, when you fall in love with a piece of art, I believe you make a spiritual connection with the artist.  You become one with the piece, absorbed in the beauty.   
Truly, we benefit from such experiences, and from the influence of having inspiring art in our homes. The art we love and adore should raise our spirits, and find its way into our soul. Whether it is hand blown glass, fabulous pottery, stunning needlework, lovely hand stitched quilts, intricate weaving or glorious paintings, they all stand to remind us we are surrounded by artistic grace. A spiritual atmosphere.  We must be ever so thankful for these talented souls, and for all their significant contributions to our world.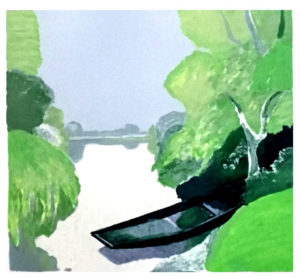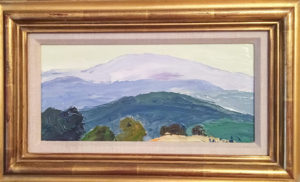 Mike and I will be forever grateful to Alexandra for introducing us to Muhl's art, and for her assistance in guiding us to a highly reputable gallery in New York. Through the years, we have been fortunate to acquire several pieces of his work. And, on a snowy, cold West Virginia morning, when the light hits the blue and vivid green on his canvas, I believe he is with us.  I continue to be mesmerized by the vibrancy of the color in is work.  Oh, the vibrant, vibrant blue – it "affects the quality of my day."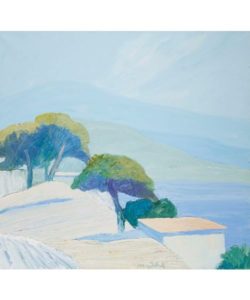 I sincerely hope you enjoy art in your home which captivates your heart and elevates your days. Victor Hugo tells us: "To love beauty is to see light."  I believe his words are true.  I believe this is art. 
Au Revoir,
Sandra

Artist Information:  Roger Muhl (pronounced Row-ja Mool) was born in 1929 in Strasbourg, France.  He studied painting at the National School of Decorative Arts until 1952 when he decided to leave for Paris. Two years later, he met his wife, then settled at Montreaux-Chateau and devoted his time to painting.  He displayed his first exhibit in 1960 at la "Galerie de Paris." This was the beginning of the artist's international success:  Paris, London, New York, Milan, and Tokyo. The public enjoyed his work and most especially his vivid colors. He lived in Alsace until 1965 and then moved to Mougins where he resided until his death, in April, 2008. He loved the South of France because the light was so special and as all great painters, he was attracted by its transparency.  Muhl stated many times: "The light is my passion."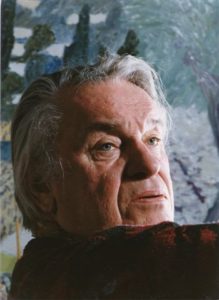 Photos:  Michael S. Lambiotte and Pinterest