"Blue color is everlasting appointed by the deity to be a source of delight." – John Ruskin 
I love the color blue – maybe you do, too.  It makes me happy – truly, a "source of delight." My heart pounds a little harder when I gaze upon a perfect blue sky, with fluffy white clouds.  And, my love continues to the pale ice blue, deep sapphire blue, cobalt blue and navy blue. But, I am totally charmed, and drawn to French blue. You know, that marvelously soft blue gray color, like the color on the window trim, shutter and bench below. This shade of blue always captures my attention.  It doesn't matter if it is painted on something exterior or fabric on a chair, it is a magnet for me.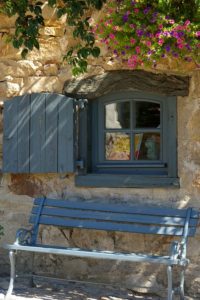 Did you know there is a reason many French homes have  blue shutters, doors, and kitchens?  Well, there is.  The French believe blue keeps away evil spirits.  Blue on the shutters and doors prevent evil from entering the home.   While in the kitchen, blue keeps evil spirits from the food.    

Today, I have gathered some lovely photos which, to me,  convey the beauty of blue.  Perhaps, they may also speak to you.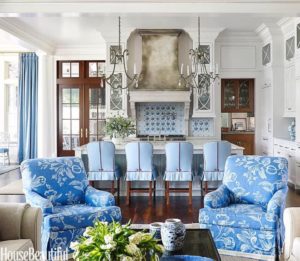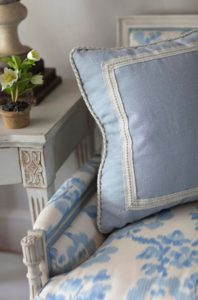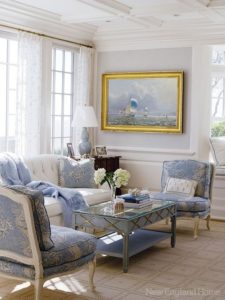 Vincent van Gogh tells us:  "There is no blue without yellow."  He was correct, it is beautiful.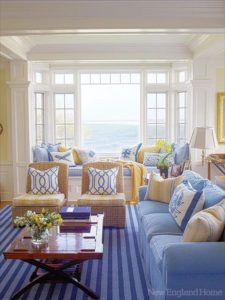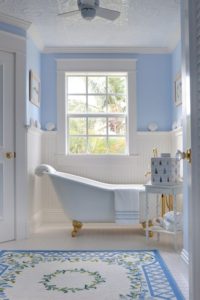 Beauty by the late, Charles Faudree.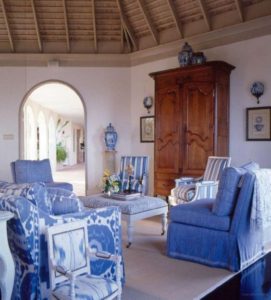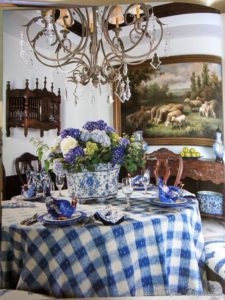 Last, certainly not least, beautiful blue in the garden. It is hard to top magnificent, blue hydrangeas!  Unless, of course, it would be peonies of any color.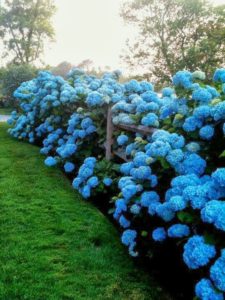 And, from our garden my Cobalt Dreams, Delphiniums.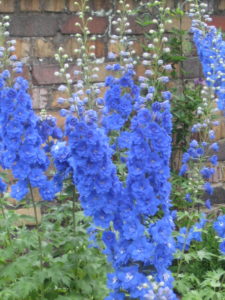 Thanks for visiting.  I hope you have enjoyed my "Love of Blue."  
Have a beautiful week !
Au Revoir,
Sandra
Photos:  House Beautiful, New England Home, Pinterest, Michael S. Lambiotte.